Tanzania had been on my radar since my early 20s, when I almost signed up for a "Maymester" Swahili class and anthropology trip to the Olduvai Gorge in search of fossils of the Australopithecus. Unfortunately, my dad talked me out of it. For nearly fifteen years, the idea stayed in the back of my head, but since I was living in Beijing for many years after that, Zanzibar was just too far away. Since moving to Germany, going there alone became a dream I could finally make a reality.
Admittedly, I panicked at the last minute at the thought of traveling alone to Africa and nearly cancelled the trip the week before my departure. Thankfully, I did not, and that trip was one of the most riveting and empowering trips I've ever taken. I sang cover songs with friendly locals at Blues Night in Jambiani; hung out with Masai tribal guys on the beach discussing political leaders and culture in Paje; and one day, woke up to find the entire beach had vanished for one kilometre at Michamvi. This was my trip to Zanzibar.
The Zanzibar archipelago consists of several islands that lie off the coast of Tanzania. The three main islands are Pemba Island, Mafia and Unguja, where Zanzibar is located.
Zanzibar is an incredible place for any budget. Whether you want a backpackers' hostel with hammocks and a lively bar with live music or an upscale resort on the beach, there are many options once you arrive. Since I travelled there alone as a female, I over-researched beforehand, even more than before I moved to China. Yes, honestly, Zanzibar can appear logistically a bit confusing and a bit disorganised, so do your homework beforehand and book your accommodation in advance.
Here is some helpful information if you are planning a trip to Zanzibar and you do not know where to start: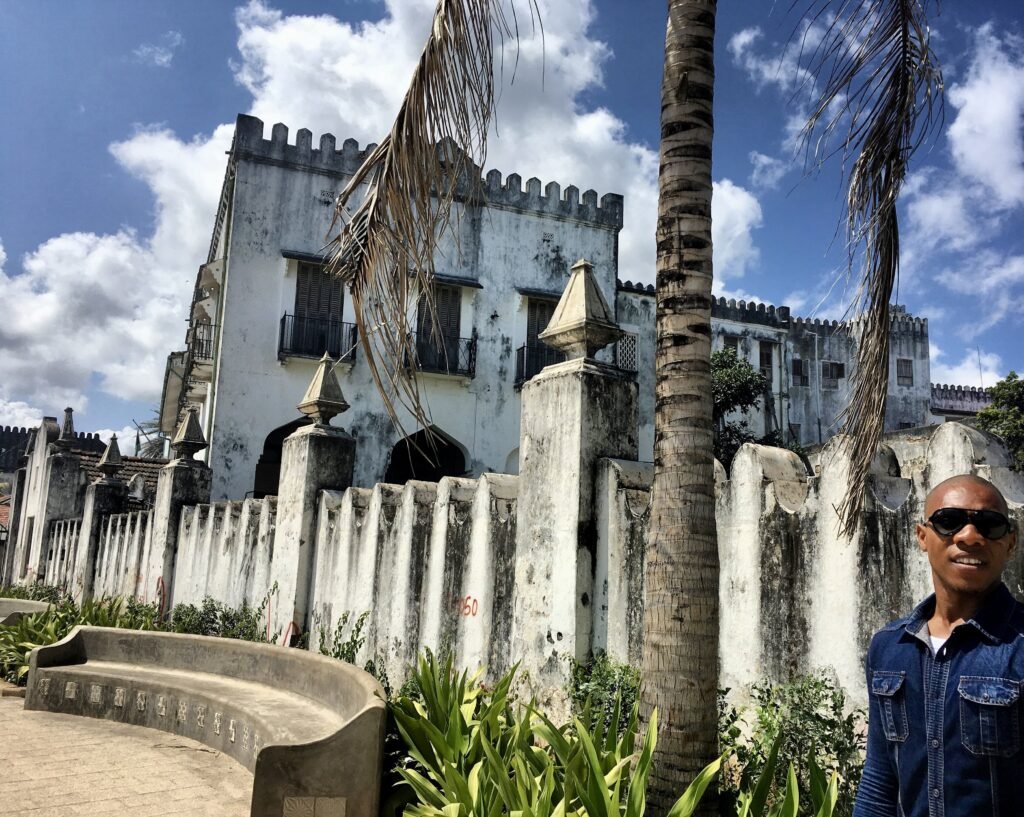 Transportation Arriving to Zanzibar:
Flights: via flights from Dar es Salaam, Tanzania to Stone Town.
Ferry: It is also possible to arrive from Dar es Salaam by ferry in about two hours.
Taxi: From the airport, it is easy to book a taxi in advance online or you can get a taxi from the station. I would recommend this option – it is not expensive, and it is convenient.
Transportation around Zanzibar
There is a public bus system around the island and the buses are called Dola Dolas and they are very inexpensive. This is a cheap option and great if you are not in a hurry, but keep in mind that schedules change a lot and you often have to wait beside the highway for them to come by.
Taxi or Shuttle
Since I was travelling alone, I hired a taxi to take me from one city to another. The prices can be cheaper if you book the rides in advance and pay as you go. I recommend this if you find people in hostels who would split the prices of a taxi.
Zanzibar has opposite seasons to the Northern Hemisphere. I would advise going in July or August when the rest of the world is having summer as it is not as hot on the beach there. Even in August, it's around 27º–30º degrees C, which is cooler than many places even in the South of Europe during peak summer when school is out.
Sun:
The sun is super intense in Zanzibar with little shade or umbrellas on the beach, so I really recommend bringing plenty of 50 SPF, so you don't burn (especially if you are taking anti-malaria pills as they increase the risk of burning). If you run out, it's hard to buy sunscreen with a high SPF and if you find it, it will be very expensive. 
I'm usually someone who pays for everything with my bank card, but this is one of the few destinations where I will tell you to bring cash. I recommend changing a bit of money at the Zanzibar airport when you arrive to have some local currency on you. There are many places around the island in Zanzibar that accept USD for accommodation prices or even at restaurants, but only the more inexpensive places take credit cards. So make sure you have enough cash to pay for things when moving between the villages. Bring pad locks for your hostel lockers and to lock up your bag if carrying cash makes you uncomfortable.
Depending on your country, you need a visa to go to Tanzania, so make sure you plan this step in advance.
1-You can apply visa for Tanzania online.
2-Dar es Salaam Airport: You can get a visa at the airport arrivals before flying to Zanzibar. However, I would honestly not recommend this as if many planes are arriving, and crowds of people are waiting to apply for their visa and it could take hours.
Accommodation:
Lodging in Zanzibar is extremely affordable, depending on your budget and standards of comfort. There are many options to choose from, from hostels, bungalows, guesthouses or high-end resorts.
Food
Zanzibar had centuries of international influence and spice trading, so there are many flavours and price options available. In Stone Town, there is a night market with many kinds of grilled seafood options, as well as restaurant varieties of different cuisines and prices. There are restaurants with local cuisine, British-style pubs, Indian restaurants, Italian, etc. Zanzibar has lots of grilled seafood and meats and fresh fruits everywhere.
Mosquitos
Mosquitos are an issue on the island, so to be on the safe side, bring DEET or strong mosquito repellant for when you sit outside at night. Most accommodations have mosquito nets above your bed, so use it every night for protection. On the Mainland, Malaria is more risky, but in Zanzibar is not.
Language
People in Zanzibar speak English and Swahili. A simple "Jambo" (hello) will get you a smile right away anywhere, and people will sometimes yell it at you, to which you should respond, "Polo!" Once I learned this, I said it back to them every time, which I found was a funny way to crack up the locals, who seem to find this hilarious.
Local People
I spent most of my time in the villages in the beach areas and found the people really friendly and also light-hearted. I went out many times with the people from my hostels, and we had a great time meeting locals at dance parties and beach bars. As a side note, even though the Masai tribe are known for their hunting and cow herding on Mainland Tanzania, there are many Masai on the beaches selling handmade jewellery, carvings, and craft items. I must say I really enjoyed talking to them so much; they are incredibly friendly and have a good sense of humour.
Geography of Zanzibar
The Eastern side of the island is greatly affected by the tide, so when you plan your trip, it's important to keep this in mind. Otherwise, you could end up on a beach without water during the day.
Nungwi – for swimming and walking on the beach, this beach is fantastic and there are lots of activities to do, including snorkelling, a sunset cruise, and other things. There are various restaurants to choose from in the evenings. Because this is one of the more popular beaches, it is not as inexpensive as the other ones and you have to pay more to stay on the beach. Plus, it is nearby Kendra, which is a nearby resort area that you can walk to during the afternoon before the tide comes in.
Michamwi – this is a tiny village and also one of the most beautiful and secluded beaches I have ever seen. I arrived early in the evening and the beach was a light pink colour, and I could count the number of people on it. This place is nice to chill and they have nice beach bars with music in the evenings and some great hostels. However, keep in mind that due to the tide, sometimes during the day, the entire beach disappears completely for about a kilometre!! If this happens, you can take a taxi to the other side of the bay in Pingwe – the iconic area where the Rock Restaurant is.
Paje – this beach is absolutely beautiful with a fantastic, fun atmosphere, activities, great restaurants and beach parties and there are a variety of lodging options. The water is mostly shallow, which is why it is the top place for kite surfing, which you can do at a very reasonable price. If you are learning to kite surf, allow yourself at least four or five days because it is really not as easy as it looks!
Stone Town – is the capital of the former Zanzibar Sultanate, and also the eastern connector for both the spice trade and, unfortunately, also the slave trade for Eastern Africa as well. The city has a rich history combined with a mix of architectural influences from Swahili culture, Arab, Persian, Indian, and European design influences. Some of the most emblematic buildings in Stone Town are the Palace Museum, the Old Fort and Beit-Al-Ajaib (House of Wanders). This last building is now in ruins and access is not allowed. The coastline is dotted with 19th-century buildings, while the Old Town is filled with winding labyrinths of small alleys with beautiful painted doors and colourful, decorative elements.
Keep in mind, Stone Town is more culturally traditional than the beach villages and Muslim, so it's a good idea to dress respectfully. In the evenings, I stayed near my hostel with other travellers, as I didn't see women wandering around alone.
Stone Town is a really cool city to explore, and I definitely learned a lot on the walking tour, which takes you around the city, including the Slave Trading Museum – a reminder of the horrific days of Zanzibar's slave trade.
Another interesting place to visit is the Jozani Chwaka Bay National Park, where the red colobus monkey and the almost extinct Zanzibar leopard live.
Changuu Island, one of the many small islands, just four kilometres from Zanzibar, is also worth a visit. Also called Prison Island because it was used as a jail for prisoners and slaves.
On this island, you will find the sanctuary of the giant Aldabra tortoises, imported from the Seychelles.
In short, Zanzibar is a photographer's, beach lover's, and cultural enthusiast's dream. There is so much to see, so many wonderful people to meet, a rich culture of vibrant people and places to explore. If you're travelling alone, I recommend hostels, as you will meet lots of other solo travellers from all over the world. If you go as a couple or family, perhaps hotels or resorts might be more your thing. Zanzibar is far off the path from your 'average beach holiday' and that is exactly why it is amazing. If you are looking for somewhere new, extraordinary, and unforgettable to explore, Zanzibar is it!