Chitwan National Park is a stunning getaway and is the first national park established in Nepal in 1973. The park has been part of the UNESCO World Heritage Site since 1984, with hundreds of thousands visiting each year to catch a glimpse of a rhino, elephant or Bengal tiger in the wild. Can you think of anything more beautiful than watching animals in the wild? If Nepal has been on your bucket list, here are further reasons why you should visit, especially Chitwan National Park in 2023. 
The park has long been regarded as a national treasure, as it shelters not only rhinos, elephants, and tigers but hundreds of birds which are on the endangered list. The Rapti River is also home to the unmistakable, critically endangered crocodiles known as Gharials or Mugars, which are intriguing to see in their natural habitat. 
Steve Newman, an explorer and writer, travelled to Nepal in the summer of 2022, and this is what he had to say about Chitwan. "If you want to have lasting memories of Nepal other than Everest and the mountains, visit here and stay in Sauraha, the tourist hub of the park."
Chitwan National Park Tours
The national park provides nature walks, jeep rides, canoe tours and much more to keep you enthralled. All of these are worth considering as it will be an opportunity to see one of the rare animals in the wild.  
In terms of the experience Newman had from his tours, he stated, "We had to cross the river by canoe to get to the jeep, so you get the best of both worlds here. The jeep brought us close-up views of sloth bears, deers, rhinos and some of the most beautifully coloured birds I have seen anywhere."
Newman continued, "The jeep Safari gives you a different aspect of the park and other species. You drive on well-used, defined tracks through large swathes of elephant grass, woodland and beside small marshland areas and large lakes."
In terms of the walking tours, Newman added, "Some areas now have a walking tour where you walk with the elephant along the forest parks, and there is an elephant breeding centre which you can visit inside the park. I recommend doing this as the wires below the pedestrian steel suspension bridge crossing the river gave us several Plain Martins and a single Barn Swallow and White-throated Kingfisher." 
"Sadly, we never saw any tigers, but there are many parks where you are virtually guaranteed to see them if you wish to travel."
An Ultimate Experience To Never Forget
Tigers, elephants and rhinos are never guaranteed to be discovered during your visit, as the numbers have been diminishing for various reasons. Research has shown that around 128 tigers, 52 elephants, and 600-700 rhinos walk the national park in the wild today. 
Tour guides have reiterated this throughout the park, such as Fuleswar Chaudhari, who also works for one of the best hotels in Sauraha, Royal Park Hotel. "We cannot guarantee any guests visiting that they will see tigers or rhinos. But you can come and enjoy the adventure and experience, as the anticipation of seeing a tiger is the exciting part of your journey."
Get Chitwan National Park On Your List For 2023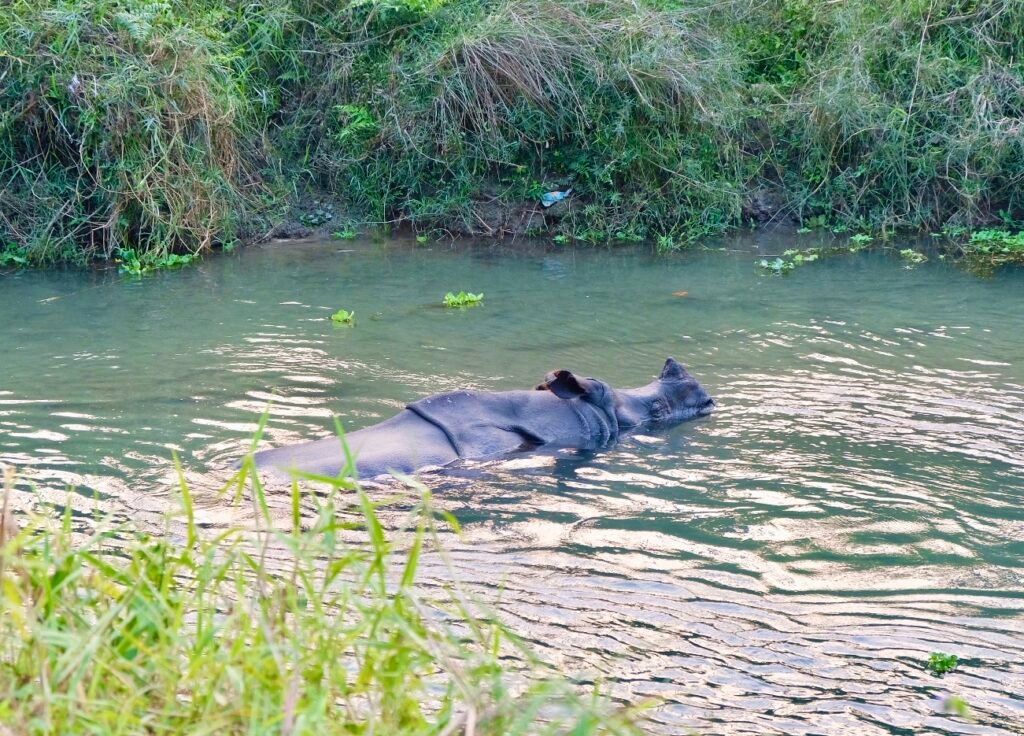 Travelling to Chitwan can be challenging on the road. However, you can put it down to a great experience as you will be able to see sceneries, such as homes on mountains and rivers that you wouldn't have discovered if you took a flight, which is always available from the capital of Kathmandu, with the journey lasting around 25 minutes. 
One of the best tour operators to take you on this journey would be Going Nepal or Nepal Luxury Escapes, as they offer great bespoke excursions out of Kathmandu. With pleasant temperatures, October to early March is the best time to visit. 
With so much on offer and a fascinating alternative to the mountains, Chitwan National park is a definite treasure of Nepal that is well worth a visit in 2023. 
If you are passionate about hiking in the wild nature, check out our Naturalist Journeys page to discover other exciting destinations.