Voyagers Voice has interviewed a travelling family, represented by Leah Smileski, who along with her husband T, her son Striker and her daughter Sunshine, are the founders of the travel blog called Kid Bucket List, where they can find the places they have visited and a children's wish list. Kid bucket list.
1.What places have you visited since when you travel as a family?
Our very first trip as a family was when Striker was a mere 3 months old. We are based in Sydney, NSW (New South Wales) and travelled to Hamilton Island in Queensland which is a tropical island in the Great Barrier Reef. This kick-started our travels, with Sunshine joining us on our adventures two years later. We have travelled across each state of Australia, as well as exploring parts of North America, Japan, New Zealand and Europe.
The importance of travelling with children
2.In what aspect is it important for you to travel with children?
We have a fairly eclectic taste when it comes to our destinations, with the kid's studies and interests often identifying where we travel next.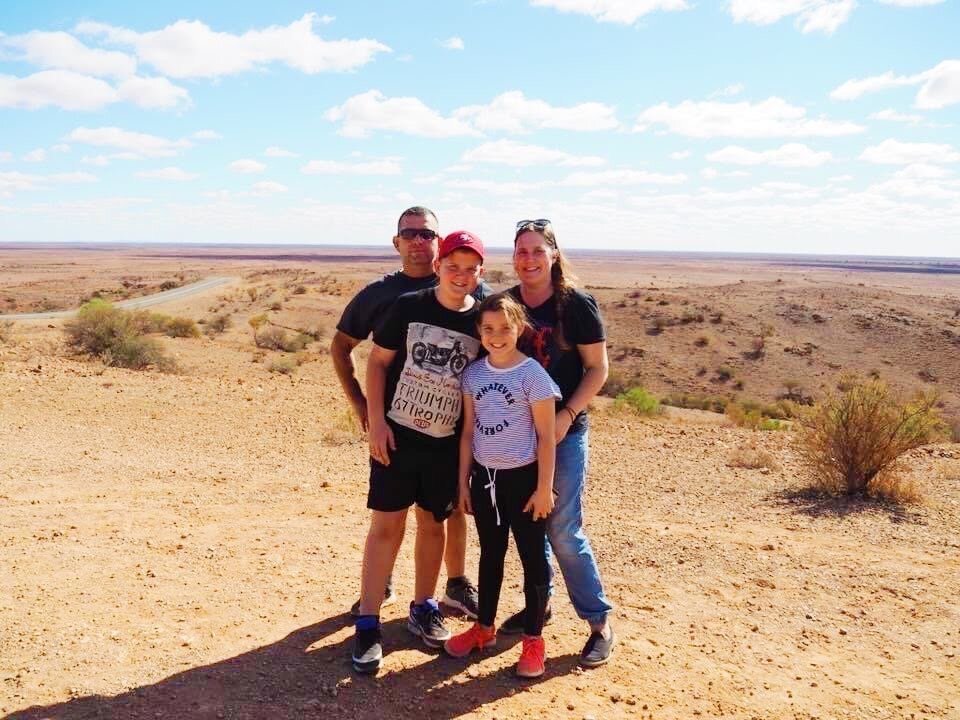 3.What destination that you still do not know, would you like to visit and why?
Only one? Gosh, I'm not sure how I would identify one spot, however we do have a grand plan that has come up quite unexpectedly. Over the last few months, the kids and I have been exploring our family tree and have big plans to explore Pennsylvania, USA, Canada, Poland and Scotland to walk where our ancestors once lived. I never imagined that a family tree would drive the kids to interest in destinations, but fuelled with tales of English spies, Scottish soldiers and Polish nobility, they are super keen to explore a number of spots!
Travelling family organization
4.How do you decide and organise a trip that is suitable for your kids?
Having travelled as a couple, delighting in doing as much as possible each day so we would not miss out, we needed to learn how to tone down our travels when we began travelling as a family. We are always conscious that we need to slow down our travels when exploring with our kids, so tend to plan itineraries that are not packed full of sightseeing. When deciding on a destination, we ask ourselves if it will pique our kids' interest. (we've never found a spot that would not) and then set about building an itinerary that is meaningful and appropriate for our family. We always collaborate on a kid bucket list for each destination, with the kids each contributing the things they want to see and do at each destination, which we then incorporate into our trip.
And then…..rest days. I initially found the whole idea of rest days really difficult to reconcile, but have learned that a good rest day during our trip makes for relaxed kids who aren't phased when I add an art gallery or museum to our itinerary.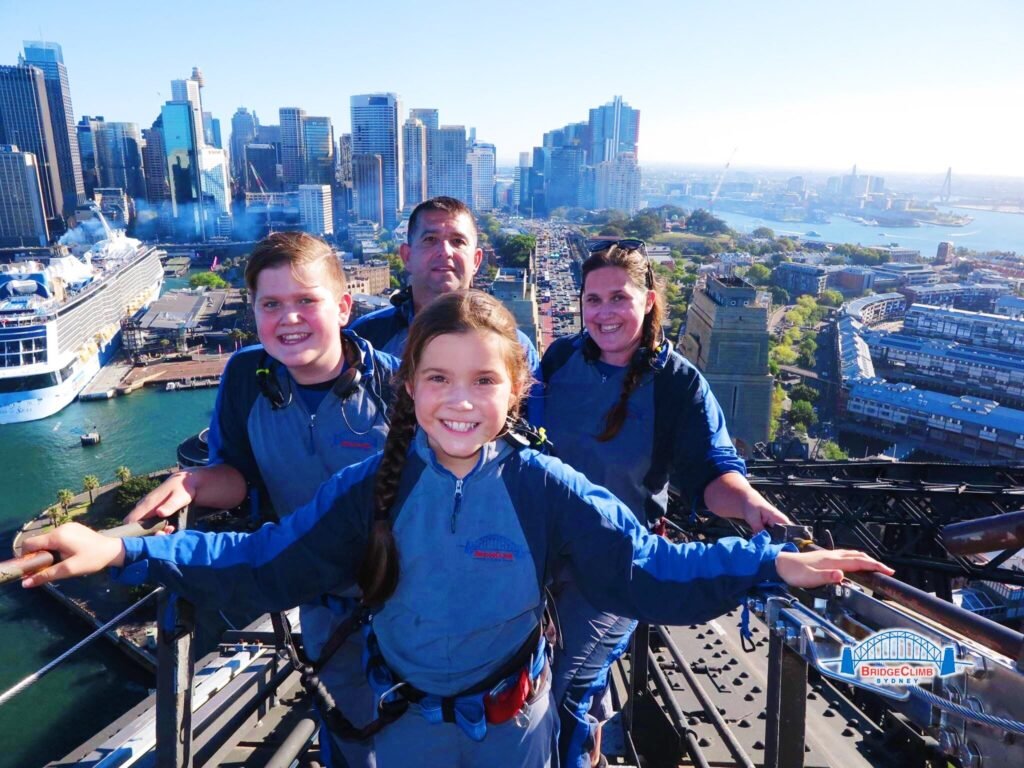 Pandemic time: Travelling in Australia
5. Since the pandemic began, have you visited any place?
Living in Australia, our travels overseas has been paused as our Government shut our borders. Instead, we have been able to focus on travels here in Australia. Over the last year we have been able to plan three separate trips which have been quite unique: a beach trip to the South Coast of NSW where we researched the historic orca / human partnership; the Snowy Mountains where we swam in hot spring, spotted wild brumbies (like in the Man From Snowy River) and spent some time enjoying farm gate experiences; and then a trip to Lightning Ridge, in Outback NSW where we spent some time underground looking for opals. We are very lucky that Australia is such a diverse country with so many places to explore!
Big emotion trip in Macedonia
6. Have you had any experience (positive or negative) of a trip that has made you reflect and change the way of thinking that you have had up to that moment?
A few years ago, I travelled to Macedonia with Striker and Sunshine without T so that the kids could meet their Great Grandmother. It was an incredible trip with some big emotions and lot sof time to reflect. What I did learn was that travel is much better when it is the four of us and that travelling as a solo parent was a lot more difficult that I had imagined. Prior to this trip I had assumed it would be failry easy, but I was wrong.
7. In the destinations that you have visited there were activities for children or are you who have to invent some so that the children, in addition to knowing a place and a culture, also have their world of fun?
We usually blend the two: seeking activities for kids that already exist at the destination whilst inventing our own.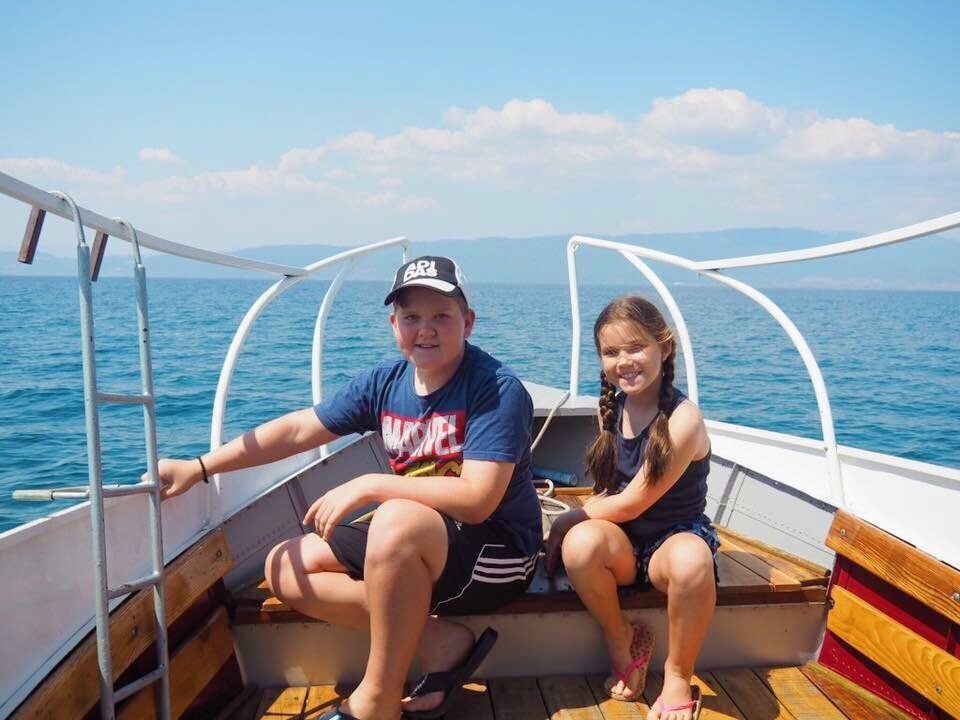 Travelling family and the objective of the blog
8. What fascinates your kids most about the experience of a trip?
Striker and Sunshine are such great travellers and really get into the groove of the adventures as we track along. Sunshine is the linguist of the family and always tries to learn some words and phrases from the place we are visiting. I will never forget her face in Kyoto, Japan when she approached an icecream vendor independently and was able to purchase a cone for the whole family all in Japanese! Striker loves sport, so will often seek out professional sporting events in different countries. Somehow a stadium always ends up on our itinerary! Both Striker and Sunshine love history, so our explorations are likely to include visits to historic sites or museums, too.
9. What is the objective of your blog as a travelling family?
The Kid Bucket List is all about curating experiences for kids. It started as a way for me to plan and document specific activities that I enjoyed growing up in the country that my city raised kids were not going to enjoy unless I did so. Our site has grown beyond the aspirational, nowadays documenting explicit experiences that we have been able to incorporate into our weekends and school holidays.
10. Have you ever considered travelling with children around the world full time?
We have strong values around service, and I am not sure how I would manage without incorporating giving back into our life if we were travelling all the time. I think I would find it hard to pull away from my career as an educator. Plus, I would need a much bigger bank balance!
The biggest concern when travelling with children
11. What is the biggest concern when travelling with children?
Illness. It is something that I am often worried about when we are travelling and we have seen the inside of a number of hospitals on our travels. We do as much as we can to minimise the potential of any of us falling ill by keeping on top of our immunisation schedule, eating well, being careful of what we drink when we are travelling and not taking needless risks. However, it can still happen. It is also why I always ensure we have exceptional comprehensive travel insurance!
12. What are the difficulties that you encounter the most when travelling?
I'm not sure! Perhaps sticking to a budget! I can add things to our itinerary on a whim, and this can often mean I exceed the budget we had committed to before we embarked on our excursion.



13. To other families who have small kids like you and who have never travelled, what advice would you give them?
There never is a right time. Do it now rather than waiting!
The conclusion of the interview
14. If your family would be a music band, which band would you like to be and where would you like to act (stadium, theatre, park, beach etc)?
Different members of our family would respond differently to this, and would probably have a better answer! I'm not sure I would love for our family to be a rock band due to all the pitfalls that come with it! Instead, I think it would be cool to be part of an amazing Musical production (think Hamilton, the Lion King etc) and play in a theatre. Honestly, I would not like the pressure or fame that comes with the gig!
In conclusion, if you want to know more about the tips and adventire of the travelling family, look at Kid bucket list
However, if you want to reado others interviews, look at our Blog.
Author: Joydeep Phukan  (The Gypsy Chiring)