Will a New Generation of Tour Guide Systems Revolutionise how Cruise Lines Run Shore Excursions?
New technologies are playing an important role in the cruise's recovery industry. But even before the pandemic, cruise lines set out to enhance their customer experience through digital innovation in all areas of their operations. Now, with a heightened urgency imposed by safety and health regulations, contactless transactions are no longer optional but a must-have. During shore excursions, through radio receiver, the guests listen to a guide from distance. In recent years, a new generation of these tour guide systems has appeared, that allows one to use the own smartphone instead of a radio receiver. While, in theory, this helps solve a hygiene concern, many of the new systems have not yet outgrown their infancy. For that and other reasons, cruise lines, local guides, and guests, are still somewhat reluctant to embrace the new technology. Rightly so? Predecessors and pioneers.
In 2019, Scenic River Cruises was one of the first cruise lines to employ a smartphone-based tour guide system successfully. This was not a sudden shift, though, but a logical next step in their continuous improvement of their customer experience.
Already, they were using a proprietary device as a comprehensive travel companion for their guests. A device that let them track their position on the route, preview upcoming destinations. It also let them receive announcements and notifications, and organise their travel documents. On shore excursions, the device fulfilled the function of traditional radio receivers. For guests who preferred to explore a city on their own, it offered zoomable, geo-referenced city maps. It also offered recommended routes and recorded audio, explaining the sights.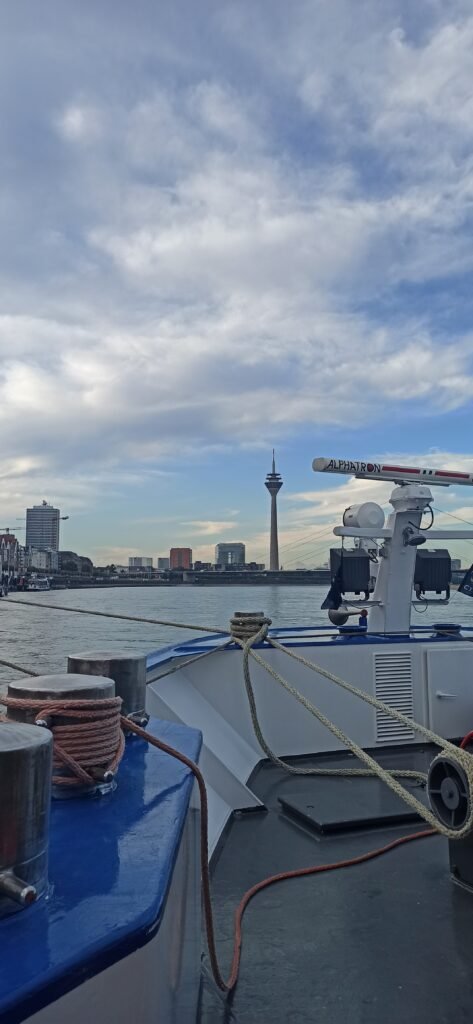 Together with the developers of this "tailor-made" device, it was envisaged from the outset that all functions would soon combine in a smartphone app. The app would make the proprietary devices obsolete.
The last hurdle to get there was the real-time transmission of the tour guides' voice. The smartphone's built-in data transmission technologies, such as Bluetooth, or mobile Internet, did not design or optimize for this task. The solutions of these technologies, they do not come close to the quality and reliability of the radio-based systems.
Particularly, the delay in the audio transmission and the dependency on unreliable network infrastructure (like mobile data), make the listening experience unenjoyable. Soon, Scenic River Cruises and their supplier Guiding-Group, identified Wireless Fidelity as the most promising technology for their purpose. While also not optimised for real-time audio transmission, it would provide a reliable, self-contained network. We coonect many phones with a wide range to this network. Guiding-Group's developers came up with a, so far unparalleled, protocol that reduced the time delay in the audio transmission significantly. Through continuous optimisation of both hardware and software components, the transmission now oscillates around the speed of natural sound-waves. This even outperforms most traditional radio receivers.
With a viable solution on the market, the question remained, how the guests would react to the change. Especially the older and less tech-savvy generation of guests might have difficulties with downloading and operating the app required. They expected, that a  small percentage of guests would not bring, or own, a phone to begin with. Meanwhile, Guiding-Group released a version of their system that bridges this gap by transmitting  onto smartphones and radio receivers.
So when offered the option, guests would rather not use their smarthphones than use other devices.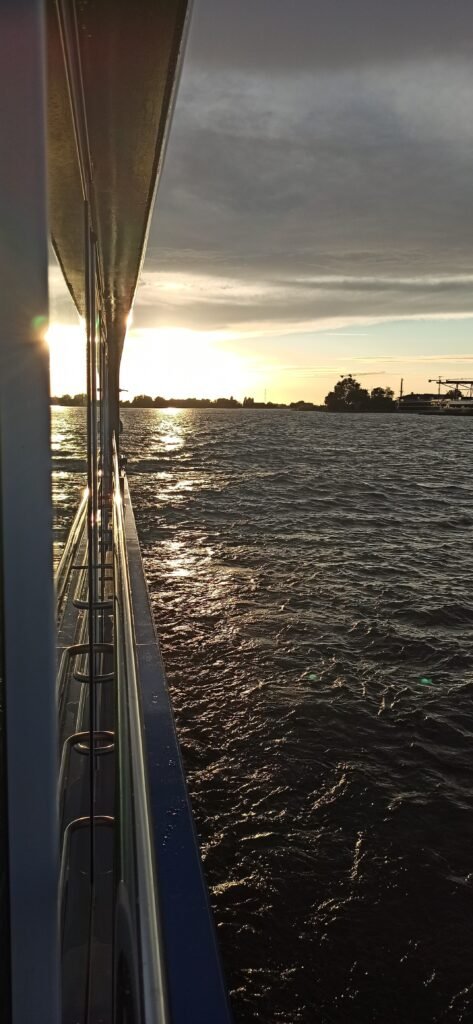 A test was conducted On a one-week cruise with guests of an average age of 65. One out of two guests downloaded the app on the first cruise day. The other half chose the familiar radio system. In the week's course, the percentage of smartphone users skyrocketed up to 80%. They reched the  tipping point on day 3, when most initially reluctant guests converted from radio to smartphone. No recommendation, no preferential treatment or support was given to smartphone users to keep the results unbiased. What caused the conversion clearly was the higher perceived net value of the new technology. While unfamiliar in the beginning, the smartphone-based system eliminated otherwise regularly occurring waiting times (for collecting and returning radio receivers), interference and other disruption in the transmission, and provided an overall higher sound quality. 
They observed another, rather subtle. Those who initially chose the radio solution, had a stronger attitude of entitlement to the smooth functioning of the equipment. They showed more quickly signs of frustration and uncollaborative behaviour in the event of malfunctioning. Those who chose the app solution, were more engaged in making it work, helped each other. They were positively delighted about their success.
That smartphone-based tour guide systems will outpace and finally replace radio-based systems is almost certain and only a matter of time. The opportunity space opened up by this technology is huge. Rookie mistakes will soon be overcome, and the digital literacy of cruise guests will continue to grow. Since 2019, a few more major cruise lines have successfully followed Scenic's example. That said, as of today, the technology is not a takeaway item at the checkout that will boost a cruise line's guest experience overnight. Few vendors offer fully functional solutions or have the experience to support a successful implementation. However, exceptions to that rule exist.
In conclusion, if you want to know more about Guide tour and its technology look at Guiding Group.
However, if you want to know more about the culture or art of any other country in the world, look at our Blog.
Author: Andreas Hackenberg and Estelle Chupeau