My Switzerland adventures began around halfway through my honeymoon coach tour of Western Europe. We arrived in Geneva around lunchtime, and I was immediately taken with the epic scenery. The lush green forests, dramatic snow-capped mountains and bright blue lakes make for impressive Instagram photos. Despite being a destination that tourists can visit all year round, I was excited to be visiting during autumn to witness the stunning Swiss landscape changing colour right before my eyes.
Coach tours run on a tight schedule, so we only had around two-and-a-half hours here before heading off to Wilderswil for the next two nights. Our priority was finding some cheap but delicious Swiss food. Preferably something that involved copious amounts of cheese. It wasn't long before we came across a street vendor selling some kind of flat pastry filled with lots of the yummy gooey stuff. Now I really felt like I was in Switzerland. Let's not forget how cold it was, but experiencing the crazy Swiss weather only adds to the experience.
We walked and ate while admiring the Genevan architecture until we happened upon Garden of the Alps, home to the stunning neo-gothic Brunswick Monument. It reminded me of a medieval church tower, which was made from light stone-colored marble. It was beautiful. In front of it were manicured gardens where artistic patterns were created with different colored flowers.
Brunswick Monument, Geneva in Switzerland,
It reminded me of the one item I desperately wanted to try and find in Geneva that day – The Flower Clock! What's the flower clock? It's exactly just that. A large outdoor clock, with its face made from around 6,500 flowering plants and shrubs, which are changed throughout the year. I first saw it on TV in the UK and instantly fell in love with it.
Walk around through Geneva
Our stroll continued across the Pont du Mont-Blanc, an attractive bridge that takes you over the vast Lake Geneva. We stopped about halfway across to admire the Jet d'Eau (Water Jet), which you won't be able to miss, as it's Geneva's most prominent landmark. It's one of the tallest water fountains in the world, which an unremarkable story behind it. Built in 1886, its original purpose was to control and release excess pressure from the La Coulouvrebiere (Hydraulic Plant). It soon became a symbol of the city and eventually was moved to the centre of the lake. After reaching the other side, we arrived at the Geneva English Garden. Be sure to check out the beautiful Fountain of the Four Seasons, with its water jets and statues, as well as some more stunning views of Lake Geneva and the jet stream. The Swiss really do like spraying water!
As we continued to traverse the streets, we enjoyed doing a spot of window shopping in the upmarket stores. It was at this point we spotted a cathedral in the distance upon a hill, so we walked up and check it out. We learned it was of a famous landmark called the Cathedral of Saint-Pierre. The church had some stunning features, including rose windows and a beautiful, pillared entrance. As we were tight on time, we opted not to look within, but I will definitely head inside if I ever make it back to Geneva.
Flower clock & Broken Chair Monument
Clock Tower, Geneva -Switzerland-
Returning through the pretty medieval-style streets, almost without realising it, we passed my amazing Flower Clock. It was just as outstanding as it was on when I saw it on TV. Before saying goodbye to the lovely city of Geneva, our tour guides drove us to the Broken Chair Monument. I instantly loved this statue. One of the chair legs looks as though it's been snapped off, and you will look at it, almost scratching your head how it can actually stand up straight! Created by Handicap International, the broken leg represents those who have been mutilated by landmines in war-ravaged countries.
Its placement is quite significant as it's situated opposite the United Nations building. I'd seen this building about a billion times on TV before, so it was great to finally see the iconic flagpole-lined avenue leading up to the entrance, where every country is represented. Back at the chair, you'll find a square that has more jetted water shooting up in the air at cleverly timed intervals behind the sculpture, which makes for a rather pretty photo opportunity if you're quick with your camera.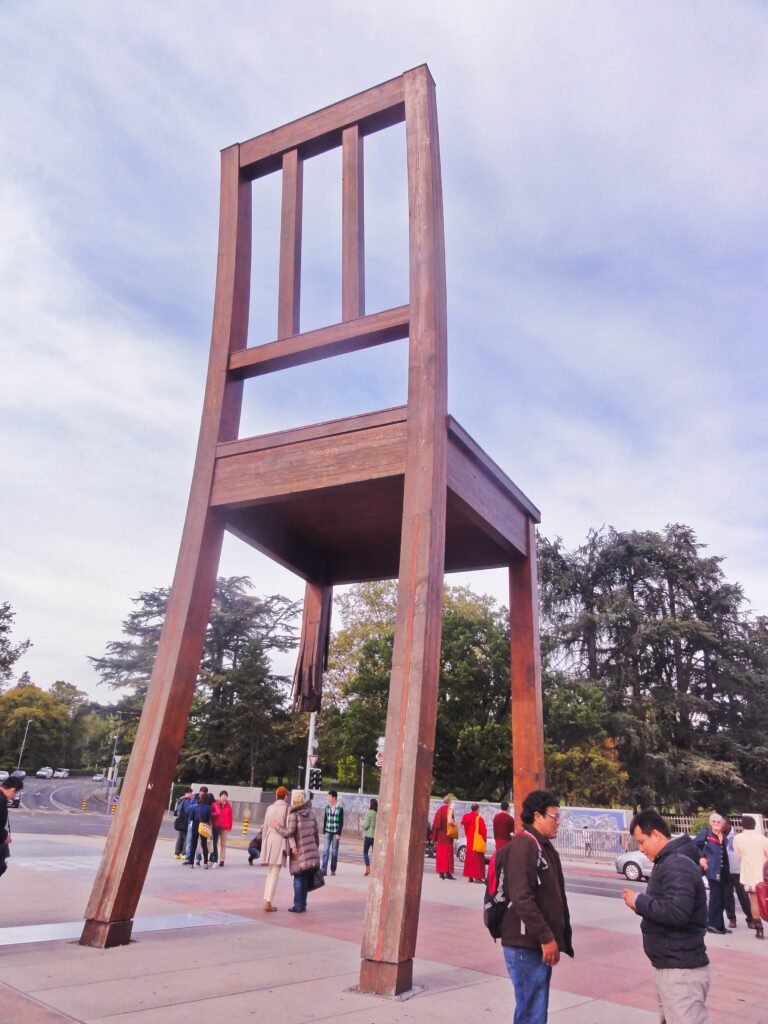 Broken Chair, Geneva - Switzerland-
Sadly, our few hours in Geneva had ended. Still, I was pretty excited to head to our next destination, Wilderswil. Even the drive didn't bother me as it simply meant two hours of driving through stunning scenery and fairy-tale villages, my idea of heaven! We passed idyllic little towns built right on the riverside, as well as farms and vineyards, showing off their orchards ripe for the picking. My camera and I were in blogger heaven.
It was then that our coach driver made an announcement, pre-warning everyone to look to the left of the coach and have their cameras ready because just around the next bend, we would be treated to some fantastic views. As soon as our coach turned the corner, I gazed upon one of the most beautiful landscapes I'd ever seen. The surrounding river had become a shimmering, still blue lake with lush mountains in the background and many cute Swiss-style wooden houses.
Wilderwill scenary in Switzerland
Around two hours later, as the rolling green hills turned to snow-capped mountains, we knew we were finally entering Wilderswil. I stared around eagerly from the coach at the winter wonderland outside, making me more excited about tomorrow's adventures.
Travelling alone for the first time
The next day I was up at dawn to catch the early train with our tour group to Jungfraujoch. I was feeling quite anxious because this would be the first solo activity that I had done on my own before. My husband, Zac could not come as he has bad asthma, made worse by the cold weather. He also has difficulty breathing at high altitudes, so it was a double whammy not to happen! However, he knew how desperately I wanted to see Jungfrau, to traverse one of the highest mountains in Europe, so he encouraged me to go without him.
 So, there I was, travelling alone for the first time, and anxiety was appearing, but fortunately, I was not the only solo traveller in my group. About halfway there, we had to disembark and wait to board the special train that would take us the rest of the way up to Jungfrau. I suddenly saw our little red train coming down the mountain, and I couldn't believe how cute it was. We all boarded with excitement, and I realised that this was the last leg of the journey before reaching the top. After leaving, I saw a lovely little town made up of a handful of lightly dusty houses. The snow-capped mountains travelled as far as the eye could see, divided only by patches of forest and a small glistening lake. The complete scene was so idyllic. All I did the entire way was to take photos.
Jungfrau, one of the highest mountain in Europe
Finally, we reached our destination – Jungfraujoch! I'd reached one of the highest peaks of Europe, at a staggering 3,454 meters above sea level! Some of my solo anxiety resurfaced as I got off the train, but it helped me remember where I was and the fun day ahead. I was very excited to look around, and I checked out the Aletsch Glacier first, as it was easily accessible from the station. There is a small platform that allows you to go outside for a closer look. When I opened the door, I was met by a blast of icy air. I admired the view for a few seconds, but didn't stay out for too long.
My next stop was Alpine Sensation, where I learned about the pioneers who dug the tunnels for the railway to Jungfrau as possible. It must have been a hellish job! This area also leads you to an open space that contains the largest snow globe I'd ever seen. I wish there had been a way to shake it up so I could see the snowfall inside. The models contained within were so intricate, from little mountain villages, a moving train and cable cars. It was so stunning and just reminded me of Christmas.
The Ice Palace was next on my list, where I had to navigate a tunnel made of solid ice. There is a handrail to help you, even so, without the proper snowshoes, you're really going to have a hard time standing up here! The narrow walkway made me feel so claustrophobic, and the temperatures here were well below freezing. However, I am glad I endured it as I saw some remarkable ice sculptures. Among which were ice carvings of polar bears, seals and a penguin colony, which was the sculpture that I loved the most.
Dizzy from the high altitude
After being in such a confined space, I needed to head outdoors and took in the beautiful scenery, which stretched for miles in every direction. I looked down through the mountain and realised that I was literally above the clouds. It was such a beautiful and exciting sight. Be careful outside, as I was shocked to see such a flimsy rope was the only thing separating me from this once-in-a-lifetime experience and falling down a steep incline to almost certain death.
)Jungfrau, Switzerland (Lindsay)
I did one last snowy adventure of the day, which was the Mönchsjoch Hut hike. At first, I was keeping a good pace as I listened to the sound of snow crunching under my boots. I was even feeling comfortable about being alone. That was when I noticed that the surrounding air was getting considerably thinner! At first, I put it down to walking too fast, so I slowed down. A few minutes later, I felt really dizzy and couldn't catch my breath, so I stopped being the stubborn Mancunion girl that I was and listened to my body telling me it needed to get to a lower altitude.
Slowly, I made my way back down the snowy path and felt the imaginary weight that had been pressed against my chest for the last ten minutes lift. I was so relieved when I returned to the safety of the building and to be breathing normally again. It was a horrible experience.
The final Switzerland adventure
Before long, we were departing on our bright red train and descending the mountain, where we watched the incredible scenery pass by our window. Two hours later, we were back in Wilderswil, where we enjoyed a lovely walk through the village admiring the architecture. Swiss dwellings typically have an English Tudor-style look, with a larger second floor creating an overhang. Many also sported painted shutters and carved wood exteriors. They really have a fairy tale style that they've become so famous for.
The next morning, it was another early start as we headed to Munich in Germany, around a five-hour drive. But we had one final Switzerland adventure – driving through her unforgiving mountains! Again, the landscape before us was spectacular. The snow-capped mountains against a deep blue sky created an idyllic setting. But as we travelled further up into the hills, the roads became very narrow, with many hairpin bends, as I'd seen nowhere else before. At one point, it was too difficult to contemplate the impressive landscape because when I looked out of the coach, all I could see was a direct drop. There were no barriers or anything that could prevent our bus from falling off the cliff. Even the flimsy ropes from yesterday's trip would have been better than nothing we're dealing with today. Fortunately, our fantastic driver navigated those curves slower than walking.
We survived the mountain of death to tell the story of our amazing and beautiful adventures in Switzerland, where I faced my fears of venturing alone, visited an ice palace and climbed the highest mountain in Europe.
In conclusion, if you want to know more about Lindsay's and Zac's adventure, look at The Travel Vine.
However, if you ant to know more aobut the culture or art of other places, look at our Blog. 
Author: Lindsay Vine