Sandy Ruyack is the writer of the popular adventure travel blog Boulevards and Byways. She introduces readers to transformative travel experiences and off-the-beaten-path-adventures.
Her stories and photographs reflect her love of travel to Puerto Rico, the Caribbean, and elsewhere around the world. Through engaging blog content, informative travel guides, and inspirational holiday tips, she encourages readers to step out of their comfort zones.
What does it mean for you to travel and get out of your comfort zone?
For me, it means finding my confidence to travel to unknown places and experience new things. I enjoy adding activities to my itinerary that challenge me. For example, exploring little-known parts of a city or hiking a difficult path leading to an incredible view.  Another examples can also be eating unique foods, going to unfamiliar places that the typical tourist won't go, and immersing myself in the local culture even if I don't know the language.
What is the reason behind the creation of your blog? What inspired you to name it Boulevards and Byways?
I started a writing as a creative outlet and hobby. I love to travel, so writing about my travels and sharing my enthusiasm and knowledge about the places I have visited just came naturally. Around that time, I was spending a large amount of time in Puerto Rico, so it was logical for me to focus on my different journeys throughout the island.
The name Boulevards (main roads) and Byways (back roads) came from the car rides I used to take with my dad. He was always taking the back roads, which was where we'd find little known road-side restaurants with the best food and things to do that most people weren't aware about.
You have received a Travel Writer award. What was your article about?
I wrote an article for an online site called familyvacationcritic.com. The article was about the adventures my family and I had in Costa Rica zip lining and visiting the volcanic mud baths. As a result, I won a trip to Ireland staying on the grounds of the Adare Manor, a Manor House from the 1800s. Surely, it is one of the top 5 luxury hotels in Ireland.
Limerick - Ireland - Adare Manor Hotel
On your website, we see that the vast majority of the articles are about New York and Puerto Rico. Can you tell us what you most like about each of these two places, with totally different cultures one from the other?
I mainly write about New York and Puerto Rico because I split my time living in both areas. The state of New York is vastly different in the north than it is in the south. The northern part of New York provides a laid-back lifestyle. It connects me with nature through its charming towns, wineries, and vast hiking trails in forested parks.
However, the south part of the state is where Manhattan resides, and like any big city, it's where the action is found. From museums, to restaurants offering a myriad of cuisines, to the opportunities to experience theatre, ballets and opera. For me it's a place rich with cultural diversity, enrichment, and inspiration.
Puerto Rico is similar in that the island offers both types of lifestyles based on geography. I can connect with nature atop beautiful mountaintop vistas, visit coffee plantations, hike mountain peaks in the tropical rain forest, and stroll amidst its expansive beaches. Then there's the city of San Juan where I can immerse myself in the energy of a big city, discover the island's history through the stories expressed in its museums, and by exploring the 15th century forts. Of course, it's the people of Puerto Rico whose kindness and rich cultural identity provide the inspiration for me to write many of my articles.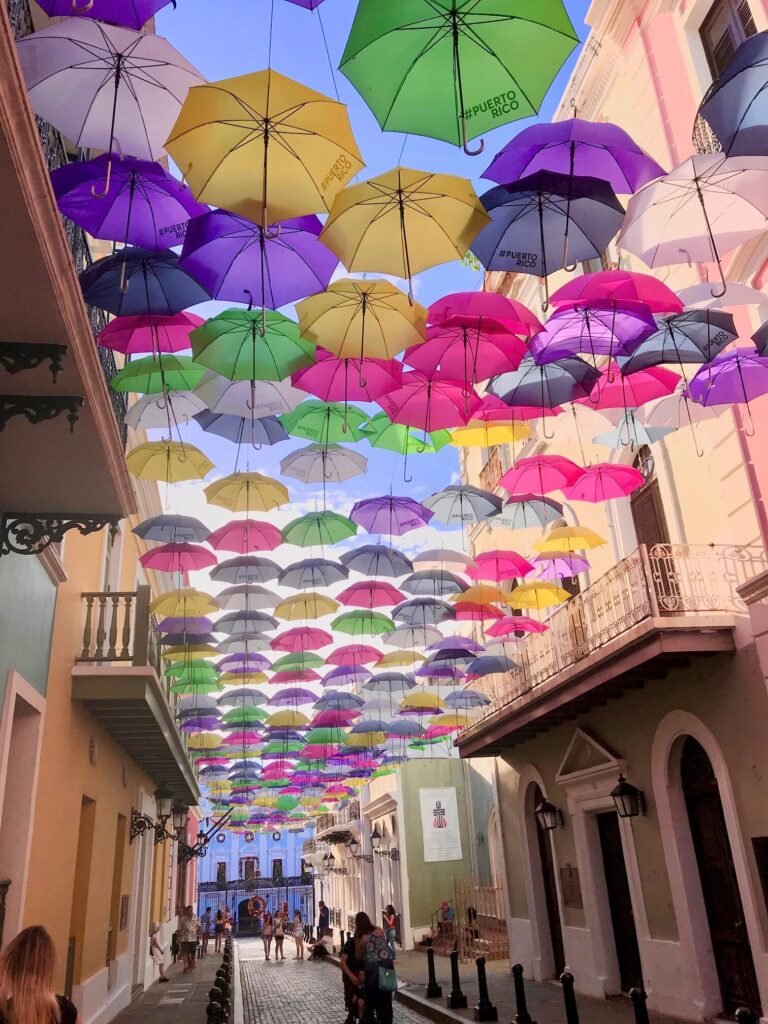 Old San Juan - Puerto Rico - Umbrellas La Fortaleza
Why is your blog focused on the Caribbean and especially on Puerto Rico?
Surely, I believe I answered that question above, but I feel at home when I'm in Puerto Rico. I especially enjoy warm weather climates and the crystal-clear waters of the Caribbean. The various Caribbean islands are only a few hours' plane ride from New York. I'm provided with a convenient opportunity to explore the diversity of cultures of the different islands and to connect with the history, people, and cuisine that uniquely define each area. The Caribbean comprises 26 countries that include 13 independent nations, as well as territories of France, the Netherlands, the United Kingdom, and the United States. Most people truly don't realise that the islands are culturally unique.
Which is your favourite place in Puerto Rico?
Surely, there are so many unique and interesting places. Certainly, the Museo de las Americas in Old San Juan would make my top ten list of favourite places. The museum conveys the culture and history of Puerto Rico's cultural heritage. It's housed in a former army barrack for Spanish soldiers called Cuartel de Ballaja. It's a lovely museum where African and Indian legacies and information about the conquest and colonisation of the island provide visitors a heartfelt and succinct history of Puerto Rico.
Has the pandemic affected the tourism of Puerto Rico?
Notably, the pandemic has affected the tourism of Puerto Rico. In the early days of the pandemic, businesses were closed and there were heavy restrictions placed on movement throughout the island. There were no tourists visiting under these conditions and local businesses suffered immensely. Tourism has since increased with mask and vaccination mandates, but then decreased again after the onset of the omicron variant.
Places visited in Europe and Central America
Is there a place that you have visited that was better than your expectations?
I took a trip to the Pyrenees Mountains where I first shopped in a local market and purchased fresh baked bread, salami, local cheeses, and strawberries. At the top of one of the mountains, I ate my meal surrounded by breathtaking vistas and nature. Surely, it proved to be one of the best meals I have ever eaten and one of the most beautiful places I've been.
Besides travelling through the Caribbean, you also travelled to Central America and through different countries in Europe. Which of those captivated you the most, and why?
This is a very tough question because every place I have visited has been enriching, fascinating, and unique. I could snorkel in Belize and Roatan. It was like being in an aquarium and unlike anywhere else I had snorkelled. Mexico City and Guadalajara provided opportunities for me to immerse myself in the incredibly rich culture and deliciously fresh cuisine. Paris and Toulouse hold a special place in my heart not only for the incredible food and culture, but for the people. The French were kind, and a joy to be around, very unlike the rumoured stereotypes.
Travel Blogger and Marketing Consultant
What are your tips for writing an engaging travel article?
I like to research the place I'm visiting before I visit because it helps me understand what I'm going to see before I see it. Certainly, allows me to personalise the visit so I can provide a unique story and outlook. I then find it helpful to jot a few notes down while I'm actually experiencing the place, which allows me to capture the emotion of the moment.
in conclusion, besides being a travel blogger, you are a marketing consultant. Can you tell us what your work consists of and what type of companies do you work with?
My marketing firm, Write Choice Marketing, provides compelling communications for the hospitality and tourism industries. We provide content for social media posts, as well as write articles promoting their businesses. We also  create email marketing campaigns to keep in touch with their customers. My clients have included Bacardi Rum, a variety of hotels and resorts, tour agencies, and many restaurants. I am a nonprofit strategist.  But I  am also content writer providing fundraising copy for email and direct mail appeals for various environmental causes, organisations such as Guiding Eyes for the Blind and March of Dimes as well as, local animal shelters and hospitals
Sandy Ruyack - Boulevards and Byways