Rwanda is a small African country, whose name is often mostly associated with the horrific genocide that happened here in 1994. It was one of the most tragic events in the history of the world, not just in Rwanda. It was, however, a watershed moment in the country's history. Since then, it has embarked on a new path of social, economic, and ecological development, and it deserves to be remembered for more than the events of 1994.
Here are some interesting facts about Rwanda that will spark your curiosity and put the country on your bucket list.
What you might not expect from an African country is to rank among the cleanest ones in the world. That is the case with Rwanda. Its public spaces are always remarkably clean and there is normally not a single piece of trash around. This is due in part to the country's 2008 ban on plastic bags. When you enter the country, officials will inspect your luggage and ask you to remove any plastic bags you may have.
The highest percentage of women in parliament in the world
With over 60% of its parliament members being female, Rwanda has the highest percentage of women in parliament in the world.
Every last Saturday of the month is a community work day
Every last Saturday of the month, from 8 a.m. to 11 a.m., people across the country take part in community projects. It's called Umuganda, and it's required. People all over the country take part in cleaning the streets, helping to build schools, cutting grass, etc. The goal of this practice is to not only keep everything clean and tidy but also to help bring people together after the Genocide.
It is home to the endangered mountain gorillas
The Virunga Massif, which includes Rwanda's Volcanoes National Park, is home to approximately 60% of the population of this endangered species. Gorillas are fascinating animals, and seeing them in their natural habitat is a once-in-a-lifetime opportunity, especially given that humans share over 97% of their genetic code with them. Rwanda is very concerned about conservation. This means that only 100 tourists per day are permitted to participate in gorilla tracking, which costs $1600.
It's known as "The Land of a Thousand Hills"
Rwanda is distinguished by its hilly and mountainous terrain. The country averages 1,000 metres above sea level and never drops below it.
Before Rwanda became part of the Belgian Empire after World War I, it was part of Germany, together with Tanzania.
One of the most horrific genocides in history happened here
Rwanda's people are mostly Hutus and Tutsis. Although Rwandans are working hard to put their differences aside, these two ethnic groups have frequently clashed in the past. The conflict reached a climax in 1994 when the Hutus slaughtered nearly one million Tutsis and moderate Hutus in less than 100 days. It is the fastest and one of the most brutal genocides in history – with weapons such as machetes and clubs used by both military and ordinary people.
It inspired some of the greatest movies of all time
The 2014 drama "Hotel Rwanda" was based on the true story of Paul Rusesabagina, the manager of Hôtel des Mille Collines, who saved hundreds of lives during the 1994 genocide. This hotel is now open and one of the most popular choices for visitors to Kigali. Another critically acclaimed drama based on true events is "Gorillas in the Mist," which was released in 1998. It tells the story of naturalist Dian Fossey, who studied mountain gorillas extensively and worked tirelessly to protect them. In fact, one of the most popular hiking trails, which leads to her tomb and research camp, is named after her.
Rwanda is the most densely populated country in Africa.
It has the highest population density in Africa, with an estimated 274.6 people per km2.
Rwanda has four official languages
The official languages of Rwanda are French, English, Kinyarwanda and Kiswahili.
Rwanda hosts a car-free day
To promote healthy living and sustainability, Rwanda implements a car-free day each month. People are running, cycling, skating, or participating in any other outdoor sport on Rwanda's streets these days.
The most touristic places in Rwanda
The park is located within the Virunga mountain ranges and is home to approximately 400 mountain gorillas and 10 habituated gorilla families. The park's thick forest and mountainous terrain make gorilla tracking difficult but exciting. Since Dian Fossey set up camp in Volcanoes National Park, the country has emerged as a global leader in mountain gorilla conservation and research – visitors can arrange to visit Dian Fossey's former research station and grave.
While mountain gorilla tracking is the main activity in the volcanoes national park, visitors can also see forest elephants, forest hogs, golden monkeys, buffalo, birds, and several species of butterflies while on a Rwanda Wildlife tour. The park contains several hiking-friendly volcanoes and mountains, including Bisoke, Sabyinyo, and Karisimbi. Combining a gorilla safari in Rwanda with a mountain hike is exhausting but worthwhile for the adventurous.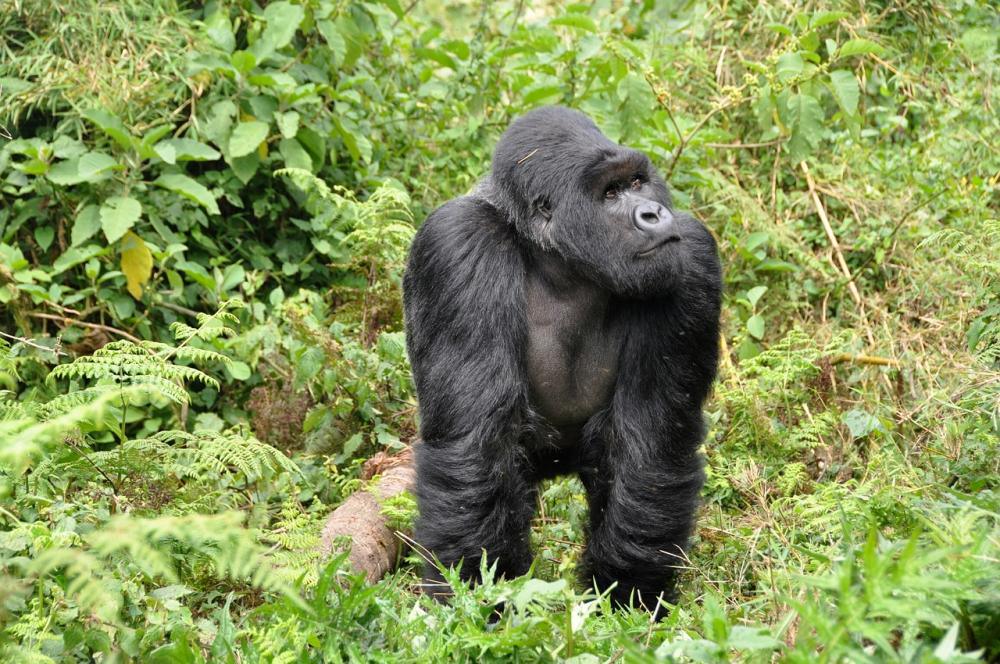 Nyungwe Forest National Park
Nyungwe forest National Park is one of the most attractive destinations while on a Rwanda wildlife tour. Nyungwe forest is a vast tropical forest with over 1000 plant species and is a good reflection of Rwanda's exciting biodiversity. The forest is the best place to track chimps after tracking mountain gorillas on a Rwanda tour. The forest is home to over 240 bird species, making it a birder's paradise. Apart from chimpanzee trekking and birding, visitors should expect to spot baboons, golden monkeys, colobus monkeys, blue monkeys and other primates. A Nyungwe forest canopy walk is a must-do for bird watchers and those visiting Rwanda to track chimps.
The best place to go on a safari in Rwanda is Akagera National Park. The park, which is located in the country's east, encompasses over 1000 km2 of savanna, similar to those found in Kenya, Tanzania, and Uganda. The park is close to Kigali and is home to a diverse array of African mammals that congregate at its numerous watering holes, including the Akagera River and Lake Shakani. A game drive is the most popular activity in Akagera National Park, where you can see hyenas, jackals, antelopes, giraffes, baboons, zebras, buffalos, leopards, and elephants, among other animals. Lions and black rhinos are being introduced in the park so that visitors can have a full package of Africa's big five. Bird watchers can expect to see over 500 species on a three day wildlife safari in Akagera, including shoebill storks.
The Gishwati Forest, which spans over 250,000 acres, is one of Rwanda's most popular tourist destinations. The forest offers a beautiful view of Lake Kivu, and birders will be wowed by the over 400 resident species. Massive deforestation has occurred in the forest as a result of ranchers, pastoralists, and refugees who sought refuge after the 1994 genocide. Plans are being developed to restore the entire stretch of land to its former state of the forest. Note: Gishwati forest was recently merged with the nearby Mukura to form what is now known as Gishwati-Mukura National Park. The national parks in Rwandaare now four.
Genocide Memorial Centers:
While on safari, visiting one of the genocide memorial centres is highly recommended in order to appreciate the current progress made by the people of Rwanda. Hundreds of thousands of Tutsis and moderate Hutus were massacred during the three-month genocide in 1994, and sites like those found in Kigali serve as a constant reminder of that dark past. The mass graves, photographs, film footage and other exhibitions provide a glimpse of the country's traumatic past. Visiting the genocide memorial site allows you to pay tribute to the victims, remember loved ones, and confront the reality of what happened in Rwanda.
Another site worth seeing is the Nyamata Church, which is home to approximately 50,000 genocide victims. The church is still standing, and human clothing, bones, and bloodstains can be seen on the church benches. The Gisozi Genocide war memorial site is built on the graves of over 250,000 genocide victims.
The Rwanda Development Board has worked hard to establish Rwanda as a major African tourism destination. With the opening of the Congo Nile Trail, the Rwandan government has expanded tourism opportunities. Hiking along the Congo Nile Trail is now one of the most interesting things to do while on a safari in Rwanda. The well-known trail passes through Lake Kivu and allows hikers to marvel at the country's beautiful nature, green vegetation, hills, and clear lake waters while overlooking nearby mountains.
Lake Kivu, located on the border between Rwanda and the Democratic Republic of the Congo, is one of Rwanda's natural wonders, covering an area of over 2,600 km2. Flowing at about 1450m above ground, the lake is the highest in Africa. It is one of only three lakes in the world that occasionally emits carbon dioxide from its depths, a phenomenon known as "the exploding lake". There have been no recent volcanic eruptions, and visitors can expect to see beautiful beaches, lush vegetation, islands, fishing villages, and ports like Rubavu. Touring Lake Kivu on a safari comes with opportunities to go hiking, bird watching, nature walks, chimpanzee tracking or boat riding.
Mount Karisimbi is one of Africa's highest peaks and is part of the Virunga mountain ranges. One of the best things to do while in Musanze is hike Mount Karisimbi. Visitors who can endure the 6-hour ascent to the summit will be rewarded with a breathtaking view of the volcanic national park as well as opportunities to spot various species of birds. Visitors may opt to combine Hiking Mount Karisimbi with tracking mountain gorillas at the Volcanoes national park. Combining a Mount Karisimbi hike and gorilla trekking during a Rwanda safari is a tiring venture and requires considerable fitness levels if it is to be accomplished within a few days.
Mount Bisoke is an active volcano located on the border between Rwanda and DR Congo. For those wishing to explore the beautiful countryside while on a Rwanda tour, trekking up Mount Bisoke may just be the thing for you. Trekking mount Bisoke lasts about 6 hours with steep sections here and there, after which one is rewarded with stunning views of the Volcanoes national park. Visitors can also marvel at Crater Lake and the lush green scenery that surrounds the mountain while hiking Bisoke .
In short, if you want to know more about Rwanda, you can look at  Goldrock Safaris
However, if you want to know more about the culture of other places, look at our Blog. 
Author: Isabirye Habert (Goldrock Safaris)