Raquel, Spanish traveller with reduced mobility
Raquel, a traveller with reduced mobility. She is from Barcelona, Spain. Raquel Fernandez is 35 years old and was born in spina bifida. She
travels in a wheelchair. One of her hobbies is travelling and seeing the world. For about three years she has been present on the social networks twitter, Instagram, Facebook and Pinterest. On the social network,  she can be found as a silleraviajera. On her website Silleraviajera she talks about her trips and accessibility for people with reduced mobility. Through her website, she would like to show that travelling accessibly does not have to be economically expensive.
Interview with Raquel, a traveller with reduced mobility
Of the places you have visited, which place will you repeat and why?
Of the places I have visited in Spain, I would return to all the ones I have been, such as Madrid, Valencia, and Barcelona. I would like to continue discovering these beautiful cities more thoroughly. In Europe, so far I have only been to two places. I would surely go back to London for its incredible accessibility. The city is very well adapted in everything, except the subway.
Of the countries you have visited, according to your experience, which is the country that is least prepared for this type of traveller and why?
Rome was the least prepared for accessibility and that is why it disappointed me a bit when I visited it three years ago. As a city I loved it for its monuments, its history, its people. Three years ago the city itself was not very accessible. The biggest complications appeared in the mobilisation, where for reasons of the transfers, the subway was not so accessible. For this reason I had to stop using the easier and faster transport, and move only with buses, which, most of them, were accessible.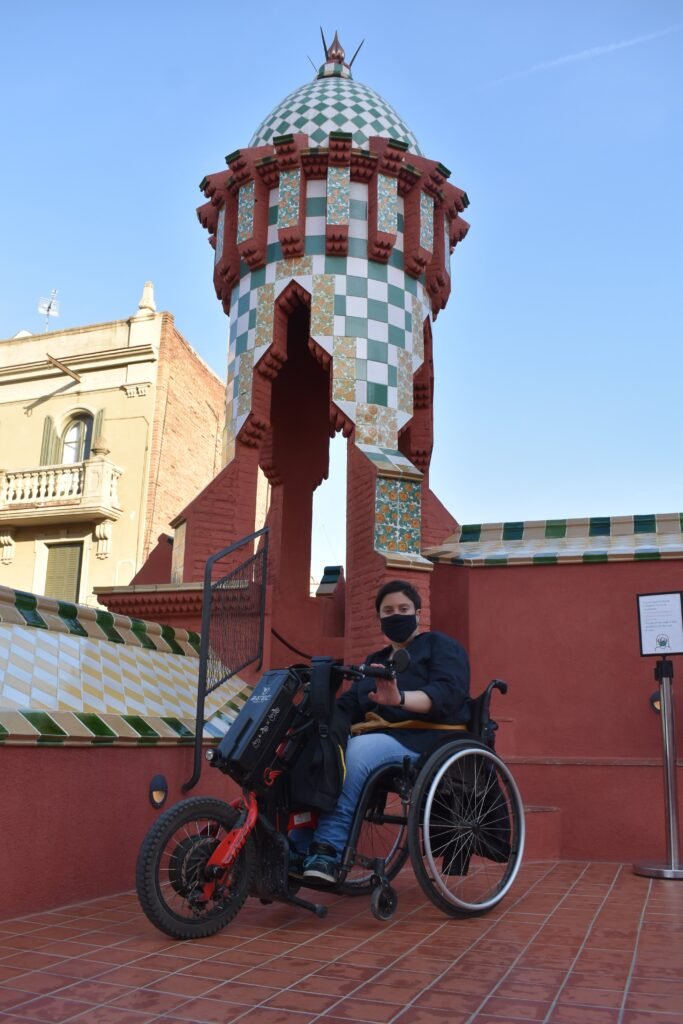 Problems with adapted rooms
When planning your trips (transport and / or accommodation), do you find many difficulties and problems (cancellation of the reservation etc.) to make reservations?
It will be the luck of the newbie, but so far I have encountered no major problems while making reservations. The only problem I find is at the accommodation level, since on the hotel reservation pages when I put the accessible / adapted filter, the assessment they have on accessibility is wrong. They consider adapted or accessible accommodation, when one can enter through the front door or by having an elevator, but not through an adapted room. For this reason, I am creating a list that I published on my website of accessible accommodation and restaurants.
Do you think that a traveller with reduced mobility has extra costs compared to an ordinary traveller and why?
Of course, I have found organised trips with very high prices, trips that I have done on my own for more than half the price that agencies usually offer.
Do you think that tourism still needs to develop a lot to satisfy travellers with reduced mobility?
Of course, tourism still needs to develop a lot in accessibility and in more competitive and affordable prices for all budgets.
Paris, Eiffel Tower and Botticelli
Have you ever thought of creating a group of people with reduced mobility, to show the tourism sector that you are a good niche, both economically, but above all on a human level?
I would love to have a group and be able to help them with travel advice in the future. That is why through my website all I am doing is showing that people with reduced mobility can travel at affordable prices.
If you had been a painter, who would you have liked to be, what place would you have liked to paint and why?
Great question. Surely it would be the painter Botticelli. Although Botticelli was an Italian painter, I would love to paint Paris and especially the Eiffel Tower. The reason I would paint Paris is that since I was a child, I dream of visiting the French capital and surely on one of the next trips I will fulfil my dream.
Although travelling virtually is not the same, have you been able to visit some beautiful place during this pandemic and where would you like to travel once the Covid-19 is under control?
During the pandemic, I have done none virtual tour, since the trip has to be lived in person. I need to travel in person to any place, to feel the people, see the monuments and enjoy the gastronomy. In these times of pandemic I have only looked at the prices of flights and accommodation in various destinations but without having an obvious idea where to go.
London Eye, the most accesible monument
Do you have to make certain travel arrangements if you are travelling by plane?
When I travel by plane, I have to call to the airline at least 48 hours before departure to request help from the person with reduced mobility. Through this service, the airline offers me a person who helps me and takes care of the wheelchair to get it on the plane.
What are the basic problems you face when travelling in a wheelchair?
Surely the major problem is accessibility. Many cities still need a lot to improve on accessibility.
Which of the countries you have visited are the most and least friendly to people with reduced mobility?
On a social level, I can speak very well of the countries I have visited, whether in Rome or London. People helped me without the need to ask for help.
In conclusion, which famous monument that you have visited is the most accessible for people with reduced mobility?
The most accessible monument I have visited was London Eye (Ferris wheel)
Author: Jose Enrique Gonzalez