Peru, culture and the book "The Peru Reader"
Peru, a culture that invites us to explore all our senses. A mystery cloud of dust forms after I blow softly on the surface of a book that awakened my curiosity and no, I'm not unearthing it from my backyard, I just only went to my "a little bit forgotten" personal library and selected something like a treasure from Orin Starn, Carlos Iván Degregori and Robin Kirk, their "The Peru Reader" book, because on this cloudy and freezing afternoon, I decided to interview them and share a hot cup of chocolate, while together, we dive in to the secrets behind this fabulous culture.
I've heard that reading a book is like sharing a cup of coffee with the author, so if you want to learn more about great life examples like Mother Teresa, Gandhi or Nelson Mandela, just prepare the cosiest place in your home or anywhere you find special and start reading about them. I'm not a fan of coffee – (please coffee lovers don't hate me) – that's why I decided to share a hot cup of chocolate to start our journey inside the Peruvian culture, digging into one of the finest primers on Peru`s recent history and culture.
Peruvian culture, al mix of Hispanic and original native traditions
Peruvian culture is an interesting and special mix of Hispanic and original native traditions. The Quechua is the main native culture of Peru. You can also find Aymara in some of the southern regions of the country. Both of them speak their native languages nowadays but with a slight change with some words. They have successfully preserved their traditions and proud cultures, despite the creeping in of the new world and globalisation. In fact, the old Inca city of Cuzco (the capital of the Inca Empire back then) is still perceived by many as the cultural capital of the country.
One of the original features you can find once you have the chance to tour around Peru is the colourful and charming dresses.  Many of the locals still wear at the present time. In some regions, the women wear layers of bright embroidery skirts called polleras. Some wear black skirts with a wide embroidered belt, or cotton petticoats underneath with elaborated designs. Some of you may have heard about Peruvian ponchos. Peruvian ponchos are a must-have in the highlands, where the cold climate can be harsh. The typical ponchos of Cajamarca and Puno are long, whereas those of Cuzco are shorter.
The Lost City of the Incas, Machu Picchu – Cusco, Perú.
The pre-Spanish artifacts
A tour inside this fantastic land should include some exposure to the country's art, both modern and ancient. The pre-Spanish artifacts are striking examples of artistic expression. The artifacts that you can see in museum are from jewelery and weavings to stone and metal carvings. In the city of Cochas, Peru, high in the central Andes Huancayo region, the ancient craft of gourd carving is a long-standing local custom. For more than 4,000 years, artisan families living here have been hacking away at the dried, hard-skinned fruits using engraving tools and even burning techniques to colour them various shades of brown and black. These are no rudimentary jack-o'-lanterns either. Some of the gourd designs are astonishingly intricate, with whole stories often illustrated on one piece.
*Royal Tombs Museum of Sipán – Lambayeque, Perú". (Souce: Luis Gamero / PROMPERÚ)
Some of Peru's architecture is breathtaking. The colonial city of Arequipa, the majestic City of Cusco are some fine examples. In the realm of ancient architecture, the lost city of Machu Picchu is unparalleled in its engineering and location. The stone temples and salons rise directly out of the mountain's peak, that falls away on all sides to the rivers below. The terraced gardens reveal the agricultural advances of the Incas, and the astrological markers show incredible precision and knowledge of celestial events. The lost city is one of the world's great wonders.
And If you visit Perú, its gastronomy is definitely a stop that you need to dedícate a special time. There is a reason why in the last 10 years, Peru has been recognised as one of the world's best culinary destinations. The country's gastronomic boom owes a great deal to its biodiversity along with its multicultural heritage.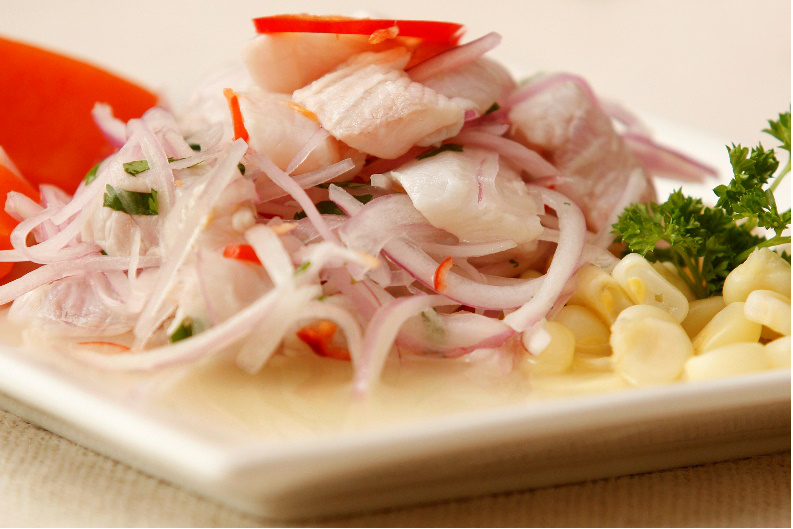 Ceviche – Perú. (Source: Enrique Castro-Mendivil / PROMPERÚ)
The mix of flavours in Peruvian cuisine is not more than the mix of cultures that have arrived in Peru over the last 500 years. It began with pre-Hispanic cuisine that creates dishes and cooking methods like pachamanca and cuy chactado. Later on, when the Spanish started arriving in their colonisation plan that began in the 16th century, Moorish influenced dishes were introduced to the menu; the onions, spices and honey desserts are now fundamental to every meal. When Chinese immigrants arrived in the 19th century, their cuisine seamlessly melded with Peruvian traditional dishes and created the super-popular Chifa. Other big gastronomical influences are African, Italian and Japanese cuisines.
Conclusion and general information
From any angle that you see this staggering country, from any approach which help you get closer to this fascinating culture, you will always realise that is never enough time to discover Peru. Peru, a country that is continuously reinventing itself, to feel the warmth of the people reflecting in every single smile. To explore just by standing at one of its innumerable archeological remains, natural reserves or museums all the history that built and mixed uniquelessly this culture.
I place my book back to its original space while saying a gentle "see you later" to my new found friends that helped me kindle again this special emotion about Perú and leaving my cup on the little table next to me I look through the window and believe it or not the rain is gone, and I witness this wonderful and indescribable light halo that can only be seen as an utter invitation for me, for you, for anybody that is eager to know more to not only read about it but to experience it out there with all your senses.
In conclusion, if you want to know more about Peru and its culture, you can look at Kindle Journeys. 
However, if you want to know more about the culture of other places, look at our Blog. 
Author: Edson Chadcón (Kindle Journeys)