Voyagers Voice has interviewed Joydeep Phukan, a travel blogger based in Assam, India. He shares his soothing stories and tips on travel, adventure, culture and nature of places around the world. However, he primarily focuses on the tourism of Northeast India. His blog is named The Gypsy Chiring.
1. How did your blogging journey start?
Writing daily journals helped me discover my love for writing my experiences. I started blogging genuinely only since January 2020.
2. What is the goal of your travel blog?
I am academically from a Anthropology background. Therefore, culture and nature have always fascinated me.  I wish to learn more about the relationship between culture and nature of the people of Northeast India. Accordingly, I aim to promote their authentic stories and traditions to the world through my blog.  I want everyone to know more about the lesser known northeast region of India. 
3. What motivates you to write?
Certainly, the nature motivates me to express moments of pure happiness through words. Even when I am at home, I sit on the terrace to listen to the chirping of birds singing to each other.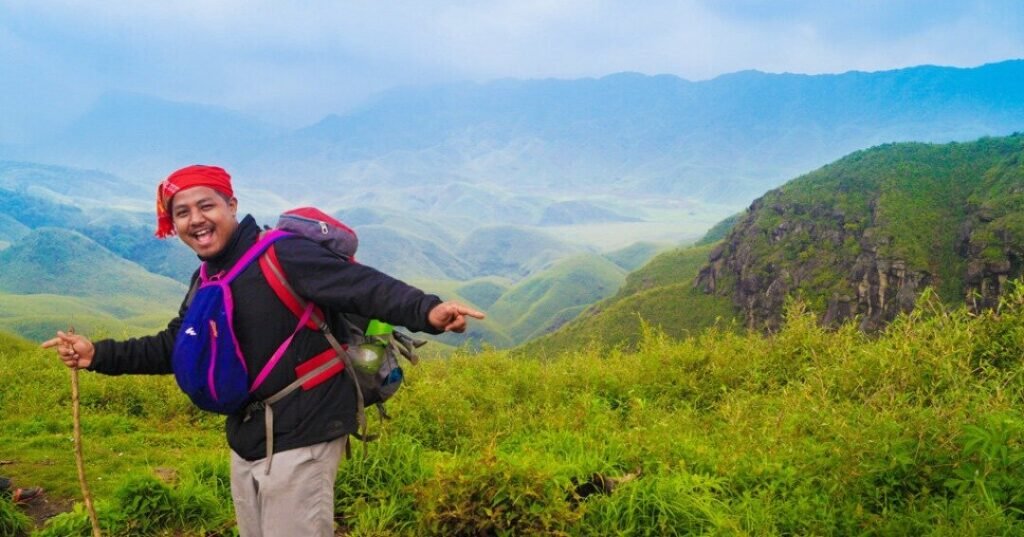 4. Can you tell us more about Northeast India?
India is blessed with diverse cultures and natural beauty. Similarly, its north-eastern region popularly known as Northeast India is a hub of geographic and cultural diversity. The mountains, hills, languages and ethnic groups reflect the diversity of this region. The eight states of Northeast India are Arunachal Pradesh, Assam, Manipur, Meghalaya, Mizoram, Nagaland, Sikkim and Tripura. These states have endless destinations worth exploring and people with the best of hearts.
Arunachal Pradesh is located in the  Eastern Himalayas which shares its border with countries like  Bhutan and China.  About 26 major ethnic groups and over 100 sub-ethnic groups live in Arunachal Pradesh. Undoubtedly, Arunachal Pradesh is a paradise, with lakes, valleys, snow-capped mountains, waterfalls, misty hills, and unique festivals.
Assam is the land of the one-horned rhino. It is also famous for the largest and smallest inhabited river island in the world. Bihu, Baishagu, Ali-Ai-Ligang, Baikho, Rongker, Rajini Gabra Harni Gabra, Bohaggiyo Bishu, Ambubashi Mela, and Jonbill Mela are the major festivals held in Assam.
Living root bridges in Meghalaya
Have you heard of  the living root bridges ? The Khasi ethnic group of Meghalaya builds living root bridges for their transportation in the hills. It has become now become a tradition among them. A few of the bridges are more than 500 hundred years old. They use the living roots of  rubber trees (Ficus elastica) to construct the bridge. Apart from that, Meghalaya is also known as the abode of clouds. Mawsynram in Meghalaya receives the highest amount of rainfall in the world. Definitely, Meghalaya is a perfect place to check into nature, with turquoise lakes, clear blue natural pools and waterfalls.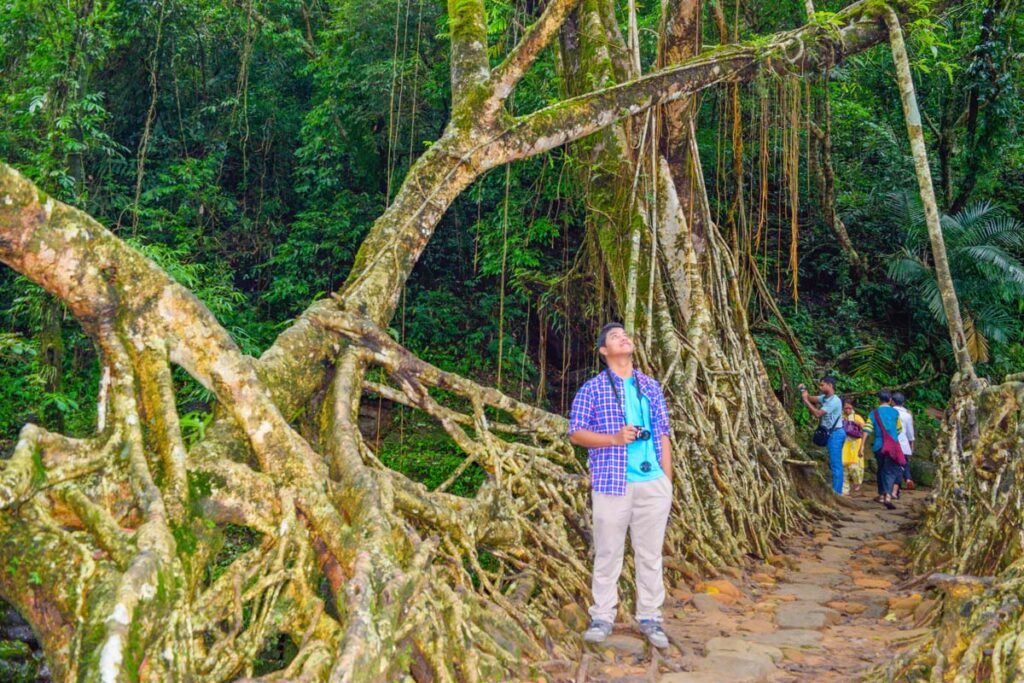 Nagaland, the land of warriors, is one of the region from where the Japanese retreated during World War II. Learn about its ethnic diversity by visiting the annual Hornbill Festival. All the ethnic groups of Nagaland showcase their culture during the Hornbill Festival. An avid trekker would love to do the Dzukou Valley, Mt. Japfu and Mt. Saramati Trek.
Manipur is also famous for its floating lake island called Loktak Lake. It is the largest freshwater lake in India.
However, Mizoram and Tripura are relatively lesser explored as compared to other states.
5. Why do you think it is necessary to write about Northeast India?
Firstly, due to the cultural and geographical differences, the people of Northeast India often face discrimination and racism in other parts of India. People are unaware of the mesmerizing natural beauty and the vibrant culture of the different ethnic groups of Northeast India. We are often assumed as foreigners in our own country. The rich history of the Northeast is least known by the citizens of India.  However, this gap can be filled through awareness and by exploring the northeast by themselves.
Secondly, I have also observed that foreign tourists often limit their visits to Central, Northern or Southern India. Therefore, I intend to promote Northeast India to a global audience through my website.
6. Which destinations would you like to recommend for everyone?
One may start exploring from the state of Sikkim, also known as the land of Mt. Kanchenjunga. It is the third highest peak in the world. Surely, the next destination would be Assam and Meghalaya, followed by Nagaland and Arunachal Pradesh. Certainly, one month would be enough to cover most popular destinations of each state. 
7. How has Covid affected the tourism sector in Northeast India?
The tourist sector in the north-eastern region took its time to flourish. It was booming before the COVID-19 restricted its growth. Though it has affected the livelihood of the tourism-dependent population, it has also enabled the exploration of new and offbeat destinations. Morever, it provided an opportunity to the tourism  stakeholders to build new and better accommodations for the guests.
Inner Line Permit (ILP) and Protected Area Permit for visiting Northeast India
8. What permits or official documents are required for visiting Northeast India?
To protect the different ethnic communities, certain states require the Inner Line Permit (ILP) for tourists from other states and Protected Area Permit for foreigners. The region also shares its border with countries like China, Bangladesh and Myanmar. Travelling to the border areas might require extra permits too. Nevertheless, the happiness of experiencing the culture, nature and love of the people of Northeast India is worth the visit.
In conclusion, to know more about India, you can look at www.thegypsychiring.com
However, if you want to know more about the culture of other places, look at our Blog.
Author: Marco Geri