The South Island: Hokitika
It was New Year's Eve, and I had just arrived into Hokitika, the South Island of New Zealand. I got settled into the hostel and then went for a walk around the quaint town.
I visited the lovely Hokitika Clock Tower, which was unveiled in 1903 to commemorate the coronation of Edward VII, the dispatch of 130 local men to South Africa and four troopers who lost their lives in the war.
On my walk, I found a shop which allowed its visitors to carve New Zealand's infamous jade, known as "greenstone" or "pounamu" in Māori. This precious stone often deposits from the river Arahura in Hokitika, as well as other parts of the South Island (which is actually known in Māori as "Te Wahi Pounamu", meaning The Place of Greenstone).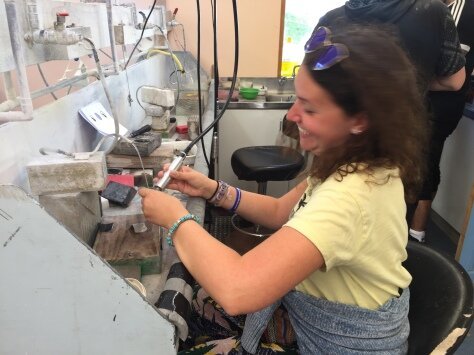 The Māori people started the tradition of carving the protected natural resource, which they considered a treasure, into tools, ornaments, and pendants. This continues today and I was really excited to try it for myself. Though I arrived too late in the day to get the full two-three hour experience, staff member Stephan was really friendly and agreed to help me carve my jade on a faster timescale. My hour-long one-to-one session included a carving demonstration and saw me polishing my piece of jade, which was eventually made into a beautiful necklace. Stephan was also very knowledgeable and gave me a history of jade sourcing in the local area. I felt really welcome during my visit. They also offered me beer and snacks since it was New Year's Eve! Surely, I would highly recommend the experience. I felt in love with my new jade necklace.
After leaving the carving shop wearing my proud creation, I headed to the beach and saw the well-known Hokitika sign, which began as an entry in their annual Driftwood and Sand Sculpture Festival's competition in 2015.
On New Year's Day, I reunited with the rest of Kiwi Experience (hop-on, hop-off bus tour) travellers, as I took the big green bus to Franz Josef on a relaxing drive alongside the Alps and through the rainforest. En route, we stopped at a viewpoint over Lake Mapourika, where I tried to skim some stones.
Hokitika - South Island of New Zealand
South island: Franz Josef
We arrived at Franz Josef after around an hour and a half on the road and I relaxed in my hostel.
The following day I decided to be a little more active and went on a three-hour kayaking excursion on Lake Mapourika. Despite the persistent rain and the dreary-coloured sky, this was a fun trip where I embraced the wet weather in my colourful"waterproof" jacket, and enjoyed the reflective water and natural landscape. My guide told me that the lake's surrounding forest was home to the world's rarest kiwi birds, called Rowi Kiwis. A few years ago, the birds were in danger of extinction, but the area started running a conservation scheme to increase numbers and there are now 550 of birds, making them endangered as opposed to critically endangered. Their efforts to increase the numbers are ongoing.
Interestingly, the forest around the lake has not evolved in 160 million years, meaning it had the same vegetation when dinosaurs roamed. For that reason, the producers of Jurassic Park asked to film there. However, the bad weather (200 days of rain per year) meant that it would take eight years to film, so they used a place in Hawaii instead! Here the produceser filmed the BBC's nature documentary, 'Walking With Dinosaurs'  and they then used CGI to add the dinosaurs.
Franz Josef Glacier - South Island of New Zealand
Later that day, I joined my Kiwi Experience friend on a short (one-and-a-half-hour) hike to see the Franz Josef Glacier. The cloudy weather meant that we didn't get a splendid view of it, but I'm pleased we got to glimpse it at all, as Franz Josef is famous for its unpredictable and rainy weather.
I departed Franz Josef the subsequent morning and went for a quick walk to a place where one can normally see views of Mount Cook and Mount Tasman. However, the foggy weather meant that these were pretty limited.
My second stop was to a beach and viewpoint in Tauparikākā Mātaitai (Marine) Reserve, known as 'Ship Creek', where the weather had now brightened considerably and I could enjoy the views and the sunshine.
I then visited Thunder Creek Falls. Here I took fun and silly photos of drinking myself, the thin and rather tall (28-metre) stream of water.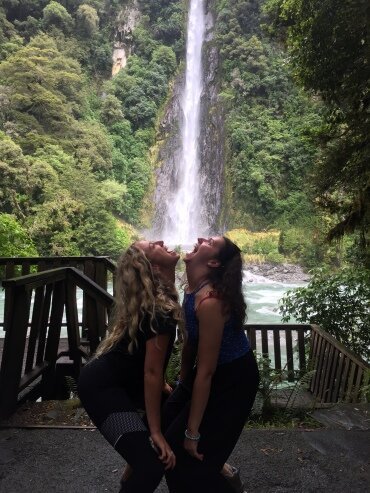 Thunder Creek Falls - South Island of New Zealand -
My last stop before reaching our destination of Wanaka, was to a viewpoint of Lake Hāwea, which was picturesque with its blue sky and even bluer water; and also very windy.
Lake Hāwea - South Island of New Zealand
Once we had settled into beautiful Wanaka, myself and my fellow Kiwi Experience travellers reconvened to climb Roys Peak, a mountain between Wanaka and Glendhu Bay.
The hike was just under six hours from the bottom to the top and back down again. I was admittedly a little reluctant to climb uphill after completing the eight-hour Tongariro Alpine Crossing the previous week, but knew I should persevere for the beautiful views.
And though I was the only one of my hiking buddies to be wearing actual walking boots, I ended up with terrible blisters. Nonetheless, the views were absolutely worth the struggle, as we reached the summit of the mountain and saw spectacular sites.
As evening fell, we saw the sun setting as we careered back down the mountain, trying to stop ourselves falling forward on the downward incline."
En route to Queenstown, our bus stopped off at Puzzling World. It is a fun attraction which features optical illusions, puzzles of all descriptions, and a complex, multi-level maze outside. This was a really enjoyable start to the day as I always love these kinds of activities.
We then stopped off in the town of Cromwell to visit the supposed best fruit orchard in the country, 'Mrs Jones's Fruit Stall'. Admittedly, it had a great variety of fresh fruit.
Our last stop before reaching Queenstown was to Kawarau Gorge Suspension Bridge. It became the world's first commercial bungee jumping site in 1988. Some members of our group booked a bungee jump. I was pinning my hopes on a skydive in Queenstown instead after the weather was not safe enough in Franz Josef or Wanaka.
Arriving in Queenstown, I checked into my motel and had some much-needed relaxation time while I nursed my blisters.
Eventually, I was ready to resurface, and I went for my first activity in Queenstown, known as the 'Adventure Capital of the World'.
I took a transfer to the Shotover River to ride the 'World's Most Exciting Jet Boat Ride'.  Owned by the Ngāi Tahu, the Māori people who originated from Queenstown, the jet boat travels through the Shotover River's narrow canyons at over 85 kilometres per hour.
The activity was adrenaline-pumping as I got soaked and thoroughly appreciated the thrill of the ride, as well as the tour guide and driver's informative facts about the history of the river.
The next day, I went out for a delicious Mexican brunch to line my stomach before I went skydiving. I was so excited as I walked to the skydive centre and I couldn't believe the day was finally here, as this was the major activity I knew I wanted to complete on my travels.
However, according to the skydive company, the conditions were not good enough to skydive, despite the sky being blue and the weather feeling still. Supposedly it was much windier higher up, and I was therefore told to re-book.
To make up for my skydive being postponed, I rode the Skyline Gondola up to the top of Bob's Peak mountain. It travels 450 metres above Queenstown and Lake Wakatipu and is the steepest cable car lift in the Southern Hemisphere. It was absolutely stunning at the top, and alongside the breathtaking views of Queenstown, I could also see Coronet Peak, The Remarkables, Walter Peak, and Cecil Peak mountains.
I spent the rest of the day in Arrowtown, a charming and historic gold mining town, just a short bus ride away from Queenstown.
Here I shopped for souvenirs and admired the quaint town. Little by little, my 33-day adventure whizzed past and it was almost time to leave stunning New Zealand. I found myself with mixed emotions. On the one hand, I was glad about my upcoming trip but on the other hand I was sad to leave New Zealand, a fascinating country that really has it all.