One thing comes to mind instantly when you think about Nagasaki. Destruction. A city left in ruins after the devastating atomic bomb was dropped on it on August 9, 1945. It was the final straw for ailing Japan, which was already on its knees following a similar attack on Hiroshima three days earlier. So, while the effects of that dark day play a key role in the city's history, there is much more to modern-day Nagasaki than just a former nuclear waste ground. I'd been to Japan before but never made it as far as the south island of Kyushu.
During a previous trip I had spent time further north in Hiroshima, Kyoto, Nagano, Fuji, Koyasan and, of course, Tokyo, but not in this wonderful region. I love Japan for many reasons. For the friendliness of the people and because nothing is too much trouble for them. I have met total strangers who stopped what they were doing to walk me in the opposite direction and help me find my way. An extension of that is just how punctual everything and everyone is. If a train, for example, is due to leave a station at 13:07, then, by God, it leaves at 13:07. No exceptions!
Also, the food is amazing. There are so many variations in Japanese cuisine that it is almost impossible to sample it all within a single trip. Finally, the country has so many fantastic fun, cultural and awe-inspiring sites to visit that you can travel there frequently and see something different on each visit. Japan is an amazing country to visit. And one of its jewels is that of the humble city of Nagasaki.
General information about Nagasaki
Nagasaki is the largest city in its prefecture and one of the country's principal ports. During the 16th Century, it was the sole port used for trade by the Portuguese and Dutch. Like a lot of Japan, it has a way of combining the old with the new. Temples and shrines appear throughout the landscape just feet away from new restaurants and shopping areas. It is an eclectic mix of the traditional and 21st Century. The summers in Nagasaki can be extremely warm, with highs in August reaching the mid-30s. In October it is slightly cooler but still, temperatures reach the high 20s. During our stay, it was sunny for the entire trip, and we did not see a single sign of a rain cloud.
 While Nagasaki is a relatively small city, well compared to say Tokyo anyway, there are a variety of ways you can successfully travel around its many streets. Perhaps the best method is to walk them. Some of the best walks are those in the many temples and sanctuaries of the city along the river and its many bridges. 
Also, you can take a stroll all the way down to the dockside, where a series of boat tours depart. If the idea of walking doesn't excite you, then there is a superb tram service running through the city. Nagasaki is serviced by four tram lines. Operated by the Nagasaki Electric Tramway, the tram lines provide easy access to most of the city's main attractions.
 You can usually get on board a tram quickly as they run every five to eight minutes. You enter through the rear door of the tram and pay a single fee for your journey; no matter how far you are travelling. Then, when you reach your stop, you exit the tram via the front door near the driver.
Nagasaki Atomic Bomb Museum and Peace Park
Despite its small size, the city is steeped in history and has a wealth of sites to see and visit. You cannot think of Nagasaki without thinking about the end of the Second World War. So, it is impossible to go to the city without paying a much-needed visit to the Nagasaki Atomic Bomb Museum and Peace Park. The museum is as harrowing as it is interesting. The sheer scale of the destruction of the Atomic Bomb 'Fatman' bought about to the region is astounding. Around 150,000 people either died or were injured, on the morning of August 9, 1945, when the bomb exploded 500m above the city.
As you are guided from exhibit to exhibit, you'll get to grips with just how badly Nagasaki suffered. There are countless items salvaged from the wreckage on show, including bottles that melted together under the extreme heat, clothes that were peeled off the victims' backs, a lunchbox still containing the remains of a rice lunch a young child was talking with him the day the bomb hit and a life-sized replica of the bomb itself. It's a truly fascinating and sombre place. Outside the museum, you're just a short walk to the Nagasaki Peace Park and Peace Statue. This statue is a large 10m tall man with his right hand extended skywards to the threat of nuclear weapons and his left extended, symbolising peace.
The walkway is also surrounded by fountains, which add to the overall atmosphere of the area. Nearby, in Hypocentre Park, you'll come face-to-face with a monument symbolising the exact spot the bomb exploded 500m up. Incredibly, just metres away from this is the one-pillar Torii – the remaining part of the traditional gates that are synonymous with Japan – that has stood firm since the bomb went off until this very day. On your way out, also make sure you pay a visit to the National Peace Memorial Hall – also situated next to the museum and Peace Park – to fully get the complete experience and to understand what this area means to Japanese people.
This next location may look familiar to film fans. Hashima, or Gunkanjima Island, also known as Battleship Island, was used in the James Bond movie Skyfall as a backdrop to one of its scenes. It is a deserted mining island about 19km off the coast of Nagasaki and you can only get there through a tour company. Fortunately, there are quite a few of these. Imagine an entire island with deserted buildings that you can look around! Sounded like an opportunity too good to miss. Sadly, when I went in October, the sea conditions meant it was too dangerous to dock, so we could only view the island from the water. Bear this in mind when you visit, as docking on the island can change day by day and in certain seasons (e.g., the autumn and winter months), docking is less likely.
The story of Battleship Island
The island itself was not the focus of anything until its coal mine was established in 1810. Years later, a large settlement was established on the island and saw many families move there despite its small size. To accommodate the workers and their families, around 30 apartment blocks were built, as were a primary and junior high school, pachinko or gambling shop, hairdressers, a movie theatre and even a pub. At its peak, over 5,000 people lived here.
However, in the 1970s, the energy shifted from coal to gasoline and the mine closed. With no mine came no work and the families quickly left the island. Back on the mainland, the next must-stop during a stay in Nagasaki is Mount Inasa Observation Platform and Ropeway. You can reach the foot of the ropeway by tram and once at the top, you get the best views of Nagasaki from anywhere in the city.
Much loved by locals, Mount Inasa sits in Mount Inasa Park and rises 333m above sea level. At the top, from the all-around viewing platform, the natural beauty of the coastline and mountains are to be enjoyed. My top tip here is to head up the mountain around an hour before sunset. This way you will get views of the city in the daylight while also experiencing the setting sun disappearing in the distance. Back towards the centre of Nagasaki, you will find one of its most photographed landmarks. Meganebashi Bridge /Spectacle Bridge may look like many bridges that cross the winding streams and rivers in Nagasaki, but this one provides a fun optical illusion.
From a distance and with the sun shining, the two arches of the bridge reflect in the water to look like a pair of glasses. Take a few moments here to join the queue of, what seems like endless Japanese schoolgirls (surely they must have taken that photo hundreds of times already?) and wait for your turn to step onto the stepping stones across the water to get a central location for your photos. If you ask nicely enough, you can get one of the other visitors to take your picture for you. Finally, make your way to the Suwa Shrine. Nagasaki and indeed Japan are home to hundreds and thousands of shrines. They are everywhere you go. So it is unlikely you will need to visit them all in Nagasaki, especially if you have been elsewhere in the country already.
However, I would advise to make the walk to Suwa Shrine as it is not only a beautiful example of Japanese architecture and an extremely peaceful place but also affords stunning views across Nagasaki. The shrine itself is a Shinto shrine dating back to the 1600s, and it is also the home of the Nagasaki Kunchi or festival. Like most shrines, it is free to enter the grounds, but guests can make donations. One way to do this is to buy a fortune (Omikuji).
This type of fortune comes in a slip of paper and is divided into multiple sections, from 'good luck' to 'worst luck'. I remember getting one of these when I was at the Shrine and to be honest, was less than impressed with its predictions for my future! However, I am sure you will get a better one than I did. Also, fun fact, Suwa Shrine was the first Shinto shrine in Japan to do these fortunes in English! While those are just a handful of the must-see locations in Nagasaki, thoughts also must be given to places that are less desirable to go to.
Now, from my experience, Japan is an extremely safe country. Safe to the point that you can feel comfortable using your bag to reserve a table in a fast-food diner. Honestly, I have been nowhere in the world that the people are as helpful, friendly, and nice as the Japanese. So if I would recommend something to avoid, I would have to say the general area of Shimbashi at night as this area is part of a red-light district and while it appears to be a mild-mannered one it may make some visitors feel uncomfortable.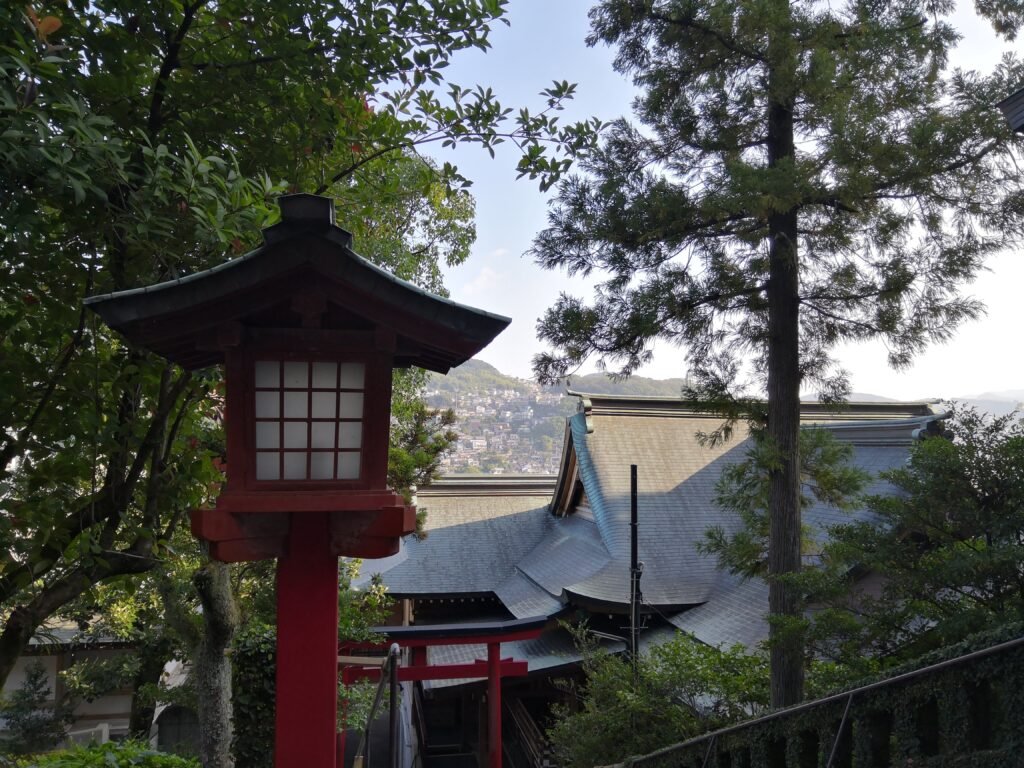 That aside, another thing that Nagasaki has in its favour is that there are hundreds of great places to eat. As you would expect being Japan, there are lots of restaurants serving sushi, sashimi, tempura, udon, okonomiyaki and ramen. So, you can feel safe that, wherever you pick, you're going to get an authentic taste of the region. There are also many great bars to grab a drink in. Some of the best ones, in my experience, are located along Harusame Street.
Many of these bars are extremely small and will only seat a few people (10 maximum). Some don't have seats at all, and you simply stand at one end of the bar and work your way down it as more people enter. You only stay in these places if you are drinking. No drink, then the bartender will politely ask you to leave to make space for paying customers. Make sure you order at least one round of sake – Japanese rice wine – during a visit. These bars make for a great end-of-trip location in Nagasaki and, with your drink in hand, give you time to reflect upon your own experiences within this great historic city.
In short, if you want to know more about author's travel experiences, click on World Complete.
However, if you want to know more about the culture of any other country, look at our Blog.
Author: Steven Kennedy from World Complete