Why is Melbourne a cultural and art city
Melbourne might not be Australia's richest home of Aboriginal history, but it has certainly become the modern cultural hub. Despite the stereotypical persona created by Crocodile Dundee that Australians are all out roaming the outback, over 85% of the 25 million population live less than 50km from the coast, with over 10 million of those in its two largest cities, Sydney and Melbourne.
The enormous skyscrapers built along the Yarra River are the hub of Melbourne's modern urban jungle. The city has become famous for its plush restaurants and iconic hidden bars, whilst the music and street art scene are slowly entwining themselves with modern living. The architecture is almost designed to suit the city's modern street style, whilst the art brings the city to life in an explosion of colour. Certainly, this is a city that incites inspiration and captures imaginations.
(Image sourced from Mitchell Luo) Yarra River
Iconic Bars & Restaurants
Perhaps the most exciting thing about Melbourne's fast-paced culture is its restaurant, cafe and bar scene, which seems to intertwine effortlessly with music, street art and stand up comedy. Take a walk along the Yarra River and surely you will enjoy an excellent meal at one of the many restaurants, bars and plazas. As you move around the Central Business District (CBD) you will have the option to enjoy cosy laneway restaurants eager to show off their diverse cuisines. Melbourne is a multi-cultural city. That is why in Melbourne there is a wide range of dining options on offer in the CBD. From authentic Thai to Chinese dumplings and French fancies, Melbourne enchants and delights local foodies and tourists alike.
The importance of the coffee shops for Melbourne's inhabitants
Melbourne's casual coffee drinking scene only adds to its culture. Find yourself a quirky coffee and immerse yourself in the truly local life. Locals flock to coffee shops to work on laptops. They also stay fresh on the local music scene and marvel at the latest piece of street art. All this whilst sipping on Italy's finest inspired espressos and cappuccinos.
You'll often find the restaurant and bar scene co-exist so harmoniously they almost blend into one, with popular Asian inspired restaurant Chin Chin equipped with a rooftop bar. Two of the city's most famous bars focus on food, with Spleen designed as an american diner, offering burgers and loaded fries, as well as regular comedy nights. Revolver upstairs goes even further, with funky Thai restaurant, graffiti wall and world-renowned DJs all on offer at their incredible venue. The number one spot for an audacious cocktail, however, has to be the famous Eau De Vie, with its hidden entrance and vintage interior, this place is the capital of cool.
Eau De Vie Beaches & Surf
Certainly, the coolest thing about living in Melbourne is having the CBD located just 30 minutes from the beach. The cafe scene pours over into the beach scene, with iced coffee a local favourite and students found in wifi hotspots throughout St Kilda. Surely, the beaches encompass a lot of that cool, Australian culture. I've forever associated the country with it's laid back surf vibe. Bells Beach hosts professional world tour surf competitions, whilst Brighton Beach is home to the famous beach huts pictured.
Melbourne is also the gateway to the incredible Great Ocean Road. This is an epic, meandering coastal road. It is offering panoramic ocean views, bountiful wildlife and the dramatic 12 Apostles. The quaint Phillip Island, home of the penguin parade, is just an hours ferry ride from Melbourne. Who knew Australia was home to penguins?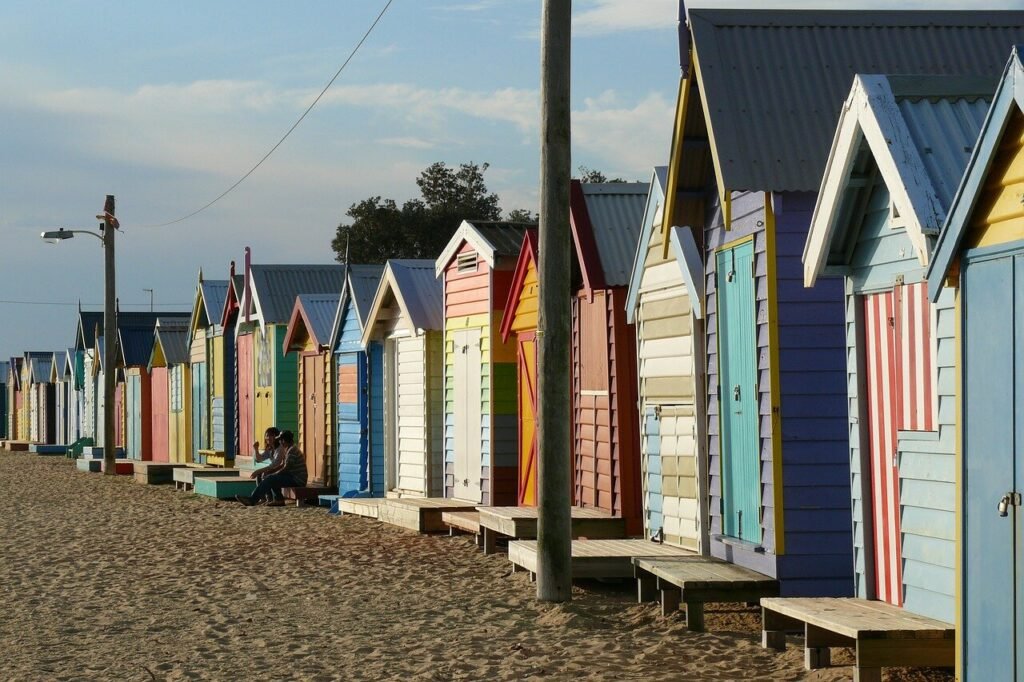 (Image Sourced from anna leyah) Brighton Beach
Central Melbourne is renowned especially for its street art murals and quirky architecture. The quirkiest of which is Federation Square, Melbourne's home of art, culture and events. If you're hoping to catch an exhibition, event or show, this is the place to soak up that modern Aussie culture. Just across from Federation Square is Hosier Lane. This has become the canvas for Melbourne's street art scene. You'll be left in awe as the colours dance from street to street across this vibrant city.
Street art photo (Sourced from John Ross)
Melbourne is also Australia's main powerhouse in the world of sport, Definitely, the Australian Open at the Arthur Ashe Stadium, the Formula 1 at Melbourne's Grand Prix Circuit and the iconic 100,000 seat capacity Melbourne Cricket Ground are the main examples.. There are so many events held throughout the year, but the one you really don't want to miss is a game of Aussie Rules. They do sport different in Australia and if you want to see a crossover between football and rugby, this is the sport for you!
Melbourne's persona is certainly unconventional, they have captivated their visitors in a flood of creativity from street art and cafes to fine dining and world-class sport. There is a work hard – play hard vibe in the city, with all its playful elements on display for the world to enjoy. Melbourne has earned its commanding role as Australia's cultural capital.
Information about Australia or other places
In conclusion, if you want to know more about Australia, you can look at Bristolian Abroad website. 
However, if you want to know more about the culture about other places, take a look at our Blog. 
Author: Jamie Boucher