As a child, I always associated the concept of a tropical paradise with the Bahamas and Jamaica. Sunshine. Soft sandy beaches. Crystal blue water. Palm trees. Relaxation. I visited Jamaica 5 times in the past 4 years.
What You Need to Know About Jamaica
Jamaica has the best food in the Caribbean. Some famous Jamaican dishes include barbecued jerk chicken, pork, and fish and mild or spicy Jamaican patties filled with beef, chicken, vegetables or cheese. Another local specialty is oxtail stew.
Side dishes typically consist of yam, curried chickpeas, breadfruit, fried plantains, rice and peas, or festivals (Jamaican fried dumplings).
One money-saving tip is to purchase souvenirs such as Tortuga Jamaican Rum Cake, Appleton Estates Jamaican rum, Red Stripe beer, and other spirits at a grocery store rather than a gift shop in a tourist area.
Blue Mountain Coffee is a great souvenir. Hot sauces are only a few dollars each and make splendid gifts.
Jamaica is famous for great beaches, a laid-back atmosphere, reggae music, ganja (cannabis), and delicious food such as jerk chicken.
Surprisingly, the capital city of Kingston, which is the business hub in Jamaica, does not have any beach-front resorts or lovely public beaches. You must travel elsewhere to experience that. The beaches can be quite rocky in some places, so water shoes are recommended.
The 3 Best Places To Visit In Jamaica:
Negril is popular for all-inclusive vacations from Canada. It is located on the west shore of the island, not far from Montego Bay.
Negril is the smallest and least developed of the three towns in this article, so for many people it feels the most authentic. The beach and nightlife have the vibe of a small beach town.
On the main strip (Norman Manley Blvd.), you will find small food shacks, sit-down restaurants, small hotels, nightclubs, and bars and live entertainment on the public beach. I enjoyed the best Jamaican patties I ever tasted at a small shack on this street.
The most popular beach in Negril is called Seven Mile Beach, which has clear aqua-coloured water, a coral reef for scuba diving, a lighthouse, and views of gorgeous cliffs. It is also dotted with reggae beach clubs.
Ocho Rios is a major cruise ship port of call. I visited there on a Caribbean Cruise on the Norwegian Epic in 2014. Ocho Rios is located on the North shore of Jamaica, just a little bit East of the middle of the island.
The most famous attraction in Ocho Rios, and possibly in all of Jamaica, is Dunn's River Falls. Tourists climb up the waterfalls holding hands in a long line for safety. Dunn's River cascades over a giant limestone staircase to a white sand beach and the warm Caribbean Sea. Special water shoes are required.
Located across the road from Dunn's River Falls, Dolphin Cove has been voted the best attraction in Jamaica. At Dolphin Cove, visitors can swim with sharks, dolphins & stingrays. You can also watch dolphin and pirate shows.
Another favourite activity is to float on a raft or tube down three miles of the White River past a 17th-century Spanish bridge and historic colonial coconut plantations to the Blue Hole, where you will find a series of waterfall-fed jungle pools, a swimming hole with a rope swing, and underwater caves to explore.
Ocho Rios has many nice beaches, including Ocho Rios Bay Beach, which is a great place for water sports such as banana boat rides, tubing, parasailing, and snorkelling. This area is lined with restaurants and is a short walk from the cruise ship port.
My family had a great time at Bamboo Blu Beach Club a private beach club with entertainment such as DJs, dancers, reggae drummers, acrobats, and a fire-breather.
Montego Bay (aka. "Mobay") is probably the most famous and popular place for tourists in Jamaica. It is the largest urban centre by population outside of the Kingston area.
In the Mobay area, you can explore Jamaica's jungles by bicycle, by zipline, or by tubing in the White River. Many people swim with dolphins at Dolphin Lagoon, ride a horse along the beach, or take a boat trip for fishing, snorkelling, and a romantic sunset on the ocean.
The downtown nightlife zone called the Hip Strip includes a Margaritaville location with a water slide. It also has dance clubs, stores, souvenir shops, restaurants, and budget friendly hotels. If you go to the Hip Strip during the day, a pleasant spot to swim, people watch and relax in the sun is Cornwall Beach.
The majestic Rose Hall Great House  is a supposedly haunted 1770 plantation house with a dark history, so the spooky nighttime tours are recommended. Slaves were held for punishment in a dungeon by the plantation owner's wife, known as the White Witch of Rose Hall. Now, it has a popular pub and 2 golf courses.
In nearby Falmouth (20 miles from Mobay), you can go on a relaxing, expert-guided tour down the Martha Brae River on bamboo rafts steered by long poles.You will pass through thick jungles and small towns and can even have a pit-stop to buy handicrafts from local artisans along the way.
Even if you are not a sun worshipper, you should still experience the tropical paradise of Jamaica if you can. The vibe is chill and jammin', the people are very friendly, and the food has a lot of flavour.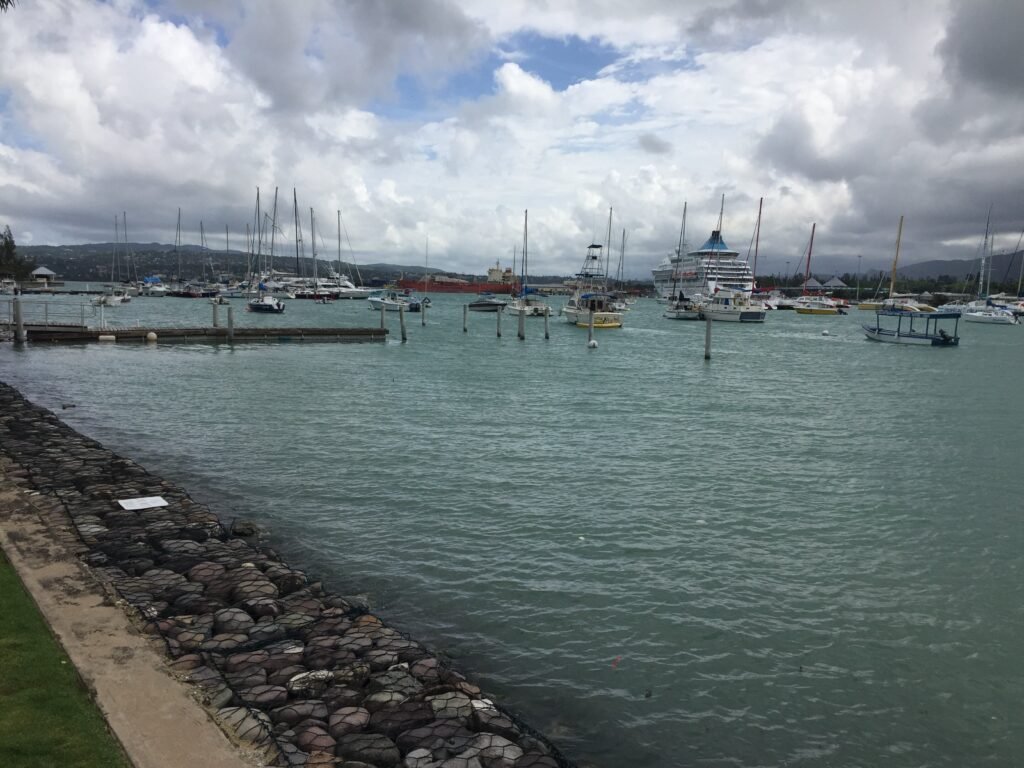 However if you want to know more about the culture of other places,click on our Blog. 
Author: Kevin Strong, co-writer of the blog Retirestyle Travel.