In the first issue of the traveller interview section, we have chosen Gary Davis to interview about travel. Gary is a British traveller from London, England, who likes mostly long-haul trips. In addition to being a traveller himself, Gary, through his 'GD travel' brand helps fellow travellers with FREE travel news, advice, guidance, and special features, after many years of good and bad travel experiences and has almost 98,000 followers.
GD travel can be found on a number of social media platforms (search GDtraveltips) so if you want to be updated on most things about travel and tourism, do not hesitate to follow him @GDtraveltips 
1). Are you discovering a different way to travel? Well yes, but maybe not in the way you are thinking. At present as I answer this, we are in our third national lockdown due to the COVID-19 pandemic and we have been told that travel is not permitted, so one way I have been travelling, is virtually. I watch YouTube videos on my television, some videos are walk-around luxury hotels while other videos are on different locations and destinations, so, in a way I have discovered a different way to travel and still able to sleep in my own bed at night.
2). Will travel change after the pandemic? Sadly yes, for some time, just like travel changed around the world following the 911 terrorist attacks, where security heightened all around the world. Some of the changes will eventually go and some will stay. I think the travel and hospitality industries will adapt, and there may be ways that food at hotels is presented – I have always thought that buffets are not the most hygienic way to serve food as it is. and I think some of the costs may be passed on to travellers by airlines, travel companies and the like. and travel insurance charges may increase too, although some people will be eager to get on the planes again to visit abroad, there may be more people choosing to holiday at home more.
Gary on a stunning beach on the island of Aruba
3). What inspires you / motivates you to travel? People and places… There is a lot out there to discover. Travel educates you; you get to learn about other cultures, other people, new experiences, and new foods to try. I personally think it helps each other understand each other more. Plus, it is just nice to see new places.
4). To make the perfect place in the world, with the places that you have visited, what would you put together to make it perfect? Well, it would be nice to take the sunny, warm (but not too hot weather) from most places, a range of non-dangerous animals from various countries, especially any that may be in danger where they currently live from poaching or fires… I saw an amazing way to charge phones in Marrakech, Morocco, they look like modern art, shaped like a tree, but they are solar panels, and at the bottom there are seats so you can sit and charge your phone – an amazing idea! Good public transport, good buses, and a metro system and just a clean, modern city with plenty of parks and a clean river, with pleasure boats.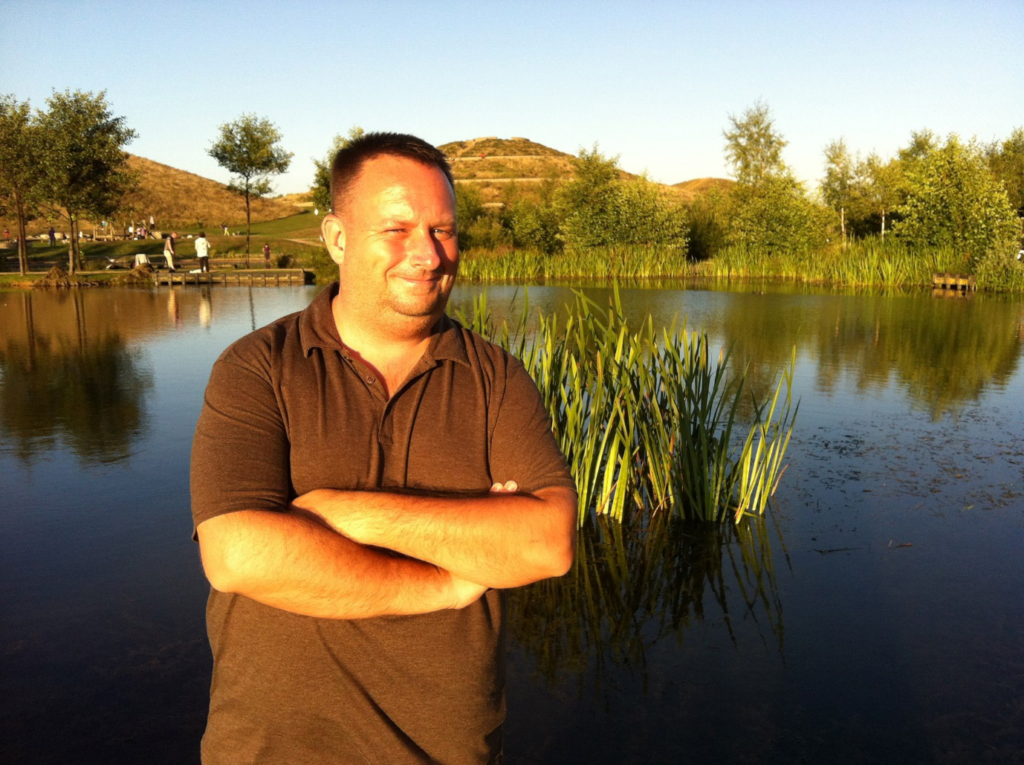 Gary travels around the world, but this is near his home in London, England, it is not in Africa!
5). Which place did you like the least? I have been lucky to like almost everywhere that I have visited, I always try to look at the best parts of the location rather than the worst. But I suppose the worst place for me was Diani beach near Mombasa in Kenya… not the beach, that was amazing, but the fact that there are very persuasive men who are aggressive, who force you buy souvenirs from them, I was almost held prisoner by 10 men in a hut that I was taken to before I paid them 12,040 Kenyan Shillings (approx. £80 / $110 / €90) for a few small wooden ornaments which were probably worth about £10 (approx. $13 / €11) but I felt like I was buying my freedom – very scary!
The most effective tools of a trip
6). In your opinion, what are the most effective tools to tell of a trip, videos, photos, words? I think each of those or all three, depending on what you are using, as they say a photo can say a thousand words, it is visual, so you can see the views, words, help explain and narrate your experience and videos can be a step further than a photo, where you can see movement and action and hear the location (unless music is played over the original sounds).
Around the World in 80 days'
7). If you had to travel like in Jules Verne's book 'Around the world in 80 days' which destinations would you choose and why? I would love to start off in the South Pacific. I would love to explore all of these islands, because not many people do due to their remote location. Bora Bora is my number one desire in French Polynesia together with Tahiti. They look amazing and it would be great to visit the people of these islands, as well as meeting tribes in other countries who don't get to meet many foreigners. I would love in return to bring some of them to London, to see how they react to the developed world, like simple things we take for granted, cars, automatic doors, escalators, steps, that move etc…  I think I would need more than 80 days to see everywhere I would like to visit.
Gary in a hotel on the small island of Nosy Be, part of the African county of Madagascar
The most important thing in a destination
8). What is the most important thing for you in a destination? For me it is good public transport, clean water, and plenty of places to eat, and of course, plenty of warm sunshine.
9). For what reason do you choose a destination? Well for me, I like good, warm, sunshine when I travel somewhere, I like to see the real place, meet the locals (who hopefully are friendly and welcoming), to see the buildings both old and new, and just the different ways people live. The price also helps with the destination, but I believe sometimes, you must pay slightly more for the experience. History and culture are also important too.
10). What would you take with you that is important and significant on a long trip? Well, I think money and your passport are the obvious, to be able to return home… sunscreen and a basic first aid box is vital as is insect repellent depending on where you are travelling to, oh and of course a smart phone, to stay in touch with family and friends, to use as a map and for taking photos and videos with if you don't take a separate camera. 
Gary in front of a glacier, in Patagonia, Argentina
Author of the interview: Marco Geri