Scott is an Australian travel writer, photographer and videographer hailing from the beaches of Queensland's Sunshine Coast. Scotty spends his time dedicated to showcasing the world's greatest travel experiences and destinations. Scott hopes his experiences will evoke a strong desire for anyone to escape and travel, all while creating an insatiable need to explore far and wide. Since starting his career in 2015, Scotty Pass has since created his personal travel blog & YouTube channel to share his adventures with readers through travel tips & destination guides.
Travel Photographer Scott Pass
Since when have you been passionate about photography and travel?
I fell in love with travel in my late teens, taking my first solo overseas trip at the age of eighteen. It wasn't until a spontaneous trip back in 2015 to The Cook Islands that a passion for travel, photography and digital media really started to come to fruition. Ever since, I've been travelling to many remote destinations, documenting them in both photo and video mediums for my travel blog and YouTube channel. I've now turned a passion for both into a body of work I'm extremely proud of.
Do you have a reference in the world of photography?
I've drawn inspiration from many talented photographers & videographers over the years, but I've always admired the early work of Ben Brown. I've worked with and alongside many other travel creatives for the last eight years who've always inspired my work and outlook in the industry.
Self taught, online courses and digital education
Each to their own, but I do believe any form of creative media can be self taught – it's in that space that you'll learn what you enjoy creating the most. The creative process is so unique, so you're bound to find a process that suits you. I don't believe it's necessary to be formally educated these days, as so much of it can be self taught. I do however, love the idea of being able to plug in to digital and online courses from those around you that have achieved levels of success – those people that you admire and look up to as individuals and as creators. I've always believed online courses and digital education is a much more efficient approach if you're looking to develop a few skills & fast track your learning.
My advice to fellow travellers is to always just start somewhere with what you've got. I still use a lot of the same equipment that I had almost seven years ago now. It's not top of the line gear, nor is it beginner – but I've always had to work with what I had and within a budget. So if you're interested in pursuing a line of interest, simply go for it and just make those first few small steps to make it happen.
With the development of technology, anyone can take a great photo. Do you think that editing software like Photoshop and others should be used less in the photography world?
Editing software definitely has it's place in the creative industry. The extent to which it's used is totally up to the individual and within creative reason. It's one thing to take a great photo, but it's the years of practised skill and persistence that allows you tell a great story. There's definitely a time and a place to use it.
Heart Reef - Whitsundays - Photo by travel photographer Scott Pass
Combination of some elements makes a unique photo
Being a travel photographer is not as simple as it sounds, as the lighting and shooting conditions are not always controllable. What has been the biggest challenge to take a photo?
That's exactly right! It's not as glamorous or as simple as one might think. It takes a tremendous amount of hard work and sacrifice. I really thrive in trying conditions when it comes to creating both photo and video content – that's all part of the fun and the challenge.
I think the most difficult part has been trying to become business savvy and continuing to push through times of self doubt and external criticism – 2020 and beyond has certainly shown us that. Not everyone will understand what you're doing, or why, so it's always down to you and your own resilience as a business person. As a sole trader, you can often take on many responsibilities as a business owner, which can be demanding and extremely challenging at times.
What time of day is there the best light to take a photo?
I enjoy the challenge of shooting at any time of the day, however I'm always up incredibly early to photograph at sunrise – less people, great light and I get to enjoy a coffee straight after.
What makes a photo unique? Is it the subject, the colours, the lighting or all these elements together?
It's definitely a combination of a few elements. I think composition is key to making an average photo appear more interesting. In saying that, there's also something striking and unique about simplicity in a photograph.
Josephine Falls - Photo by travel photographer Scott Pass
Printed photos: an emotional value?
The vast majority of people do not print their photos. Do you think that in this way, the photos lose their emotional value?
I think it's totally an individual thing. Personally, I don't print a lot of my images. There is, however, something really special about seeing your work in printed form. So you're right, it definitely has a touch of emotional value rather than sitting on an external hard drive, stored away.
Do you plan your trips in advance or do you let yourself be guided by what inspires you day by day? There's always a huge amount of planning involved in most trips I take these days. Even the humble road trip requires some planning. I'm always taking into consideration everything from the weather, sunrise times, gear, hiking times and of course, a contingency location in case 'Plan A' fails.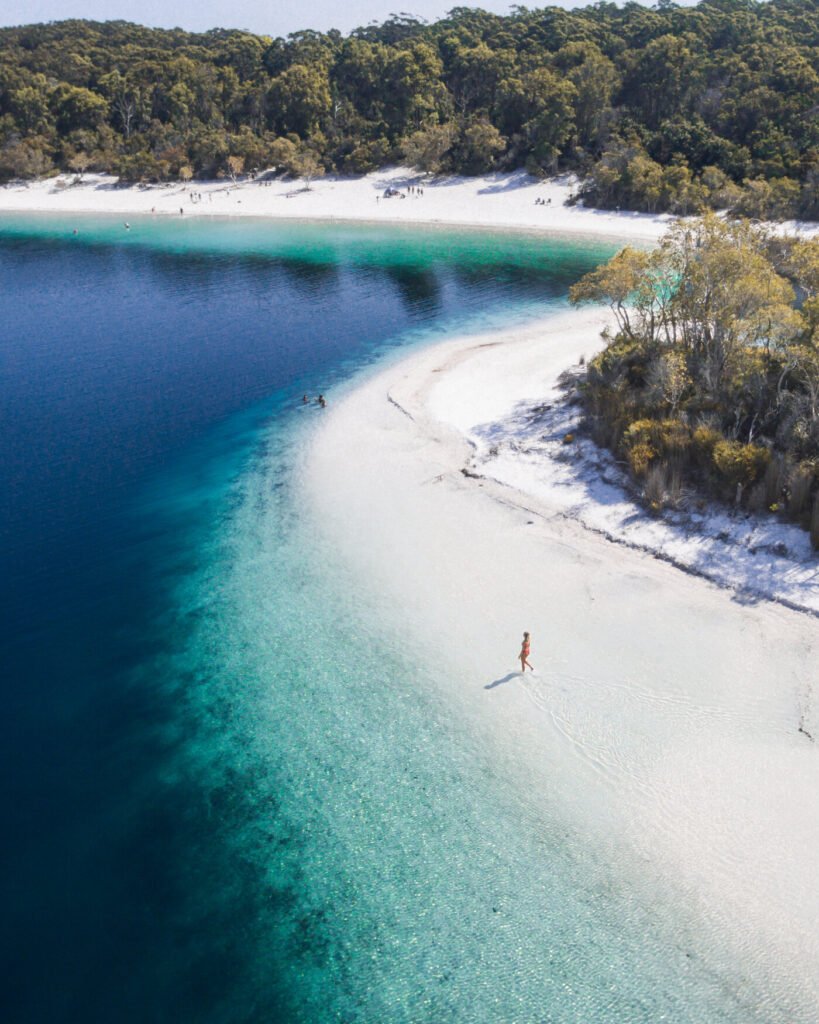 Lake McKenzie, Fraser Island - Photo by travel photographer Scott Pass
Favourite Sunshine Coast location
Of all the trips you have taken, what is your favourite photo and why? In case you don't have a favourite photo, could you tell us some of your photos that particularly inspire you?
I'm always inspired by the ocean and remote island destinations. To me, it signifies freedom, solitude and a calmness. I've always enjoyed the adventure and more often that not, days of travel it can sometimes take to reach some of the most beautiful, remote regions of the planet. In contrast to that, I've loved some of the images I've taken whilst in Tasmania, Australia.
What's your favourite Sunshine Coast location?
My home town of the Sunshine Coast is a traveller's dream. There's so much on offer. I've always enjoyed shooting out at Kenilworth during Autumn – the Sunshine Coast hinterland is absolutely stunning. As for the beaches, you can't beat a walk through the Noosa National Park on a calm, sunny day.
Bowen, Whitsundays - photo by travel photographer Scott Pass
Tips for someone who wants to start a travel blog
What is the destination that you dream of as a photographer and that you have not visited yet, and why?
There's so much on the travel list, it's hard to pinpoint just one. I'd love to explore destinations like Norway and Greenland. A trip to Antarctica has always been on the wish list, too. I'd love to get back to New Zealand shortly and complete some of the great walks there as well.
To conclude, what advice would you give to someone who wants to start a travel blog?
Be prepared to put in the 'hard yards'. It won't happen overnight and requires perseverance and patience. If you know a successful travel blogger – reach out and ask questions, because believe me, they had the same reservations you have right now. I'd absolutely recommend taking an online course to help fast track your learning and alleviate the learning curve. It'll save you time and money in the long run. It's definitely an achievable goal, you've just got to be willing to put in the effort.
Springbrook Ntional Park - Photo by travel photographer Scott Pass
In short, if you want to know more about Scott Pass and his travel blog, click here. 
However, if you want to know more about the culture or art of other countries, click on our Blog. 
Author: Sandy Ruyack (Boulevards and Byways)