Presentation of professional rugby player Travis Larsen
Travis Larsen is a current professional rugby player with the Seattle Seawolves playing in Major League Rugby in the USA. He was born in Canada to a New Zealand father and a Canadian mother. His dad managed hotels, so they moved around a lot as a kid living in Fiji, The Cook Islands, and Australia before settling down in New Zealand. Travel and exploring this beautiful world has always been his passion. He was lucky to get his first professional contract playing rugby in Italy and have been overseas playing rugby for the last nine years. During this time, he has travelled to over fifty countries around the world.
He started a blog hoping he can share some of his experiences to show how possible it is to travel the world, even on a very limited budget. The Rugby Nomad articles are a mix of ideas on how to travel smarter in terms of finances, food, and exercise, as well as some rugby specific content.
Daily life of a professional rugby player
How is the daily life of a professional rugby player?
This depends on the time of the season. The off season is mostly on you to make sure you train and not come back out of shape. Pre season is normally long days of fitness and gym and can be physically demanding. A typical day during the season involves a 1.5 hour gym session, followed by some units video review, then on the field for some unit work, lunch, then team film review/preview followed by a one-two-hour session on the field as a squad. Most teams will get a midweek day off as well as the day after the game is a "recovery day".
How did you sign a contract abroad?
First, I contacted a few rugby agents and asked them to put my name forward for some contracts in Europe. I had to write a rugby CV and compose a 4-5 minute rugby highlights clip. I was lucky enough to sign a contract to play for Rugby Lyons Piacenza in Italy through the agency Inside Running Recruitment.
What values has rugby transmitted to you as a human being?
There are many, as I truly believe, rugby is an amazing sport for learning key life lessons. Working in a team environment, respect for others, problem solving and learning to deal with situations under pressure. I love that rugby is one of those sports that you can bash each other on the field for 80 minutes and then share a pint together after the game with your opposition.
Travelling it takes my mind off
How do you combine the life of a professional athlete and an enthusiastic traveller?
Planning. Each season I sit down with my wife and we come up with a plan of where we want to go and how we can make it work financially and with the breaks during my off season. We constantly re-assess this plan during the season when different options come up. To be honest, I really struggled to travel and stay in shape earlier in my career, but am learning a good balance between maintaining some physical shape while still being on the road.
Do you think that the travel experience influences your career as an athlete and vice versa? 
Most definitely. I think the biggest thing for me is that travelling is something that takes my mind off rugby completely. I need some time to switch off thinking about rugby or it can take over my life and become overwhelming. Of course, I notice anytime I go travelling that when I return. I am always mentally refreshed and excited to be back at practice.
As a rugby player, I plan my trips based on exercise and healthy food
What are the differences in life between New Zealand and the USA?
There are definitely a lot of differences between the countries. New Zealand is a very laid back and easy-going lifestyle, whereas I find the USA tends to be very work and career focused with everyone trying to make it to the top. The sense of humour is different and I still learn that sometimes sarcasm isn't as well understood over here. I think New Zealand has a more British style of humour and it is more what I'm used to. Being such a large country to its completely different in certain states and I'm very lucky to have lived in 5 of them so far and experience what life is like in each of them.
When you travel, do you exercise? Do you pay attention to your diet? 
Exercise and making sure I'm eating healthy enough is a big part of my planning for a trip. I have learnt what works best for my body while on the road over time and feel comfortable that if I stay disciplined, I can still train well while travelling. The diet is something that is always a work on for me. I love food and would have a hard time not sampling the local cuisine at the places I'm visiting. I am very conscious of what I eat and try to cook lots of meals at my hostel or hotel to both save money and eat healthier. For me, trying new food is the highlight of lots of my trips, so I try to balance out the treats with some healthier home made meals.
Flexibility, minimalism and planning
When travelling with your team to another city or state, do you have time to see the place?
Unfortunately, not as long as I would like. Most games we fly in the day before a game and fly out the morning after. Besides a walk downtown, there isn't much time to explore. You can still see a lot of a city going for a couple hour walk around, but it is largely dictated by where our hotel is located. On international tours we always get a full week in the new city and the midweek day off is normally a great opportunity to explore a new city.
What is the secret behind your achievement to travel to fifty countries on a low budget?
Flexibility, minimalism and planning. While living in Italy for two years, I had a rule where I would go on Sky Scanner and search for the cheapest return flight to anywhere on my days that I could travel. I promised myself to go to wherever the cheapest flight to a country that I hadn't been to was. I wouldn't say I'm a complete minimalist but have made sure since being overseas that I can always fit my life possessions (minus any furniture I own) into two enormous suitcases and a backpack.
What is the most unforgettable experience you have had in your travels?
When we went to Fiji, we met a man called Sana on Malolo Island. He heard that we used to go to school in the local village growing up and offered to take us over on his boat. He sacrificed his day and he also was happy paying the expensive gas bill, expecting nothing in return. The workers at some Fijian resorts are making $2 an hour, so the cost of driving us around in his small boat all day would have been expensive for him. We gave him some money for gas but the fact that he was happy sacrificing his day off and spending a good chuck of his hard earned weeks wages just to let us see our old school in the village was an act of generosity that I will never forget.
What difficulties did you find while travelling during the pandemic? 
Working out the restrictions in each country was tough. We were in Turkey where the cases were being reported as not too bad. We had to go to England to visit some family afterwards. While in Capadocia, we paid for a hot-air balloon ride for the next day. At 5 pm that night, it was announced that quarantine would be required for anyone arriving from Turkey unless you get back in the next 24 hours. We had to cancel our remaining 4 nights in a hotel and the expensive hot-air balloon ride and book an expensive last-minute flight back to England to avoid a two-week quarantine. In total, we have had to quarantine on five separate occasions on returning flights but I am hoping the world will continue to ease quarantine restrictions for travellers in the coming months.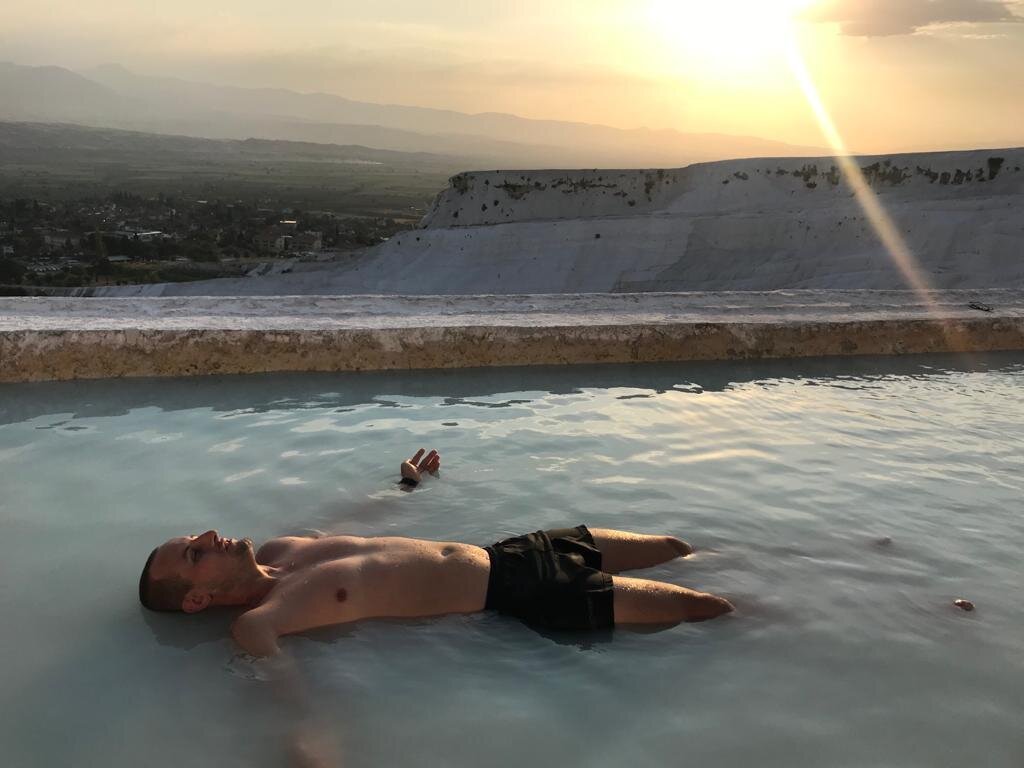 I love learning little things from different cultures
Which country, among those you have visited, did you find the most fascinating and which one has disappointed you?
I fell in love with Italy as a country. The food was amazing, beautiful mountains and coastlines and of course so much history. I can't remember ever visiting a new country and regretting it. I have my favourites but each place I've been to had something about it that I learnt from.

Of all the countries you visited, which is the type of food you like the most?
Icelandic lamb. As a whole, Iceland wouldn't be my favourite country for food, but that lamb was the best thing I have ever eaten. The lambs in Iceland are all tagged and then let loose to roam the land before being gathered up at a certain time of year. The meat had a very wild taste to it and was absolutely delicious.
What aspect of travelling do you like best? Discover new cultures? Challenge your limits?
All the above, really. I love learning little things from different cultures and find I can take away brief lessons or outlooks on life that help me when I return home. The challenge of travel and the pressure it can put you under in certain moments help me as a person. Travelling solo was great, but also travelling with my wife is something I continue to enjoy. I always remember my dad saying to me to never marry someone without travelling with them for at least two weeks first, as you will see how you both function together in stressful situations. Covid has changed this a bit but also the people you meet while on the road and some friendships that I've maintained to this day hold a special place in my heart.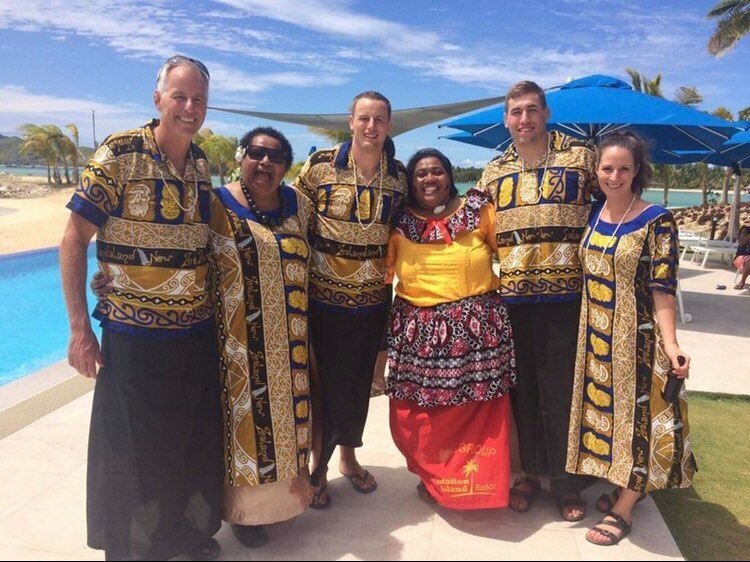 In short, if you want to know more about the travel experiences of Travis Larsen, click on The Rugby Nomad.
However, if you want to know more about the cultures of some countries of the world, look at our Blog.
Author: Esher Guglietta (Viajando por Asia)