A dream doesn't become a reality through luck; it takes hard work and determination. That's something our guest for this month, Hope Kennedy, has in abundance. Kennedy, not only has she made a significant mark on her career in corporate America through sheer determination and hard work; she's also made a mark on the world of travelling.
Kennedy has travelled across all seven continents, racking up over 50 countries. Most of which she has travelled solo. The remarkable thing is that she has done all this and still hasn't turned 30! So what makes her unique? Can her fellow Americans working in corporate America do the same? I sat down and spoke to Kennedy about how she has balanced her work in corporate America with her personal life and travelled all at the same time.
Before I get into that, let us find out who Hope Kennedy is. She told us, "I live in Philadelphia with my dog Louie and my husband, Kevin. We are moving to the Finger Lakes in New York in August after our wedding in Santa Barbara, California. I am creative and a hobby junkie. Some of my hobbies are carpentry, gardening/plant care, painting, yoga, hiking, sewing, chess, and going to concerts. I love life; I am just having so much fun on this planet. I work in marketing and have been described as having a bubbly personality."
Travelling since childhood
Now that we know who she is, and from the sounds of it, she is a busy individual, what are Kennedy's first memories of travelling? "When I was little, we had a beach house and mountain cabin, so we constantly travelled back and forth from home to these places for mini-vacations. Some of my favourite memories were made at these houses. I was the youngest of 4 children, so I was pretty young when we would travel. We went to Jamaica, Dominican Republic, Mexico, Florida, Canada and a road trip out West when I was in grade school."
She continued, "The summer before my last year of high school; I went to St. Croix, Bermuda, and Peru, all within two months of each other. This really drove my exposure and love for travel. I decided to go to a college based on this experience that had a top travel abroad programme. As a graduation gift, my dad took me on a tour around the Mediterranean, where we went to Italy, Greece, Israel, Palestine, Turkey, Croatia and Egypt."
We can now see how her love for travel began; however, what motivates Kennedy to travel today, and what initially inspired her to embark on this extraordinary journey around the world, where she has been to all seven continents?
"I love that life seems to pause when you travel. You are in the moment, and everything is exciting and romanticised. I love just walking in a new place. When I travel with Kevin, we walk everywhere. I love finding back alleys, walking down them, and seeing what café you stumble upon. You can just sit and observe the world turning around you."
Many of my trips were as a solo traveller
She continued to tell us why food plays a big part in her travels, "I always joke that I'm not a picky eater; I just don't like American food. Don't get me wrong, I love a good French fry, but you can't beat the food in other countries! My favourite is to try international food in other countries, so Thai food in Australia or Indian food in the U.K. I love how everyone has their way of life, and for a moment, you can be a part of how someone else experiences life."
As I mentioned earlier, Kennedy has travelled solo. I'm sure many of our female readers out there would like to know what challenges she has faced as a female solo traveller on the road and whether it's the best form of travel.
"Yes, I've been to quite a few countries as a solo female traveller. I drove (on the 'wrong' side of the road) all around Australia's coast. I went to Morocco, Thailand, Laos, Cambodia, Peru, Chile (Easter Island, Patagonia, Buenos Aires), Brazil (Rio), Argentina, and Antarctica, all as a solo female traveller. Honestly, I have had a great experience. Occasionally I would get lonely, but it pushed me out of my comfort zone, and I made friends along the way (like you). I feel like when you are by yourself and start to feel lonely; you are forced to make new friends and put yourself out there." I met Kennedy and had become fast friends with her in Morocco on a group tour back in 2016.
It's very liberating to travel on your own
On to the challenging aspect of travelling solo as a female, Kennedy said, "There were only two times when I felt uncomfortable, one of these, I was in Australia, and a drunk man sat in the passenger seat of my car when I was parked at a hostel at night. I swear I got superhuman strength, and I pulled him out of the car, shoved him so far away, sat in my car, and locked the doors as he was screaming at me from the outside. I called the hostel, and they came out and helped get me to safety. I think that could have happened to anyone at any point, so I don't think it had to do with solo travelling."
She continued to tell us why it's such an indulgence to travel solo, "Honestly, it's very liberating to travel by yourself. You can set your own schedule and just do as you please all day, every day. If you want to wake up at 4am to hike to see a mountain sunrise, you can. I remember I was in Australia, and I was talking to someone about how Angkor Wat was on the top of my list, and they asked me why I didn't just go. 10 minutes later, I changed my flight home and bought a ticket to southeast Asia instead and I got to see Angkor Wat! If you travel with other people, it's harder to change your plan on a dime."
Travel and work in corporate America
Kennedy has undoubtedly highlighted the benefits of travelling solo. On occasions, you may get into some bother, but 99% of the time, as she explained to us there, as a female, you can definitely get out there and enjoy yourself.
Before I ask her more about her travels, particularly her trip to Antarctica, I want to get her thoughts on travel in general for people who aren't in the travel industry in the United States of America. As I've mentioned, Kennedy works in the corporate world in America, and working in a corporate environment is a dream for so many. The job can give you stability and help you with your work ethic and business acumen.
However, is it possible to travel and work in corporate America? I asked her this question and explained that I recently interviewed someone who used to be part of that environment and felt they were handcuffed and had no freedom. This was her response.
"Absolutely! It's very important to find a company that fits your lifestyle. When I went to South America and Antarctica, I left on a Friday night and arrived home on a Monday morning two weeks later. We had a holiday during the week I was gone, so I travelled for 17-18 days and only took nine days of personal time off (P.T.O.). I remembered I landed and immediately took a work call on the drive home from the airport."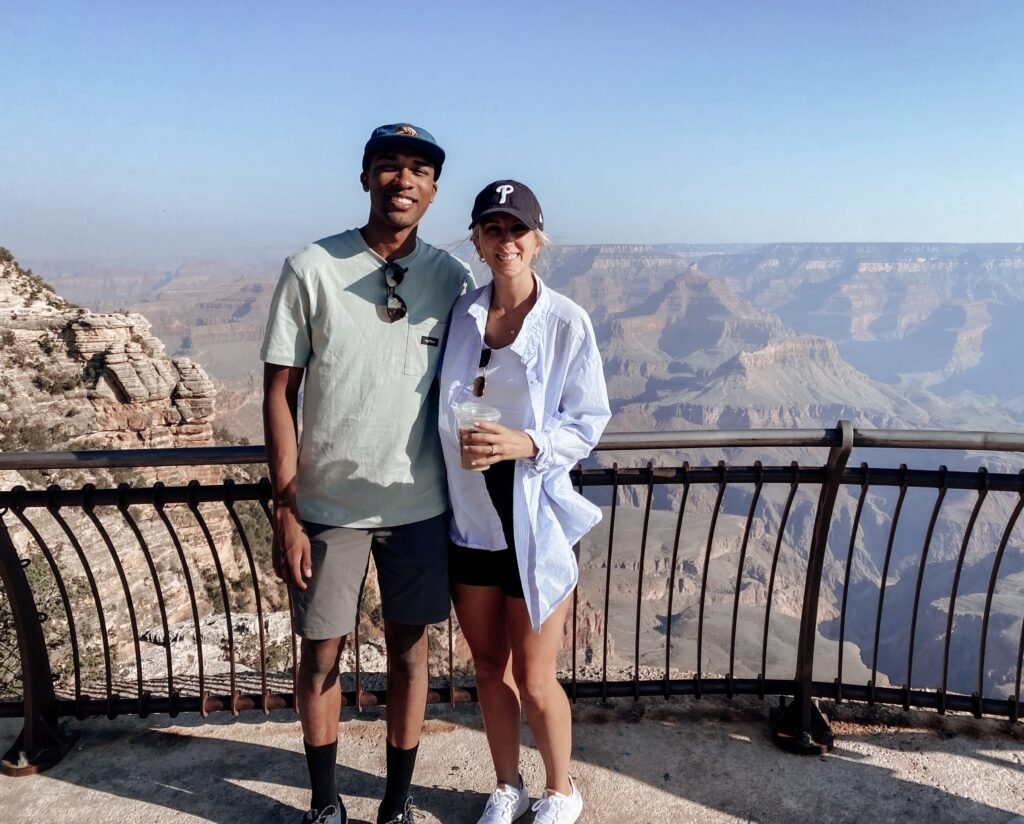 Since working remotely I have been able to travel more
"Yes, I was exhausted, but I was on such a high since days before I just saw Antarctica. I think corporate America appreciates what you learn on your travels and your openness to learn about other cultures and how people live. I love my job in corporate America because it lets me afford to travel how I want to. I now have more money to spend when I'm abroad. I try to take one 2-3 week trip a year and at least one extended weekend trip every month."
To put things into perspective, Kennedy told us she has travelled to multiple places across Europe and the U.S.A. this year and has plans to travel to several more places for the rest of the year. All of this whilst holding a corporate job. She said, "It's all about time management and planning your weekends and P.T.O. wisely."
One pleasing thing that has perhaps come out of the pandemic for us is to be able to work remotely or in a hybrid manner. I wanted to know whether Kennedy thinks this will allow more people with flexibility in the U.S. to travel and work simultaneously and whether this is something she has in mind.
"Absolutely! Working remotely is a game-changer for travelling. I've been able to travel so much more. My favourite is going to the west coast of the U.S.A. on an east coast schedule. There is a 4-hour time difference, so I'll wake up and start work at 5 am and be finished working at 1-2 pm. This gives me the entire afternoon to explore or catch up with an old friend. I'm much more engaged at work when I can travel too because I'm so happy with life."
Antarctica, looks like it's straight out of a storybook
Kennedy's trip to Antarctica can only be described as a once-in-a-lifetime experience. I wanted to know what drew her to go.
She told us, "I didn't know you could just visit Antarctica as a tourist. I always thought you had to be a scientist and stay for a few months. I stumbled across an article about someone who went on a cruise to Antarctica one summer afternoon. I impulsively booked a trip that day to Antarctica for the following January. I was on Cloud 9!"
What's unique about Antarctica that can get us all inspired to go, and is it cost-effective? "I love how untouched it is. It looks like it's straight out of a storybook. You arrive two days after sailing through the Drake Passage, which is a VERY bumpy ride. A lot of people got seasick on the way there. Then, when you arrive, the water is still, and you see Adelie, Chinstrap and Gentoo penguins jumping in and out of the water. Humpback and Minke Whales waving hello with their tails. Leopard Seals sunbathing on icebergs. It feels magical."
I'm not going to lie; it was not cheap. My biggest piece of advice is to open a travel credit card and try to use points to make up for the cost."
If it does become cost-effective in the future, does Kennedy think Antarctica will see an influx of tourists and is that good for the continent?
"It depends. A few boats couldn't get permits to touchdown on land. I think they regulate how many people can land on the ground each day, so that should be good for the preservation. With everything, there are benefits and losses with an influx of tourists. I do fear for the environmental conservation of Antarctica as travelling there becomes increasingly popular."
All places have their special charm
Only time will tell whether Antarctica becomes the next hot spot for tourists. Was Kennedy's overall experience worth it? "1000%. I would go every year if I could afford it. It's worth every single penny."
As Kennedy has travelled to so many destinations worldwide, has any trip helped her improve her perspective on life? She told us, "It's hard to pick just one. I think travelling, in general, you get a better sense of how other people live. No one place is better than another, and no way of life is better than another; it's just another place with its own charm and its own way of doing things, and for a moment, you can experience that perspective. I think having these snapshots from other perspectives changes your own worldview."
Many of us will resonate with what Kennedy has said. As I draw to the end of this interview, as life will undoubtedly change for Kennedy over the coming years, I wanted to know whether travel will constantly be in her life no matter what life brings her?
"Yes! I really appreciate this stage in my life, being married and having Kevin as a companion when I travel. I hope to be that mum that brings her newborn baby on an international adventure. I think I will always prioritise travelling; it just might look different as I get older and my life stages change."
What Kennedy has done in her life so far has proved that we can all aspire to travel whilst building a successful career, especially in corporate America. It's a matter of time management. With remote work becoming more prominent in our working life, there will be plenty of chance for people to hit the road and create everlasting memories, as Hope Kennedy has.
In short, if you want to know more about Hope Kennedy and her adventures, click here.
However, if you want to know more about the cultures of the world, look at our Blog.
Author: Shebs Alom from Shebs the Wanderer