Cuban music is everywhere
The culture of Cuban music is everywhere. Cuban culture, including Cuban music, is a mixture where cultural manifestations from 4 continents merge. Europe, Africa, America and Asia, which has given it that dimension of universality that it enjoys. 
Cuba is an island, but it is more than beaches, rum, "mulatas y rumberas" or cigars. Cuba is its people, its traditions, its culture and syncretism. In that mixture of culture that the Cuban people belong, beliefs and religions are collected because of brilliant mixtures. Some more rooted in time than others, but which determines the Cubanness of this people.
Part of the authenticity of a nation is in the culture it treasures. Cuba is a worthy example of the variety of essences, traditions and beliefs that made up what it has today,. It has proudly nuanced the sound, dances, rhythms and color of this island composed of the blood of the aborigines, black Africans, Europeans, Chinese and other ethnic groups; until forming the typical Cuban Creole.
Many would agree when it is stated that there are few countries in the world where music occupies such an important place as in Cuba. Without a doubt, music is always primordial for Cubans.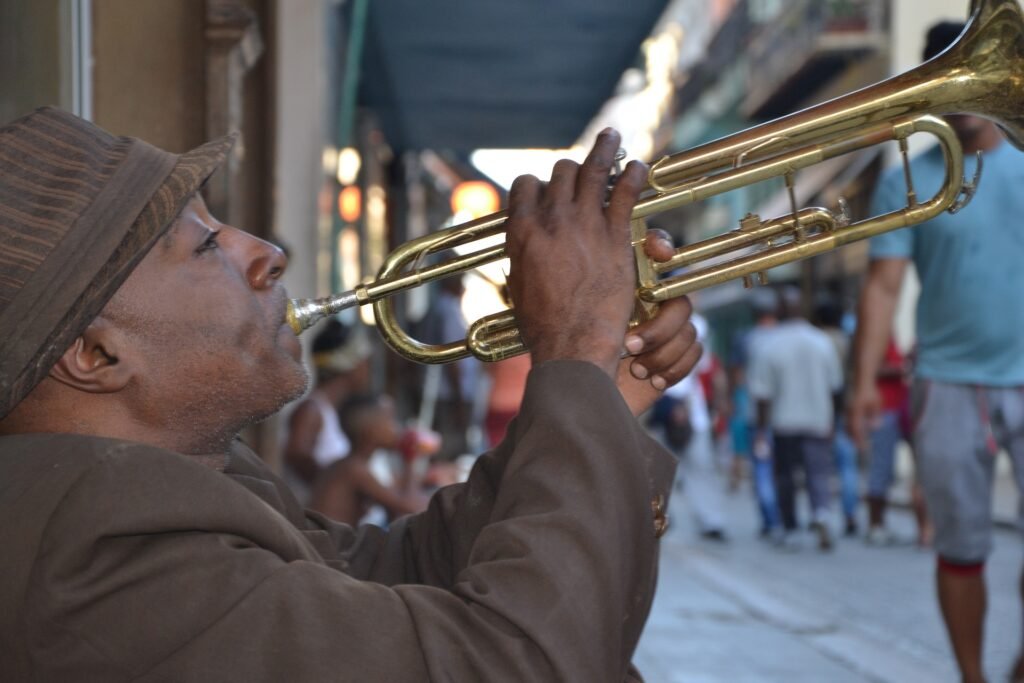 Dancing to the rhythm of Cuban music
In Cuba there are no perfect places to listen to quality music. No matter where you listen to it, it will always have a unique sound. On this island, when the music plays, it is not to stay with your arms and keep the rhythm with your feet under the table. Nothing of that! During your stay in Cuba you soon realize that almost everyone knows how to dance or everyone dances.
From the youngest to the oldest, all Cubans have the custom of dancing with passion and intensity, be it salsa, a danzón or a guaguancó. In addition, it is always delightful to observe in the different local music centers, what strange totally mismatched dance couples are formed.  For example, the younger ones mix with the older ones and vice versa. What is certain is that they shake their hips with the same enthusiasm to the sound of the music that sounds at that moment.
A fusion of musical genres
In Cuba, the social condition does not matter, nor do the problems and worries. The Cubans put aside their complexes and shame and they simply dance!
Cuban music and many groups of Cuban musicians enjoy great international fame. You have probably heard the members of the "Buena Vista Social Club", protagonists in 1999 of a magnificent documentary on Cuban music directed by Wim Wenders. Compay Segundo and Ibrahim Ferrer who are acclaimed around the world standing out. However, there are many other Cuban musicians inside and outside the island who have made Cuban music hugely popular and influential throughout the world.
In recent years a new generation of musicians has emerged, more modern. They play a style called "fusion", since they mix rap, reggaeton, funk or reggae. No matter what you want to hear, here you always find that note that you did not know sounded so good. Also you can find that magic of having to get up from where you are sitting and let yourself be carried away by the real and wonderful of the best of Cuba and the Cubans, its music.
This article by Pepe Gonzalez from FreeTourRevolucion was published in the first issue of Voyagers Voice Magazine.
Author: Jose Enrique Gonzalez