In this issue, Voyagers Voice interviewed Laura Pedlar, a UK cruise blogger whose passion for cruise travel began at the age of six. Laura especially enjoys visiting new places on a cruise and making the most of her time in port. Her blog, cruiselifestyle.co.uk, is dedicated to cruise ships, destinations, and cuisine.
How did your involvement in the cruise industry begin?
When I was six years old, I went on my first cruise with my family, a Mediterranean cruise on P&O Cruises' Canberra, and I thoroughly enjoyed it. Fast forward 30 years, I created Cruise Lifestyle, a cruise website designed to help people make the most of their cruise holidays. Before any cruise, I do a huge amount of research into the ship and ports of call and the website is where I share all of this useful information and advice. I particularly focus on ships, destinations and food. In 2019, I began the #CruiseHour Twitter chat to help connect cruise fans with weekly discussions on all things cruising. It's a friendly and helpful space on Twitter to chat about cruise holidays and is the only cruise chat on Twitter.
What are the main reasons that make a cruise stand out from other forms of travel?
A cruise allows you to visit multiple destinations in one trip, with the added benefit of your accommodation travelling with you. This means you only have to unpack once! A cruise can take you to iconic destinations such as Rome, Athens, Rio, New York, Cape Town and Sydney. It allows you to travel to and from destinations as well as through them (on river cruises). There are some places that are definitely best experienced on a cruise, for example, the Nile, the Norwegian Fjords and the Panama Canal. Some cruises offer a snapshot of destinations whereas others provide more destination-immersion, with single-country cruises.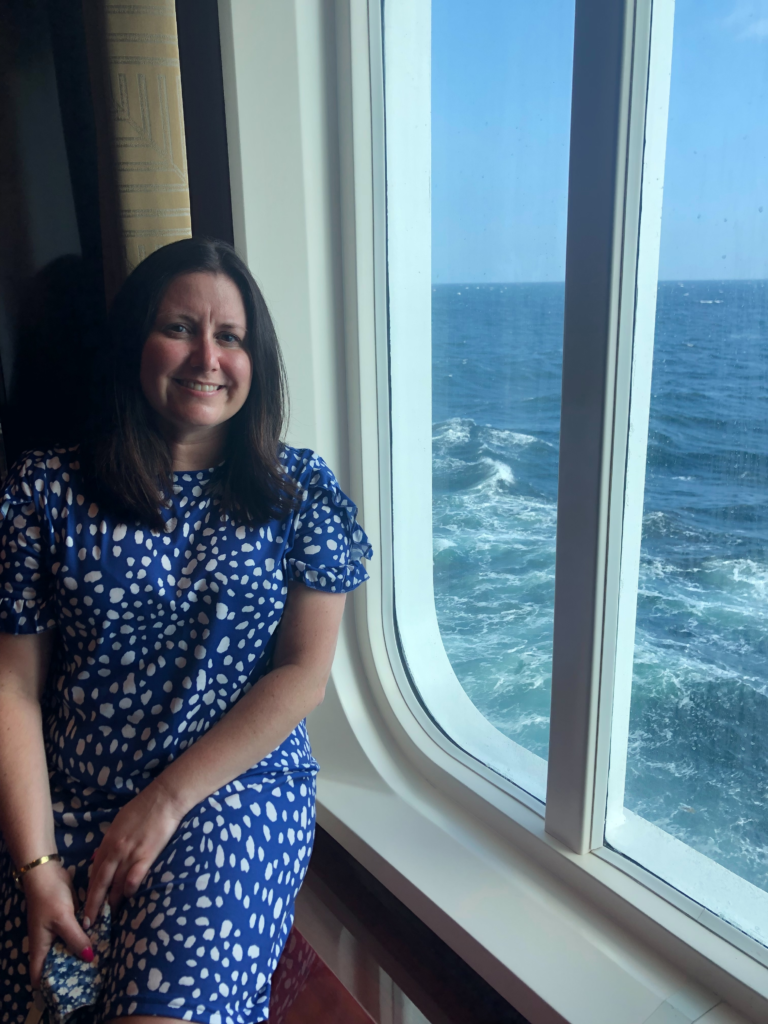 Many of the cruise ships that are designed for younger passengers
Is a cruise really an expensive way to holiday?
Like most vacations, a cruise can be as expensive or as affordable as you want it to be. There are many cruise lines that cater for different budgets. Food, entertainment, and lodging are all included in the cruise fare, and some even include excursions, spa access, and drinks. When compared to land-based holidays, cruising provides excellent value for money, especially when you consider the quality of service and the number of destinations you can visit in one trip. I have seen some incredible deals on cruise holidays in the last year and I feel that cruising is definitely becoming a more popular way to travel.
There is a widespread misconception that cruises are primarily for older travellers. Is this true?
Certainly not! If anyone is thinking about waiting until they are older to take a cruise, I would encourage them to do so now. Many of the cruise ships that are designed for younger passengers like Royal Caribbean, Carnival, MSC and Norwegian Cruise Line have so many onboard activities for the young and young at heart. There are water slides, surf simulators, climbing walls, roller coasters, go-karts and bumper cars!
It's also worth bearing in mind that some of the destinations that cruises visit offer active excursions that you wouldn't want to miss out on. A common myth is that river cruising is for older people, but many river ships now have a fleet of bikes that can be used in ports and there are lots of hiking excursions offered. On our last river cruise, we met a lovely couple in their 20s who chose a cruise because they wanted a holiday where everything was taken care of for them.
The 'ship-within-a-ship' should be available for everyone to enjoy
What excited you the most about a cruise trip?
The two things I'm most excited about when planning a cruise are the destinations (I love researching the ports and things to do) and the food. On a cruise ship, there are numerous restaurants, and some of the specialty dining establishments are excellent. There are different cuisines and options to try, but to ensure you have the chance to dine everywhere you want, it's important to book them before the cruise. It's also important to me to try local cuisines and find the places where the locals eat to get a more authentic experience of a place.
In terms of the destinations, I like to find out about special experiences and the culture. It could be a trip to a local market, a trip to historical sites, a private tour, or an activity. Memorable excursions we've enjoyed in cruise destinations include taking a tour of Rome in a vintage Fiat 500, a helicopter ride over a volcano in Hawaii and swimming with stingrays in the Caribbean. We are more likely to choose independent excursions or make our own plans when we visit a destination, as we much prefer the freedom of exploring on our own. Some of the excursions booked through the cruise line sometimes make us feel like we're being herded!
What do you dislike instead?
It's difficult to find anything wrong with a cruise holiday, but one aspect that I see as a growing trend with some cruise lines is the introduction of exclusive areas on cruise ships. The 'ship-within-a-ship' concept means that certain areas of the cruise ship are only accessible to those passengers who have booked a particular grade of the cabin. I believe all areas should be available for everyone to enjoy. Some cruise ships have exclusive restaurants and relaxation areas for passengers who have paid a fee. I haven't felt the need to do this yet, but I'm afraid more cruise lines will start doing it in the future.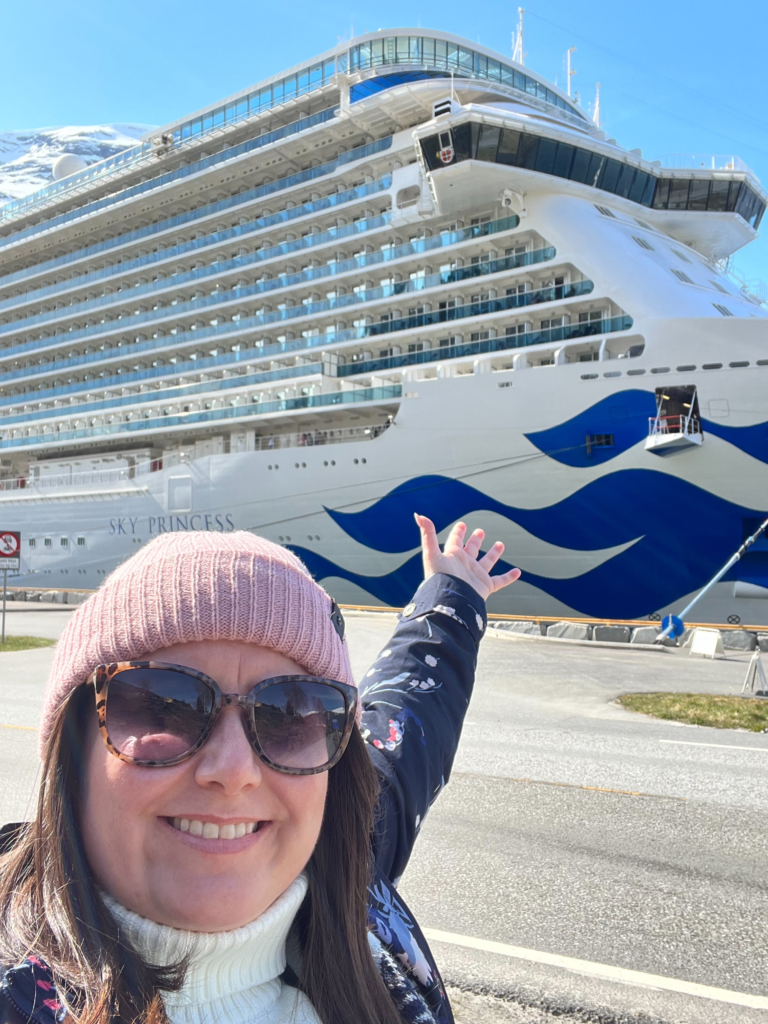 An extensive daily programme of activities
One of the reasons why some people do not travel by cruise ship is the amount of time spent on the ship. Are they really that boring? How did you spend your time on the ship?
Ocean cruises typically include a mix of port and sea days. Sea days are a great way to relax and unwind. The beauty of sea days is that you can do as much or as little as you wish. There is an extensive daily programme of activities that includes things such as fitness classes, talks, quizzes, games, sports and craft activities. Sometimes, finding a quiet spot to sit and read a book is all you want to do, but the good thing is that there are also plenty of activities to keep you busy if prefer.
On colder cruises, it's important that you choose a cruise ship that offers plenty of indoor spaces and perhaps indoor viewing areas if travelling to Alaska or the Norwegian Fjords. You want to make the most of the scenic cruising. In warmer destinations, the outside spaces are very popular so the ship will feel less crowded.
What is the most impressive cruise you've ever been on?
This is a tough one! One that stands out was a Royal Caribbean repositioning cruise. We decided that the inaugural cruise from Barcelona to Dubai would be a good choice because this ship had just been built in Europe and was destined for Asia. We absolutely loved the mix of destinations we visited, which included Naples, Athens, Jordan and Dubai, but a highlight of this cruise was transiting the Suez Canal.
Our journey through the Suez Canal began very early in the morning and we found it fascinating to cruise through the desert. We passed towns, monuments and bridges throughout the transit and waved to locals in fishing boats and those waiting for ferry crossings.
The protocols that had to be followed while cruising through the Gulf of Aden were particularly interesting on this cruise. As we were sailing near the coast of Somalia, we had to take part in a Safe Haven drill to practise what to do in the event of pirate activity. There were armed lookouts positioned around the ship to keep watch for any suspicious activity. We were, of course, safe throughout our journey, but it was a great insight into the precautions that cruise ships have to take when sailing in this region.
The increase in traffic is one thing that some popular cruise destinations are trying to manage
Could you describe three standout cruise itineraries?
A Norwegian Fjords cruise offers some stunning scenery, both whilst cruising and in the ports of call. I'd recommend spending plenty of time outside on the open decks when sailing through the Fjords to enjoy 360-degree views.
A cruise to Hawaii to experience the differences between the islands. There is plenty of natural beauty as well as history (if visiting Pearl Harbour) to enjoy on this cruise. If your cruise begins in San Francisco, you also get to experience cruising under the Golden Gate Bridge.
A Suez Canal cruise can provide a diverse range of cruise port destinations, and I highly recommend the transit through the Canal; there's always something to see as you travel.
Critics of cruising argue that, after all, visitors from ships to a destination do not leave a real profit because they do not stay for many hours. What do you believe? Does something like that apply?
To some extent, I agree with you. When cruise ships arrive, passengers spend a few hours in port before departing for their next destination. However, local tourism has adapted very well to make the most of cruise ship visitors. When in port, cruise passengers can take advantage of a variety of local services. Transport, hospitality, retail and tour companies all benefit from cruise ship visits and this can have a positive impact on local economies. It was heartbreaking to hear about the communities that suffered during the pandemic because cruise ships were unable to visit.
There does need to be a balance struck between the positive and negative influences on cruise port communities. The increase in traffic is one thing that some popular cruise destinations like Santorini and Venice are trying to manage by limiting the number of cruise ships that can visit in one day. This also helps local businesses provide the best experiences to cruise passengers and spread the visitor numbers across the season.
Could someone say that cruising is a sustainable mode of travel or that it is a burden on the environment?
Cruising is not currently a sustainable mode of transport and sadly, in the past, some cruise lines have been found to have dumped waste overboard without treating it. Thankfully, there's now a commitment from cruise lines to work towards a sustainable future and reduce the impact of cruise ships on the environment. Cruise lines that are part of the Cruise Lines International Association have pledged to achieve net zero carbon cruising by 2050. New cruise ships are now being built with the environment in mind. Many new ships now run on Liquefied Natural Gas, which has virtually zero sulphur emissions and up to a 20% reduction in greenhouse gases. I think there's a long way to go but pressure from governments such as Norway's is speeding up the process and forcing cruise lines to look at new, green technology in order to continue operating in certain regions.
Cruise lines have been working with authorities to reduce emissions whilst in port and thanks to investment in port facilities, 40% of global capacity can now operate on shore-side electricity. Cruise ship hulls are even being painted with specialised paint coatings that reduce drag and fuel consumption.