A couple of years ago we were introduced to Canadian cottage life through an invitation from friends. So, with the car packed with swimwear, a couple of bottles of wine for the hosts and giddy anticipation we set off for the lakes two hours north of Toronto. The sixteen-lane-highways became narrower with every mile we drove, losing width until after about an hour, we left the busier roads for those lined with dark green trees. The rock formations with clean lines flanking either side of the asphalt spoke volumes of how they were once part of the same plateau that had to make way for our thorough through. The closer we got, the more lakes we encountered. Sometimes we seemed to drive right through them, water within less than a meter of our wheels, other times it was the reflection of the sun between the trees that gave them away.
Our last turn onto a dirt path took us to our destination, a beautiful, two-storey building set on the higher part of the bank along the lake. A dock with a speedboat, a sauna just beside the lake, a small sand beach, the sun and our friends, we immediately understood what drew (and draws) everyone out of the city each weekend. We unpacked, changed and went for our first dip in the lake. With the kids being small, the shallow water had warmed up nicely in the sun for them, while just a few meters further the residual winter cold was the refresher we needed.
Canadian gastronomy: BBQ time
Confession time, I never much cared for barbecue, or so I thought, because BBQ in North America entails a different way of life. This piece of equipment; the BBQ is for year-round outdoor cooking. I had only really seen them in stores or movies, not ever in action.
Well, I learned then and there when, for dinner that evening, our friends grilled a fresh, juicy steak to crispy perfection and served the best steak salad ever. Simple but so delicious.
4 servings
Ingredients
2 lean flank steaks

350-400 gr arugula

Parmesan cheese to shave

1 fresh lemon

A drizzle of good quality olive oil
Directions
Put the steaks on the hot BBQ and grill 3-5 minutes per side.

Meanwhile arrange the washed arugula over 4 plates

Drizzle with olive oil.

Once the steaks are ready, let them rest for 10 minutes. Then slice in thin strips and divide over the arugula.

Shave strips of Parmesan cheese and squeeze fresh lemon juice over the salads.

Season to taste.
The perfect ending to dinner? Ice cream. From an ice cream shop in a village across the lake. Yes, a couple of scoops of creaminess in a cone, that you eat while you get a tour around the lake by boat during that magic hour before sunset. The happy faces of the kids said it all, but that could have something to do with some of the high-speed racing and steering they got to do too.
The little ones safely tucked in bed, we spent the evening chatting and sipping local beers and wine on the screened-in porch to keep us safe from mosquitos.
After breakfast, the next day, it was time to go shopping at a local farm. A lot of farms have small stores or stalls along the road where you can get their produce that is in season. Some farms also offer the opportunity to pick your own and that's just what we came to do. Armed with buckets and cartons we steered straight for the strawberry fields. Once we'd collected a bucket full of sweet, shiny, natural rubies, we slowly strolled past the green beans and squash, and the still tiny pumpkins to the 'greens' section. With two heads of lettuce, a couple of cucumbers and sweet potatoes we returned to the entrance to have our pickings weighted and to pay for them. By that time the sun was beating down and the lake beckoned.
The produce safely in the fridge, the ribs picked up from the local butcher on the way back, and the strawberries washed, we spent the afternoon on their private beach. We canoed, swam, pitched a tent for later that evening, built a sand castle, played football, prepared and marinated the ribs, and got our first taste of waterskiing! What is not to like about spending time at a cottage?
6 servings
Ingredients
3 pounds (1 ½ kg) baby back pork ribs

¾ cup maple syrup

2 tablespoons packed brown sugar

2 tablespoons ketchup

1 tablespoon cider vinegar

1 tablespoon Worcestershire sauce

½ teaspoon salt
Directions
Place ribs in a large pot, and cover with water. Cover, and simmer for 1 hour, or until meat is tender. Drain, and transfer ribs to a shallow dish.

In a small saucepan, stir together the maple syrup, brown sugar, ketchup, vinegar, Worcestershire sauce, salt, and mustard powder. Bring to a low boil, and cook for 5 minutes, stirring frequently. Cool slightly, then pour over ribs, and marinate in the refrigerator for 2 hours.

Prepare grill for cooking with indirect heat. Remove ribs from marinade. Transfer marinade to a small saucepan, and boil for several minutes.

Lightly oil grate. Cook for about 20 minutes, basting with the cooked marinade frequently, until nicely glazed.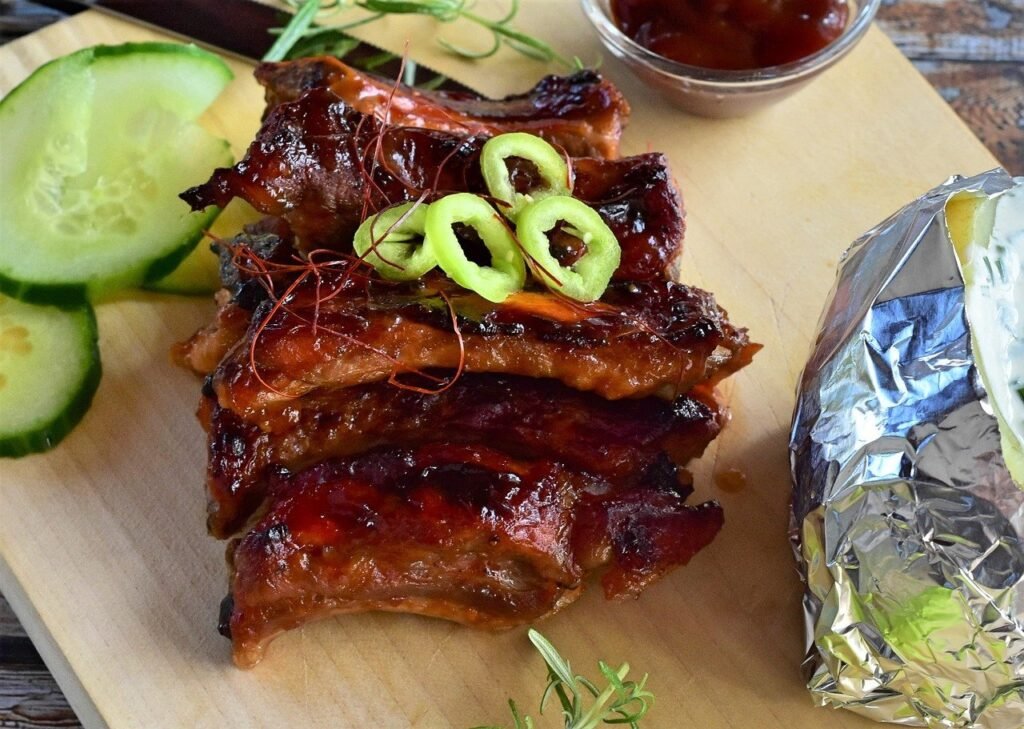 1 cup flour

1 tsp. baking powder

½ tsp. salt

Warm water
Combine all ingredients to form a dough, then fry it in a pan, on a hot rock in the fire, or wrap it around a stick to hold above the fire to bake.
S'mores
Large marsh mellows

Graham crackers
Put large marsh mellows on a stick and hold them above the campfire until they're lightly toasted and soft. Be careful not to burn your mouth when you eat them of the stick! An even better option? Take two Graham crackers and slide the marsh mellow off the stick between the two biscuits for a warm, sweet and gooey sandwich.
Canadian Bannock Bread (Image by Stocksnap from Pixabay)
Two days later we went back to the city, returning with renewed love for Canadian nature and an invitation from our friends to come back soon.
In short, if you want to know more about the Canadian culture, art or gastronomy, look at Story Away From Home.
Hoiwever, if you want to know more about the culture of other countries, look at our Blog.
Author: Mariken Zuydgeest (Story Away From Home)