Canada: Enjoy Summer Like a True Canadian, the Where, How, What, and When
Think of Canada and its summer living, and I'd wager you're thinking of crisp-looking lakes, beautiful snow-topped mountains and endless forests. It won't surprise you that with the country being home to 9% of the world's forest and almost 9% of its fresh water, Canadians spend their summers enjoying these natural resources to their fullest. Though the country is vast, most of its inhabitants live within 300 km of the border with the USA and therefore enjoy cold winters and hot, often humid summers. And what better than nature to help cool you down?
That's why Canadians living in cities and suburbs head out to the myriad of lakes during the spring and summer weekends. Since, similar to the US people on average have just ten days' holiday-time, they make the best of their free time. 
The many bodies of water in the Canadian landscape are the result of erosion from the last ice age, heavily weighing and grinding down the underlying rocks. (Fun fact: did you know that Canada's soil continues to rise from the release of snow and ice from that last ice period?)
The process has resulted in stunning waterways, lakes and natural examples of how water finds its way to the lowest points. Steep and narrow gorges with gallons of rough and sparkling meltwater that thunder down, cutting ever deeper into the rocks, creating phenomena like bridal falls and, of course, the Niagara Falls.  
Lakes form where those rushing streams pool, tranquil bodies of water of varying depths surrounded by Maple Spruce. Birches, Beeches and hickory trees depending on where you are in this vast country.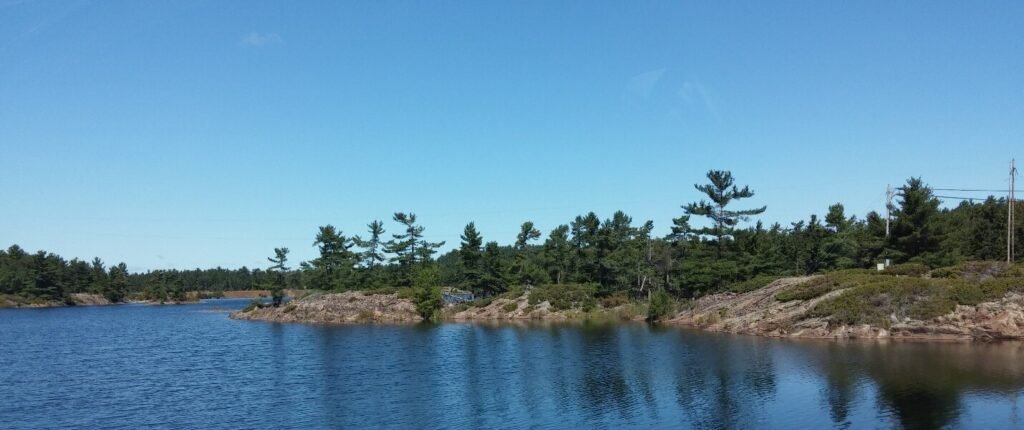 Around the 1930's the first cottages appeared at the edges of the forests. Simple, wooden structures that allowed for much needed escapes from urban areas. Time and space for fishing, swimming and boating with family.
Fast forward almost a century and that ideal is still the basis of Canadian summering. Cottages built on the shores of the many lakes and have been passed down from generation to generation. Even if cottage prices now have gone through the roof and the simple dwellings have given way to extended buildings with all modern amenities, the spirit is much the same, spend time with family and friends. Families can rent the cottages for just one week up to a full summer, allowing anyone, including tourists, to experience a true Canadian summer.
As early as March, when temperatures rise, and nature awakens, every weekend the number of cars leaving urban settings for their leisure counterparts go up. Once the ice has evaporated, decks are returned to the lakes, boats put in the water and cottages are opened and cleaned. 
Then, when summer arrives with blazing sunshine after a last wintery convulsion – April will always see one more snowfall – it's time to put on sunscreen, swimwear and don the sunglasses. Cottage life is as much about relaxation as it is about community, those coming from regular life and those that are part of the lake family. So, after breakfast, take the boat and drive it to your neighbours for a coffee. Then go shopping at the local farmer's market and make it home for some afternoon waterskiing before you prepare for dinner with friends, cooked on the BBQ with some fresh salads. Afterward, enjoy the evening with a glass of wine on the screened-in porch or make a fire on the shore. 
Have friends come over for a few days and visit one of the BBQ competition and festivals where teams outdo each other trying to make the best BBQ meats. Rows of massive grills full of ribs, beef and other meats, with a 'wall' of posters of which contest they've won. We season the meat with the special and secret rubs (!) Of each contestant and, while cooking the meat, we drizzle regularly so that the meat is succulent and tender. Then it's time to line up and try out a portion of your performances, stay for the day, and find out who will win the contest.
On another day discover the local (micro) brewery. There always will be one that is within short driving distance. Both beer and cider breweries that are happy to show you their process and history and give you a taster menu. Of course, you'll bring your favourite home for later.
Though you will not find big regular supermarkets everywhere in the smaller communities, and go for a big shop in a bigger town nearby every week, fresh produce can be found close by. Keep your eye out for signs with PYO which stands for Pick your own. Many farms have plots where locals and tourists are allowed to come pick their own fruit and vegetables: squash, pumpkins, apples, string beans, berries: strawberries, raspberries and blueberries, and apples at the end of the summer.
Celebrations and festivals
The lake communities thrive during the summer months with festivals, farmer's markets and local tournaments, so there's always something to do. On Victoria Day (May 24th) and Canada Day (July 1st) will see many parties with fireworks. Besides that, depending on where in Canada you decide to spend the summer, you'll find book festivals, (classic) car festivals, summer festivals, rodeos, or local dances.
All while you swim, fish, go waterskiing, canoeing to keep cool and relax in between.
And in summer, you go camping, naturally… not on a campsite like those you book a spot for, but the real free type of camping. Put a backpack on, tent on top and hit the dirt trails through the forest to a delightful spot near water. Ninety percent (90%) of land in Canada is owned by the government and here Canadian residents (free) and tourists (at a cost per night) are allowed to camp pretty much anywhere they want, provided you adhere to local rules. 
These have to do with how to 'leave no trace' of you having camped at that spot. Tourists need a camping permit to be purchased through the province, costs and rules (such as they leave not trace ones) vary per province. They will also be able to help you find where the crown land is you can use freely and safely (bears do roam free in Canada, after all).
The chance for the real, outdoor camping experience where you catch your own fish, build a fire and make Bannock Bread and S'mores while telling each other tall tales and ghost stories.
Where, How, What and When
So, there you have it, summer like a true Canadian. Rent a cottage, gather the family, invite some friends and enjoy the best of what Canada offers.
In conclusion, if you want to know more about Canada and its customs, look at  Story Away From Home 
However, if you want to know more about the culture of other palces, look at our Blog.
Author: Mariken Zuydgeest