Azerbaijan wine and grape Festival celebrates in Shamakhi city. It is the first European-format wine event in Azerbaijan to expand and support viticulture. it also supports domestic winemaking and increases the export of wine products to the international markets. Our Grape and Wine Festival is a celebration of the tradition and viticulture heritage of Azerbaijan. It is about a festive atmosphere for those creating wine.
Whether you are an ardent admirer of wine culture or just a beginner in this field, whether you have fully explored the wine fairs of the Old and New World or just exploring viticulture and wine, you should definitely visit First Grape and Wine Festival in Shamakhi.
With its magnificent landscapes, at the foot of the Caucasus Mountains and 750 m above the sea level, its local Mediterranean like climate makes the region suitable for growing extraordinary agricultural produce. The winemakers here recreate the concept of "vin du producteur", where new technologies combine with ancestral artistry. It means protection the peculiarities of the soil to produce organic wines rich and unique in personality.
The natural climatic conditions of the Meysari village of Azerbaijan's Shamakhi district, the volume of annual precipitation, temperature indicators, as well as the results of analyses of soil samples taken from various places of the territory and carried out in various laboratories in France, confirm that there is an opportunity to grow high-quality and productive types of grapes. At the stages of selection, planting, rendering agrotechnical care to the seedlings according to local conditions, the collection and processing of grapes, regular consultations are held with experts specialising in the viticulture sphere of France. However, all these are factors that cause the production of high-quality winemaking products that are easily competing in the markets.
Surely, the biggest reward for us is to see friends and families gathered around a table. They can connect with one another with food, wine and conversation, while relaxing laughter and easy banter resonate across the plantation.
Meysari – An organic wine produced by EU certification
Branded as Meysari (the name of the company's main base location), Shirvan Wines is one of Azerbaijan's newest winemakers and the country's first to be considered an organic producer by EU certification.
In Meysari they planted the first 40 hectares of vineyared in 2014. The first harvest was in 2017, so as yet, the 2018 bottling is all we have to go on. But signs are promising. Already the area under vine has grown to some 310 hectares. The brand new processing unit uses first top-quality French equipment made by Pera. In this place they built museum, restaurant and guesthouse have been built to facilitate wine tours.
Meysari (Azerbaijan) wine
What to expect from wine tours in Meysari?
We pick up the guests from any hotel inside of the Baku City for this tour. The vineyard with native and foreign grape varieties has been harvested in the territory of the complex, in the village of Meysari in Shamakhi. In the wine production process, they do not use artificial preservatives, dyes, aromatizers, and other chemical components. Organic wine is rich in vitamins and minerals.
"Sadaf" – A dry white wine produced from a mixture of Marsanne, Roussanne, Clairette and Grenache Blanc grape varieties. It gives a certain sophistication with notes of pear and, to some noses, cedar or bay leaf. 
"Marjan" – This dry red is an assemblage of Marselan, Grenache Noir, Cinsault, Carignan and Mourvèdre grape varieties. The result is an understandably complex creation, achieving an appealing balance with flavours of blackcurrant and blackberry to the fore.
Makhmari» – Meysari's premium dry red uses Carignan and Grenache grapes to produce a rather sophisticated blend with hints of green walnut and redcurrant foremost on the palate.
The wines, produced by "Shirvan wines" LLC under the brand of "Meysari", are distinguished by its own taste, colour and aroma.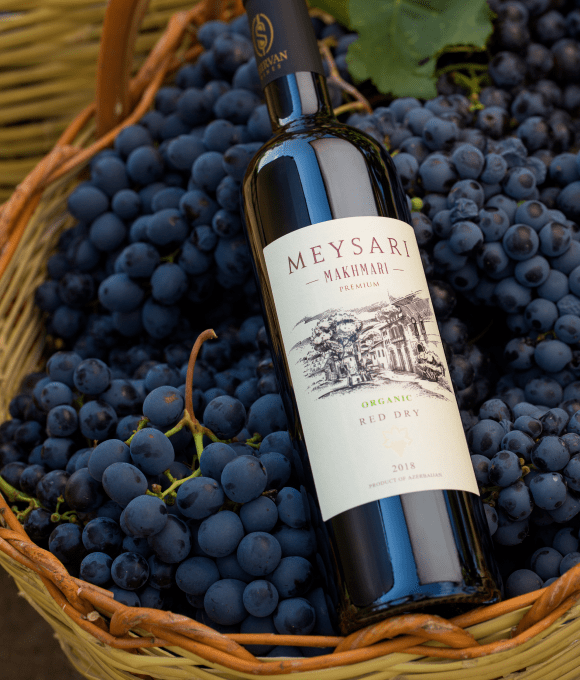 Meysari (Azerbaijan) graep and wine
In the vineyard, you can enjoy with the preparing of different wines. You can also buy fresh wines juices in the vinery with low price. In the degustation hall, you will taste different wines. You can also taste Snacks including bun-dried tomatoes, cheese plate, nuts, raisins, fresh cucumbers, tomatoes and herbs. Later, you will have lunch at the local restaurants. The winery opens Mon-Sat from 08:00 till 19:00 (Sunday by arrangements). The restaurant is open every day. Besides, drive back to Baku.
See you in Meysari
In short, if you want to know more about Azerbaijan, look at Nurana Hasanova Linkedin 
However, if you want to know more about the culture or art of other counties, look at our Blog. 
Author: Nurana Hasanova (Tour Guide)