Anika Neugart (1987) is a German blogger, speaker, book author and arts and cultural manager. She loves to travel. During her travels, she encountered numerous deficiencies in the tourism industry, such as elephant riding and long-neck villages in Thailand, tethered baby monkeys in Malaysia, and underpaid and poorly equipped porters in the Himalayan mountains. During these travels, she realised the importance of sustainability in tourism. On her website www.travelslowly.de she writes about the new conscious and eco-sustainable travel trend Slow Travel.
Can you give us a brief definition of what Slow Travel is?
Everyone knows Slow Food nowadays, which is the counter-movement to Fast Food. The people seek pleasure, joy and traditions in the preparation and consumption of meals again. Slow Travel is inspired by the Slow Food movement. It means the averting or even rejection of package tourism. The travel trend includes conscious and slowed-down travel where the person and its surrounding are focused on. Another important part of Slow Travel is supporting ecological sustainable travels.
Why would you recommend Slow Travel to tourists?
Actually, sustainability is the primary reason I promote Slow Travel in the first place. Slow travellers avoid flying and strive to travel in a sustainable manner. Instead of flying to the United Kingdom, take the train through the Euro tunnel. Even long-distance buses are boarding these trains. As you get closer to your destination, you have an interesting experience being in a tunnel beneath the North Sea. In 2017, I travelled to London by bus via the Euro tunnel to see a Rolling Stones concert. Aside from the great music, one of my favourite parts was the travelling.
On my Slow Travel blog, I interviewed different people on how they reached their travel destinations. A friend of mine cycled the distance from Germany to South Korea by bike. Two other friends wanted to visit the Caribbean from Europe and therefore joined a group on a catamaran. And two other guys literally run along the former inner German border to experience it.
Aside from great travel stories, there are plenty of other reasons to travel slowly. Slow travellers are less stressed because they stay longer in places and stop trying to see every Must-See attraction in their holiday destination. You also spend less money because travelling by foot, bicycle, horse, or (in some cases) train or bus is less expensive. Slow travellers try to connect with the locals by staying in homestays, farms, or volunteering, which is also less expensive. Finally, Slow Travelers benefit from connecting with locals, other travellers, and their modes of transportation. They not only make a lot of new friends, but they also grow with each challenge, such as communicating, learning bits of a language, pushing themselves in sports, and getting out of their comfort zone.
The inspiration to become a staunch supporter of Slow Travel
What inspired you to become a staunch supporter of Slow Travel?
I began writing a book about 16 sustainable living trends in 2020. Aside from so-called Microadventures, in which people stay in their region and focus on experiencing adventures in their daily lives, I discovered Slow Travel as another growing sustainable mode of travel. There were plenty of English books, articles, and blogs about Slow Travel, but almost nothing in the German-speaking field. As a result, as a native German, I decided to promote Slow Travel on a German blog as well.
Mass tourism has altered many of the targeted destinations
Do you think that mass tourism is responsible for the alteration of the cultural identity of the inhabitants in certain areas?
I find it difficult to assert that a "cultural identity" is altered because cultural identity is a personal choice. However, as part of globalisation, mass tourism has altered many of the targeted destinations. For example, in Europe's most popular tourist destinations, economic offers, living costs, atmosphere, and thus living quality have changed as a result of the influx of tourists.
In Venice, more tourists than residents visit the city in a single day. The restaurant culture has shifted to cheap American pizza and other fast food, while the places are overrun with tourists who sometimes wear swimsuits in the streets, take photos of locals without their permission, and place so-called love locks on old bridges until they have to be removed to keep the bridge from collapsing.
In Barcelona, there were so many Airb'n'B apartments for tourists that the prices for living space skyrocketed, and locals struggled to find a place to stay. In addition, the city was popular among party tourists who came to drink. Some cities have been so harmed by mass tourism that almost no locals live there anymore, such as Oia on the Greek island of Santorini, where apartments have been converted into shops, coffee shops, and restaurants.
Tourism, of course, has its advantages. The popularity of hiking in the Himalayas or attempting to reach the summit of Mount Everest has resulted in the establishment of numerous tour operators in Nepal, resulting in numerous new job opportunities. Locals began to work as trekking guides, porters, and camp staff. However, the holy mountains are now not only overcrowded but also filthy. Furthermore, the dangerous journeys endanger the lives of both tourists and locals, who are sometimes inexperienced. Bodies of people who died on their trek can be found near the most difficult sections of the Mount Everest trail.
Many people are reconsidering their lifestyle and how all of their actions affect the world
Do you think that in recent years, many people have turned to a more alternative and sustainable way of travelling?
I believe that as a result of the climate crisis, many people are reconsidering their lifestyle and how all of their actions affect the world, including modes of transportation and travel. Some people no longer fly and instead try to travel to all destinations by other means. Some people prefer to stay in their home country or region. There are trends toward "Eco Travel" or "Slow Travel," but there are also trends toward "Van Life" or mobile homes, which have negative consequences. Also, there are still a lot of cruise ships, and people love to go on these cheap but environmentally hazardous trips.
Following the massive corona restrictions in 2020 and 2021, the popular travel destinations that suffered from mass tourism are once again very popular. To truly improve tourism's ecological sustainability, we need more political restrictions and global support for green travel options, such as banning cruise ships, short-distance flights, and plastic souvenirs and useless merchandise. Countries should also invest in good public transportation and assist their citizens in developing social, ecological, and economically sustainable local businesses, lodging, and so on.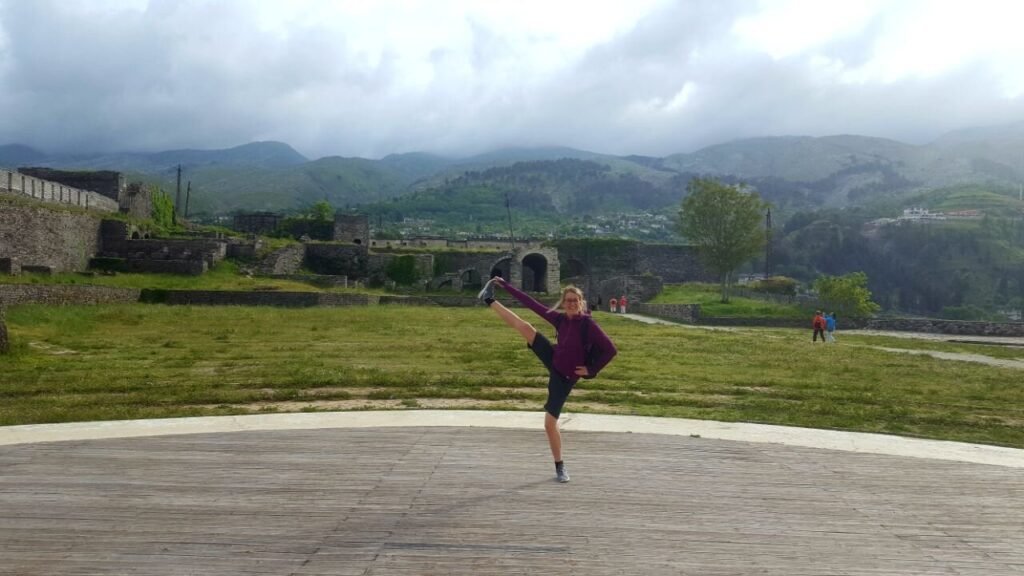 Photo credit: Anika Neugart
We should avoid the destinations that already suffer from mass tourism
What are the basic elements of our behaviour as tourists that we need to change?
There are bigger changes but also smaller changes one can make to travel more eco-sustainable. The most important thing is that we include thoughts about sustainability in our travel plans at all. As a start, one can just try to travel not as far as possible. Always consider what you truly want to do during your holiday. Is it about spending time with friends, family, or a significant other? Then you don't need to go to India or the Caribbean – the time spent together is what matters, so the destination is secondary. You don't need to travel to the farthest away mountains or coasts if you focus on outdoor activities like hiking or cycling. As an effect, we would lower the travel traffic and therefore, carbon
emissions.
Of course, we should avoid the destinations that already suffer from mass tourism. If we really want to see some of the famous places like the pyramids or UNESCO cultural heritages, we should visit them in the off-season. We should also consider how to get to the destination and avoid flights as much as possible. If one takes the car and has extra seats, he should share the ride with others, such as through the app BlaBlaCar.
Smaller changes can be made by bringing eco-sustainable behaviour to our holiday destinations. When we travel, we should patronise local restaurants, cafes, shops, and lodging. We should bring our own bags when shopping and avoid purchasing low-quality products or natural objects such as shells, rocks, or animals. When we are in nature, we try to leave no trace, which means no trash, no fires, and no tracks.
Destinations that encourage green behaviour through their infrastructure
Are there any destinations around the world where this mode of travel has really taken hold?
There is no country or vacation destination that comes to mind that is particularly popular with slow and eco travellers. However, there are destinations that encourage green behaviour through their infrastructure, such as European cities such as Copenhagen or Amsterdam, where you can get around very well by bicycle, or Berlin, Paris, and London, where the metro and bus systems are very extensive. Also, there are holiday regions that support more sustainable tourism. In some parts of Germany, for example, there are very cheap or even free guest cards that allow tourists to use public transportation for free. However, tourists have a free choice whether to use these travel options, so there is still a long way to go before ecological travel becomes the new normal.
What are your three favourite holiday spots in general?
I adore South-East Asia because of its culture, climate, natural beauty, and delicious, mostly vegetarian cuisine. But now that I'm trying to travel more sustainably, I'm really enjoying exploring Europe in all directions. We can travel by train to many countries in very short distances from here. And the continent has such a diverse range of cultures and landscapes that I am grateful to be European and have these travel opportunities. Aside from the usual travel destinations such as Southern Europe or Scandinavia, I recommend exploring Eastern European countries such as Albania and Montenegro that are just getting started with tourism.
Albania, a special travel experience
What is a special travel experience that you would like to share with us?
To continue with the secret travel tip, Albania: In 2019, a friend and I travelled to this small but beautiful country. It was a communist country until 1990, which is why Albania has a distinct culture, including food and traditions, that differs from other Eastern European countries. The people are delighted to see foreign visitors and are extremely welcoming. We travelled the country by public bus, which was very inexpensive in comparison to Germany, for example, four hours of bus travel for three Euro. To us, the prices were generally very low.
Because the big commercial brands have yet to arrive in the country, there are almost no fast-food chains such as Subway, Mcdonald's, Starbucks, or H&M, Zara, Primark, or other fashion brands. As a result, the locals have a distinct, one-of-a-kind fashion style. Street vendors still sell vegetables, fruits, and clothing, and there are stray cats and dogs everywhere.
It's also worth noting that women are rarely seen on the streets in the evening. My friend and I were frequently the only females in bars. When we went to a club, 90% of the people there were men, which seemed unusual to us German women. In that regard, Albania is archaic and remains a patriarchal society. Even though Albania is a part of Europe, it feels far away. A fantastic place to visit!
Your book named "Simply Green"
We found your website when you were about to publish your first book. Would you like to tell us a few words about it?
The short title of my book is "Simply Green" and it is written in German. It presents 16 sustainable lifestyle trends:
Capsule Wardrobe
Slow Fashion
Tiny House
Minimalism
Autarky (self-sufficiency)Veganism
Food Rescue
Locally instead of globally
Plastic-free
Zero Waste
Urban Gardening
Car-free (no own car)
Cargo bike
Microadventure
Slow Travel
Mindfulness
The trend's common spirit is a desire for social behavioural changes. To live sustainably and climate-neutrally, new and old ideas are being combined. Climate friendliness is emphasised in some of the movements. In others, such as the Tiny House movement, it is a byproduct. To develop a simpler lifestyle, the ideas confront capitalism as well as constant consumption. My book is supposed to provide a synopsis of all topics. The current trends are succinctly summarised. It's the perfect book for anyone who wants to change their habits and contribute to the long-term development of our planet. Readers will gain an overview of all trends and will be able to choose which ideas to incorporate into their daily lives. In my eyes, the book is a contribution to the transformation of society and ecological sustainability.
To conclude the interview, what is the goal of your website "Travel Slowly"?
As previously stated, I'd like to educate people about the ecological travel trend Slow Travel and eco- sustainable travel options in general. I hope to raise awareness about climate change and, of course,inspire people to gradually change their travel habits. My book is also featured on the website, as are the most recent dates for my speaking engagements. I give lectures on topics from my book, such as Slow Travel, Slow Fashion, Microadventures, and Minimalism. My upcoming lecture in November is about sustainability in the arts and cultural field, where there is also much to be done to become future-proof.