I just want to thank 'Voyagers Voice Magazine' for asking and giving me the opportunity to write another article for them, this time about the gastronomy of Birmingham especially as it coincides with the upcoming 2022 Commonwealth Games to be held here in my very own City. The 2022 Commonwealth Games, officially known as the XXII Commonwealth Games and commonly known as Birmingham 2022, is an international sports event represented by the 72 member nations of the commonwealth. I hope this article will sum up memories of when I was a little lad growing up in a multi-cultural and vibrant city like Birmingham and that events like the 2022 commonwealth games will bring the true meaning of togetherness and that we are all equal in whatever faith, religion or culture we believe in.
 I think without a doubt Birmingham's multi-cultural background gave us the perfect opportunity to explore the different flavours and tastes that changed the gastronomy of Birmingham, but still blended in with some of the traditional dishes that will stay forever in the hearts of the people of "Brummagem" Birmingham cuisine has a distinctly international flavour thanks to the city's rich heritage, The dish, known as a'Balti', was invented in Birmingham in the 1970s in restaurants owned by members of the Pakistani community in Sparkbrook, many of whom had migrated to the city from the Mirpur area of Pakistan in the 1960s.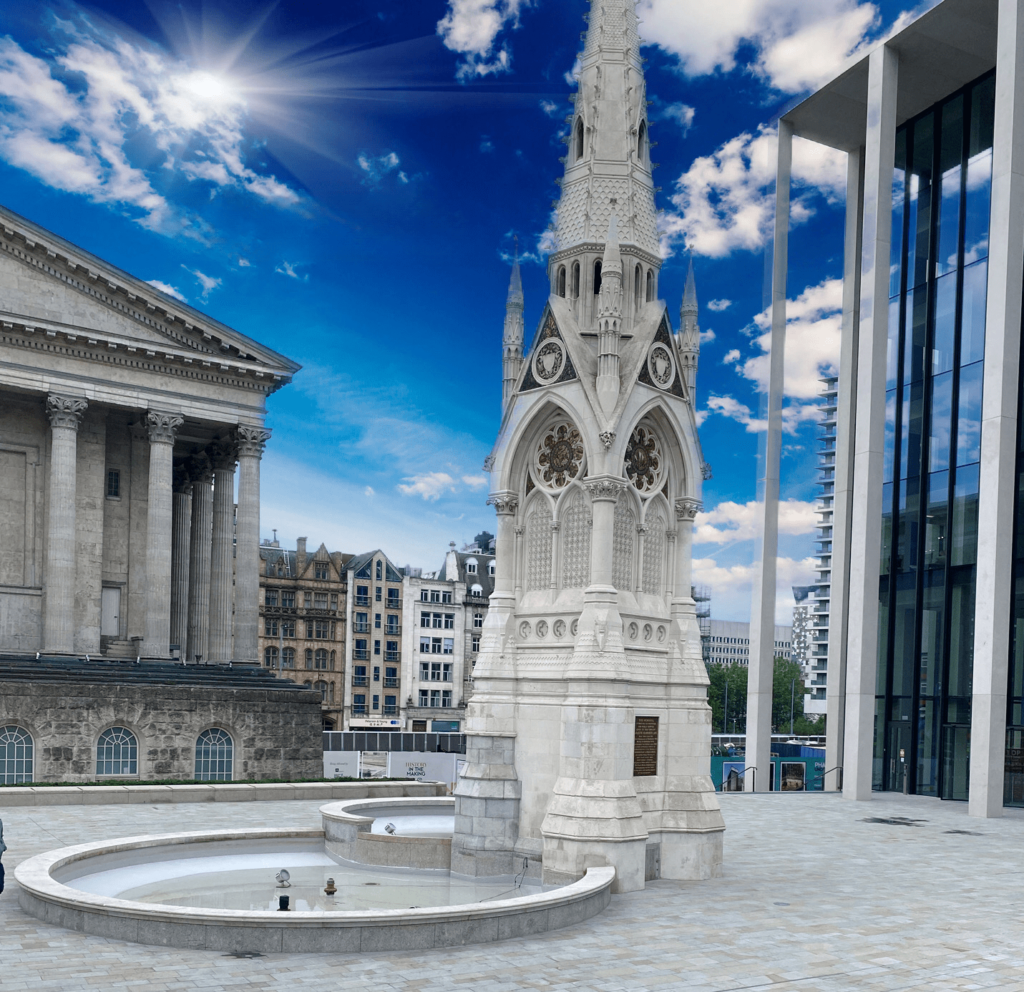 When non-Pakistani customers began to visit their restaurants, they required curries to be cooked more quickly than in traditional Mirpuri cuisine and the restaurateurs consequently developed dishes in which meat was cooked off the bone at higher temperatures in steel dishes with fresh dried spices rather than curry pastes and vegetable oil in place of the traditional ghee. The steel dishes in which the food was cooked were called "baltis" (said to derive from the Hindi word "balty" meaning a bucket) and then the food was served in the steel dishes with a traditional naan bread. Sure, you can find Baltis in restaurants up and down the country, but in Birmingham, the 'balti houses' have become a local institution.
For a truly local experience, head to the so-called Balti Triangle, a row of balti houses clustered along Ladypool Road, Stoney Lane and Stratford Road. Our 'Balti Triangle,' which includes over 100 curry houses, has gained international acclaim for housing some of the country's best! And has frequent visitors from sports and show-business entertainers, including the 'Beatles' plus royalty such as the late 'Princess Margaret' Other popular local dishes include, 'Pork scratchings, a well-known bar snack across the UK, but they originated as a local speciality in the Black Country. (An area in the West Midlands that neighbours Birmingham and became a bedrock in the emergence of the industrial revolution) Factory workers used to keep their own pigs as a source of meat, and from the need to use every part of the pig, pork scratching was invented.
Memorial in Centenary Square Birmingham
Simply put, it's the skin or rind of the pig which is fried or roasted in its own fat. A real delicacy that has evolved from a simple bar snack to a place on some of the best restaurants around the city. 'Groaty Pudding' Is a rich and hearty meat stew and is made using soaked groats (husks of various grains including wheat, barley and oats), leeks and onions all cooked up overnight in rich beef stock to create a dark, porridge-like meal. It was particularly popular as a winter warmer on a cold evening and has a long history of being eaten on Guy Fawkes (Bonfire) night. A dish titled "Brummie bacon cakes" is said to also be a dish local to Birmingham – it consists of a mixture of flour, salt, and butter or margarine, with chopped bacon and cheese added to it.
With the addition of Worcestershire sauce, ketchup and milk, the mixture is made into a dough and sliced into wedges which are then baked with cheese sprinkled over them. 'Faggots' are perhaps the most famous example of old-school Brummie cuisine. But over the last few years, the humble faggot has undergone a bit of a revival and is now found on menus around the country. Commonly, the faggot was a meatball that consisted of an offal, usually minced liver and heart. Breadcrumbs and onions were added to substantiate the dish. It was then shaped into a 'meatball' and wrapped in caulfat, the membrane from the pigs abdomen. Then cooked in a 'Crock' a type of ovenware dish with gravy. Faggots were usually served with mashed potatoes and peas.
Potato & egg balti with keema fried rice
Birmingham is the only city outside London to now have five Michelin restaurants
You can find faggots in many pubs in the city centre and surrounding areas. It is also a popular dish that is sold around local food and farmer's markets across the city and the West Midlands. Fairs and festivals dedicated to food have always been popular in Birmingham, from onion fairs in the 1800s to today's world-famous and United Kingdom's biggest and most extensive food event "The BBC Good food show" held twice yearly, Summer and Winter at 'The National exhibition centre' Not to forget our very own "German Christmas Market" one of the biggest outside Frankfurt. Birmingham has had its fair share of "Michelin Star Restaurants" over the years, ten in total. In fact,
Birmingham is the only city outside London to now have five Michelin restaurants, Simpson's in Edgbaston, Carters of Moseley and Purnells, Opheem and Adam's in Birmingham City Centre. Birmingham is also the birthplace of many famous and well-known iconic British products. Bird's Custard was invented here in 1837 by Alfred Bird. HP or 'brown' sauce, the must-have accompaniment with every fully cooked English breakfast, might have been named after the Houses of Parliament but was made here in Aston, Typhoo tea, a well-known type of English Breakfast Tea was also founded in Birmingham in 1903.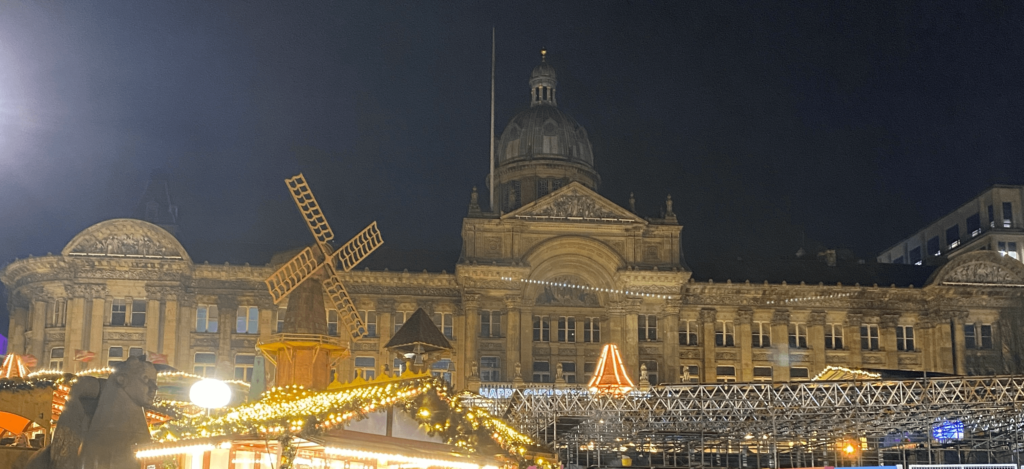 The Birmingham Christmas German Market
Birmingham the UK's most culturally diverse city,
And the most famous and world-renowned Chocolate, Cadburys & Bournville, originated here in Birmingham and still has the Cadbury factory running today in Bournville, South Birmingham as well as its own tourist attraction "Cadburys World." The world-famous Birmingham wholesale Markets remain the largest combined wholesale food markets in the country, selling meat, fish, fruit, vegetables and flowers and supplying fresh produce to restaurateurs and independent retailers around the Uk. With Birmingham being the UK's most culturally diverse city, Birmingham 2022 organisers have pledged to create a "Games for everyone" – a vision inspired by the city's diverse communities, more than 900,000 people in Birmingham are from an ethnic minority.
The ethnic make-up of Birmingham changed significantly in the 1950s and 1960s courtesy of immigration from Commonwealth countries. Birmingham developed large Indian, Pakistani, Bangladeshi and Afro-Caribbean communities, There is a strong Chinese population in Birmingham, largely as a result of post-war migration from former British colony Hong Kong. So ss you can see, Birmingham's rich and vibrant food culture has come a long way. The Commonwealth 2022 games motto is "The Games For Everyone, Bringing Everyone Together," but the same motto of bringing everyone together should undoubtedly be fitting for "The Gastronomy of Birmingham."
The German Frankfurter own version