An extraordinary route full of ever-changing panoramas will take you to a popular site for trekking enthusiasts. Here, they will be able to enjoy the fantastic views offered by the Anti-Atlas mountains. Tafraout has about 5,000 inhabitants. In the 1960s, many European hippies found their way here. Few kilometeres out of this beautiful and picturesque village, you can reach the famous Painted Rocks of Morocco.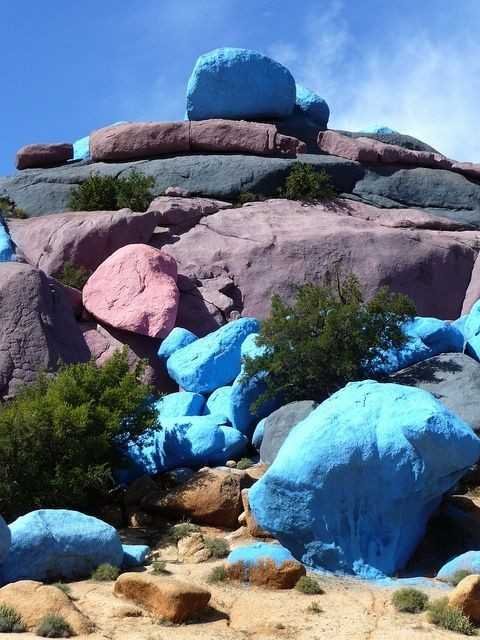 Blue Rocks (Painted Rocks) of Morocco
#Antoine_Neufmars, author of exceptional photos, describes the 'coloured rocks'. "The Painted Rocks (Blue Rocks) are among the most famous elements of Tafraout's granite landscape and also ofrom all over Morocco. They were coloured in 1984 by the Belgian artist Jean Verame, with the help of the Tafraout fire brigade, who carried 18 tonnes of blue, red and black paint."
After almost 30 years, the colours have faded, but it is still an incomparable experience to walk through this work of art. Unfortunately, as in all places, also on the blue rocks, they have already seen graffiti.  Many people disagree with this type of art, as they consider it a vandalism towards nature. 
Tafrout is the heart of the Berber land in the Anti-Atlas mountains. The town is situated in an oasis in a valley. Today the town is a favourite spot for climbers. It is an incomparable experience to walk through this work of art.
Part of this area is only accessible by 4×4 vehicles. The area is very beautiful for monitoring and discovering the local culture. It is possible to stay overnight in charming Berber tents or in characteristic structures from which to admire unforgettable views such as the Kasbah Tizourgane (above in the photo).
So, if you would like to know more, you can visit the website of the company for tourism in Morocco, 
Finally, if you want to know about culture or art of any other place in the world, you can look at our Blog. 
Author: Paola Maria Rossi